Flat party icons is a set of icons that are rendered designs that highlight more on the usage of the icon rather than the details on it. Most of them are not in 3D and are usually used in Web pages and flyers. You can download them online for whatever purpose you need it.
The colors used on these icons are usually in a single or two shades. One is the main color and the other is the shadow of the design. Their edges are often crisp and are neat looking to put emphasis on its overall appearance. Don't forget to check out more designs and icons from Template.net's archives! All we offer are available to download and for free too!
Flat Party Vector Icons Set
Download
Colorful Flat Party Icons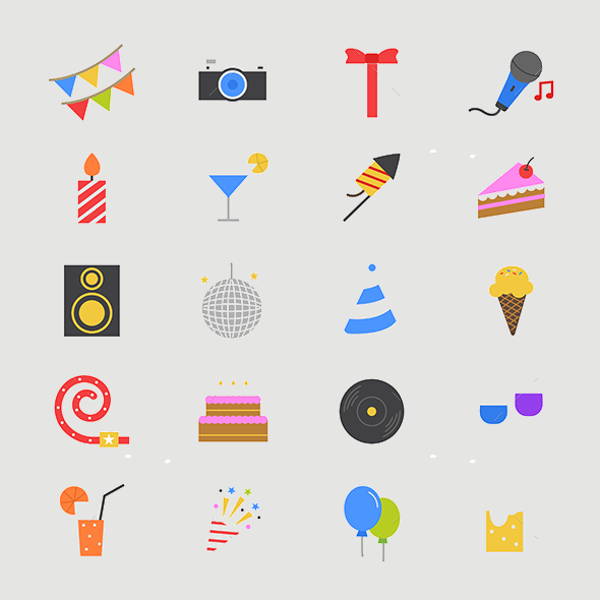 Download
Free Flat Party Icons
Download
Rounded Flat Party Icons
Download
Flat Birthday Party Icons
Download
Different Types of Flat Icons
There are plenty of flat icons that you can find online. These icons come with different purposes. Below is a very short list of what these icons are and where you can use them. Check out the following flat icons:
Party. Party icons usually are balloons, hats, confetti, and other symbols that signify a party. The colors of these icons are bright and lively to make it more appealing to users and to where it will be placed. Also, you can find a symbol of different holidays under this category. This can be used for party invitations.
Wedding. On the wedding, you can find icons such as bells, sample brides, and rings. This can be used for wedding invitations, bridal shower cards, and reception decoration. Most designs use the color white given that most brides walk down the aisle in white.
Business. Business icons are used on websites and other profitable advertisements. They are composed of dollar signs, a bag of money symbol, or any other finance-related signage. You can find them commonly on web pages and video advertisements of companies.
Modern. If you want modern designs, you can find them as well. These includes electronics and gadgets as well as common symbols.
Flat Wedding Party Icons
Download
Modern Flat Party Icons Set
Download
Flat Party and Celebrations Icons
Download
Flat BBQ Party Icons
Decorative Flat Party Icons
Download
Tips for Creating Flat Icons
While you can find a flat icons pack to use for your projects, you can also create your own design. There are important things to remember when you plan on designing your own. Here is a style guide to keep your design on point:
Keep it simple. The main point of flat ions is the minimalism on the designs. Don't add too many elements on it that would result for your designs to look overbearing. The simpler it is, the better the outcome would be. Choose basic layouts to make it look even better.
Polish the design. Since you are aiming to keep the symbol simple, you get more time in fixing mistakes on the design. Make sure that it is symmetrical and that it looks smooth and flawless when you render it.
Pay attention to color. Do not use contrasting colors. Find ones that complement each other well. The color plays a big factor on how the outcome would look like. Choose colors that are complimentary with each other and those that look vibrant after you render them.