If you're developing new software, you will need a distinct and well-designed set of icons pack that does everything that good icons should do for your application. It should at a glance set your brand in people's memory as well as improve functionality and user experience of your system interface.
Here is an overview of some of the most accessible software icon packs to help you get started. These sets include some of the most commonly used icons for business software set in different engaging and creative designs.
61+ Designer Templates in Word, Excel, PSD, Google Docs, InDesign, Apple Pages, HTML5, WordPress, Publisher, Apple Numbers, Illustrator - START DOWNLOADING
Vector Software Icons
Download
Software Business Icons
Download
Software Development Icons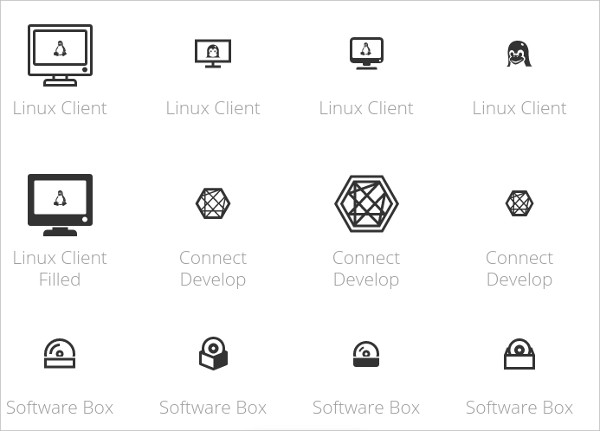 Download
Computer Software Icons
Download
Web and Software Icons
Download
Why Use Software Icons?
No matter how important or useful a software program, users will not find much appeal in it if the interface is badly designed. They will high-tail it to other programs that offer more or less the same thing (maybe with less features than yours) but in sleeker or more attractive packaging. Therefore, take utmost care in designing your own software development icons.
Attention to detail is key in good software design. Don't be careless and choose just about any icon set that's offered for free download. If they are badly designed, they will misrepresent the software you've worked hard to build.
To help you out in terms of great design, use this list as a point of reference. These icon sets cover
business icons,
software development icons,
security software icons,
popular web and software icons, and
software concept icons.
They are designed in the classic flat design, with an option for ultra-colorful icons and round icons.
When downloaded as (licensed) PSD or vector files, they are also easily customized. Another mistake made by a lot of software designers is to use stock icons that do nothing to set their software apart from the rest. Along with color and line work, make sure you pay attention to the size of the icons as well. These vector files are easily scalable in high quality—make sure they are just big enough to call attention where it is most important.
Software Round Icons
Download
Software Business Icons
Download
Software Concept Icons
Download
Colorful Software Icons
Download
Security Software Icons
Download
Good Icons Are Part of the Package
Remember that the icon set you use is part of your point-of-sales marketing. It is part of the package that will make or break the deal. You can have the best software in your field, but if it looks bad, very few people will take a chance on it.
If your software looks professional, easy to use, and covers just the right amount of features using well-designed, well-placed business icons in just the right size, people will want to buy your software.
Sounds obvious? You'll be surprised how many talented software developers skimp out on this point and code amazing software and then kill it in the end zone.
There will always be a demand for good software out there. Don't shoot yourself in the foot by believing the lie that design is considered a "superficiality." It is not second to good coding but it goes hand-in-hand with good coding. A good icon is functionality and design combined.
If you start here first, this collection of icons will help make sure that you stand on solid ground.