Are you getting a tattoo done? If you are planning to get inked and looking for inspiration, you are probably at the right place. Through this post, we will tell you the artist who are way good with their tattoo designs. They can be a right inspiration before you get inked or if you wish you can fly to their studio and get your favorite tattoo design done. Have a look at this collection of artist across the globe listed below which are showering Tattoo inspirational art which will explore artistic ideas on you.
Dmitriy Samohin
Dmitriy Samohin is the self-taught artist. His tattoo art is extremely unique and catchy. He brings art to the design and gives a new look to the person completely with his designs. He has got more than ten years of experience. Dmitriy is based in Odessa, Ukraine and has a studio of his own. His Facebook page is loaded with his creativity and can serve you with all the motivation you are looking for. Have a look at his collection of flawless designs.
Pearl Harbor Gift Shop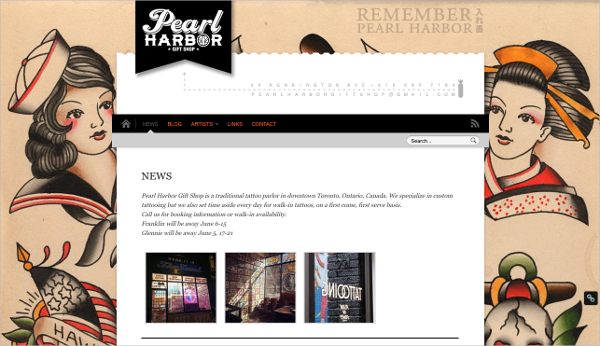 Pearl Harbor Gift Shop is a known tattoo parlor. It is based in downtown Toronto, Ontario and Canada. It is run by a bunch of talented tattoo artists and they specialise in the custom tattoo. They have the collection of designs at their store and the live picture gallery with the people they have worked with. They handle their customers on the first come, first serve basis. Have a look at their collection of tattoos which are nothing but mind boggling.
Kenji Alucky
Kenji Alucky works for Black Ink Power based in Sapporo Japan. This artist has got art-filled in the work. The designs of the tattoos are different from the regular ones. The designs are vintage and look astonishing. Click on the link to know the collection artist is showering to the world.
Tony Clifton
Tony Clifton is a tattoo artist based in Northampton. This talented artist works for Alternative Tattoo Art Studio. His collection of tattoo reminds of angels and demons. This artist has used vibrant colors for the designs which are making it appropriately hot with the fashion.
Papanatos
Papanatos is a talented artist. All the work on the tattoo is made by blank ink and that is what perhaps the speciality of this talented artist is. The collection of the work and tattoos have beautiful stories attached to it. Each tattoo yells a story. Have a look.
Thievesoftower
This artist is based in LA, the artist writes the introduction as "over the hills the shadows lie. all will tell ye tales of daylights great and more then come. yet all they knew was night." This tattoo artist also has the plethora of black and white tattoos which is larger than life. Inspired by the tower, most of the tattoo has a tower in it which makes it even more appealing. You can follow this artist on Instagram for the inspiration.
Horitata
Horitata is a tattoo artist based in Japan. They practice only Japanese tattoo and has the mammoth of experience in the tattoo world. Their work has been published in various tattoo magazines. Their work speaks nothing but beauty. Check his website gallery and go aww with the collection.
Grime
Grime is a known tattoo artist on which documentary movie has been made. The artist has a collection of tattoo art in his name. He knows how to play with the right colours and make it look beautiful even more. The color and design which he uses is unique and go apt with the object he is working on. Check his collection of work here.
Myke Chamber
Myke Chamber is a talented tattoo artist based in Philadelphia. He works from his tattoo shop. He is a person who has a personality and a story which speaks of his work. His tattoo art will remind you of punk rock. He has learned this art from various tattoo artist. He drew his first tattoo at the age of 12 and after that he never looked back. Check out his stunning work here.
Tim Senecal
Tim Senecal is an experienced tattoo artist. He has experience of more than 15 years. His tattoo is full of imaginations and meaning. The tattoo artist has got tradition displayed in his work of art. He is based in Easthampton, MA. every tattoo has a meaning and displays colours from the shores of lives.
ED Perdomo
ED Perdomo is a tattoo artist based in Sweden. This artist has a collection of crazy tattoos to his credits. The tattoo displayed in the collection are awkwardly beautiful. Tattoos are full of colors, big and attractive. The art is adding beauty to wherever it is inked. Have a look!
Peter Aurisch
Peter Aurisch is a great example for the modern day tattooing mixed with the flow of art. The tattoo collection is captivating and can give you a lot of inspiration from the first glance. The shading in the tattoos make it more lively and give a story to it. Probably, this artist knows how to play with the colors and art both and bring it to the form of the tattoo. Have a look at this amazing collection of tattoos cum art work.
These were the Tattoo inspirational art which will explore ideas on you. There are top 12 notch tattoo artist listed across the globe. You can have a look at the collection of tattoo design and get it done yourself. Spread the word if you like this article.