Are you an aspiring designer looking for some tips to enhance your skills in your profession? That's good and a smarter route here is to follow the design blogs for inspiration. There are several great blogs carrying excellent educational tips from expert designers for the aspiring fresh designers. We have arrived with a vast gallery of such blogs for your creative inspirations.
A perfect website for aspiring as well as professional designers, find some of the most innovative and creative designs here. From funny to technical, modern to contemporary, you will find a whole range of never before seen designs that are sure to inspire you to come up with some unique ones of your own.
If you are facing that designer's block and just don't know how to start on your next project, it would be a good idea to go ahead and get some inspiration. On this website, find a huge collection of designs. From templates to website designs and more, you can find everything here.
Starting out on your next bug web designing project? Want to add in something new and unique that would take you ahead of your competitors? Why not go ahead and get some inspiration from these creatively designed websites. These are sure to help you in coming up with some novel ideas.
Whether you are a fashion designer, an interior designer, an architect or a webpage creator, there is no dearth of ideas and inspirations for you on this website. Boasting of some of the best designs in various fields, take a look at these to gain some inspiration. These are sure to give you some food for thought.
In case you aspire to be an architect or an interior decorator or have already commenced your work in the field, you would always be in search of new ideas and designs. Well, go ahead and find some on this website. From modern to contemporary and classis, you are sure to find everything here.
In case you are a web designer and are looking for some unique idea to start out on your next big project, you can sure get some inspiration on this website. Created by some of the best names in the business, a peek at these is all that you need to give your grey cells a boost.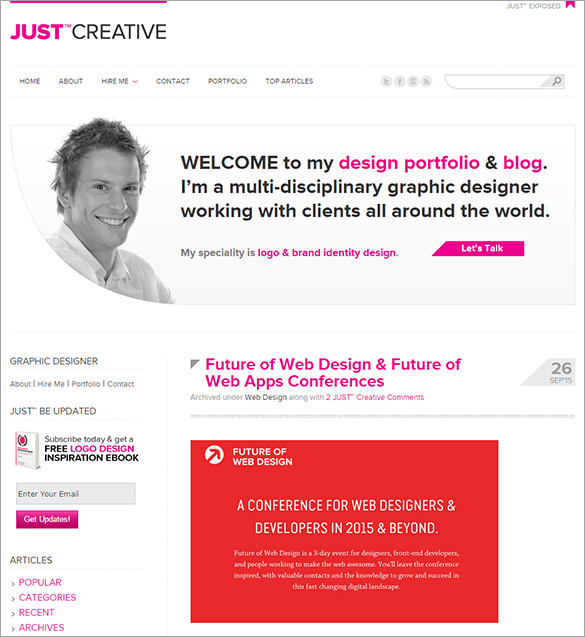 As a graphic designer you are expected to come up with some of the best logos and designs for your clients. However, this is easier said than done. For times when you may need some inspiration, this website may come in handy. Boasting of some of the best designs, get ready to be inspired.
Falling short of ideas for your next big web designing project? Just don't know what to do? Stop worrying and take a look at this website. With insights from some of the most experienced designers in the field and their designs, you can sure come up with some very novel ideas.
Designing is not an easy task. You always need to have your thinking cap on, just so that you can whip out ideas at the drop of a hat. However, for those times when you just don't seem capable of coming up with something, a little inspiration would help. This website is a perfect place for getting inspired.
Whether you design logos, illustrations, typographs or websites, you need to keep on your toes to come up with new ideas. In case, you could do with some inspiration, just browse through the amazing designs on this websites. These are sure to tickle your creative bone and help you come up with unique ideas.
Whether you are a web designer or an interior designer or are hooked to fashion designing- we have got the best blogs for almost every form of designer. All the blogs mentioned here house excellent design examples as well as seasoned tips from experts.