Designing is a dynamic field which keeps changing every moment. The designs have to be updated and good to survive in the market. It is necessary for a designer to know the tricks and hacks through which he can make the website look good and upmarket. Through, this post we will bring you the best of Freebies of the Month – June 2016, which you can implement in your design and impress your clients. Here is the list of freebies exclusively for the web designers.
Mascara Strokes Free Photoshop Brush Set
Mascara strokes is a free photoshop brush which is uniquely created. This brush will add to your collection and also increase beauty to whatever you design. Go grab it, right away!
Free 70 Basic Icons
Here are the exclusive Free 70 Basic Icons which are designed by Carlotta Govi. she is based in Italy and she is a freelance product designer and founder of xicons.co, all the icons can be used personally and commercially for free. It contains a basic pack of icons which are good to be used for designing projects.
Hand Holding Business Card Template
Hand Holding Business Card Template is designed by Graphics Fuel. Rafi is behind this business card template and he is a graphic designer and founder of GraphicsFuel.com. This hand holding business card templates is worth the download and shells lot of inspirations.
Free Download: Sophia – Free Handlettered Brush Script Font
Sophia is an adorable free font. It is designed by Emily Spadoni. This font is an absolute charmer which adds beauty to the text. It has inbuilt feature as Sophia left and right which allows you to design your own styles. It is free for commercial and personal use. It has got its alphabets designed in the unique way which is a great help to the graphic designers.
Map Builder Toolkit
Map builder toolkit is a free tool which allows the users to work with the content in a single place. It can be customised and no add-ons are required to purchase and it is a complete package in itself. It is super easy to use and you can also watch the tutorial use it even simpler. It has made the map by simplifying it with the templates. Download this freebie for your map related designs.
Free eBook
Free Ebook gives you tips on how you can earn more, ways to attract stakeholders,customers etc. This is a very useful book which tells you the useful mantras like freelance, client types, business cards and strategizing. It has got a huge response from the readers and has been downloaded. If this helps you, do write back to them for suggestions, tips or with a thank you notes.
Nemo: A Free WordPress Theme
Nemo is a free WordPress theme designed exclusively for apparel stores. It is designed by DXThemes. It is enriched with features like improved turbo framework, single and multiple page website frames, shortcuts and many other features. Download the freebie to help yourself with a new design.
Download Premium Quality Vectors
Download Premium Quality Vectors which has extended the license for free. This freebie is a package consisting of blank advertising coupons,vector mascots, vector floral swirls,vector illustrations,vector origami ribbons,vector side tags,vector patterns,corporate ID vector set and vector origami labels which total numbers to sixty free vectors. Download all of them for free at a single place.
Retina UI Web Kit
Retina UI Web Kit is a free UI kit created by Bradley Bussolini. It contains two files of UI elements and sample page mock. It is a good package which is free for personal and commercial purposes. It has layered PSD, crafted with hands and retina ready. Download it to experience this yourself.
iPhone and Apple Watch Vector Mockups
iPhone and Apple Watch vector mockups are designed by Freepik.com and it is a collection of vector illustrations. If you are an Apple fan you will probably love this mock ups. The mocks are customisable and can be changed according to the size you like without any compromise with the quality. It is free for personal, commercial and even can be modified.
25 Colorful Grunge Textures
25 Colorful Grunge Textures are free to download and designed by Florin Gorgan. These textures can be used on pictures and you can even mould it according to your needs like soft lights, multiply or overlay. These beautiful textures can also be used as a background in the designing. It is free for personal and commercial purposes but can not be redistributed.
10 Fashion Vintage Badges For Your Projects
These fashion vintage badges will add beauty to your Projects. If you are looking for logo design and inspiration on it. This free fashion vintage badges will solve all your problems. These files can be edited and they are available in EPS, PSD and AI format. These badges are updated and hot with the style. They can be used for commercial and personal purpose both. Download them, clicking on the link below.
Free GUI Pack
Here are the exclusive free GUI pack from Art.Gen. they are customizable. It is free to use for commercial and non-commercial purpose but with attribution. This is non-distributable but can be downloaded directly from the website.
Printables
They have got all kinds of printable. And they are too good with the designs which are worth a download. Check out all the collections in this website which are unique and carries good quality. All the papers can be printed in the format you like. Check this website to download the coolest stuff.
FREE Vintage Floral Backgrounds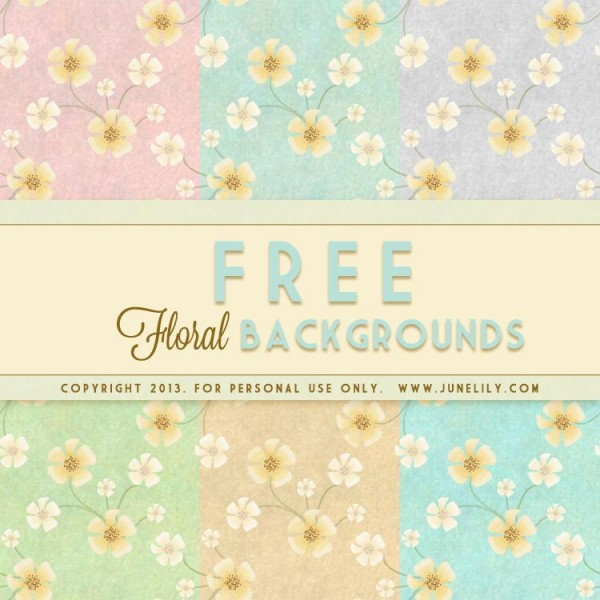 FREE Vintage floral backgrounds inspired by Vincent Van Gogh. The floral backgrounds are extremely attractive and has a strong hold in adding beauty to the content you are working on. It has peppy color and light floral designs which are worth using in the designs. All you have to do is submit your name and Email ID and you can download the stuff.
These were the Freebies of the Month – June 2016 exclusively for the designers. They all are for free and can be used for personal and commercial purposes. With the help of these, you can design the best of things you need for your website. Keep watching this space, as we bring you the latest freebies every month.