Here are the top freebies for the web designers to make their website worth a glimpse. It is the duty of every designer to make the page look beautiful and appealing to the users.
It becomes a task for them to make the webpages worth an attention. Designer looks for the best design and various aspects of it which can enhance the sight of their webpages. Resources such as PSD files, icons, photoshop brushes,texture and icons are the tools which a web designer can use to enhance the glimpse of their web pages. You can also see Free Websites to Find Icons.
> GUI kits
Data Analytics Dashboard Sketch Resource
It is a simple dashboard radial graph and line graph. It analyses information about traffic and ads. It shows the average and margin percentage of the website as well.
Inter Shop iOS App PSD
It has incredible features. It has photoshop format. It is helpful in building online shopping applications. Click Here
Music App UI Kit for Sketch
It has a variety of elements from which you can design your own music application. It is editable with the sketch and carries a good set of UI elements. The interface is inspired by Spotify and Rdio's design.
Simple Shop Products Carousel PSD
It allows the web designer to display their product in the form of a slider. This is best suited for the designers who are working for the E-commerce websites. It is fully editable in photoshop. Click here.
> Printing templates
Stationery PSD Mockups
Stationery PSD Mockups use smart object feature which can replace current design with your own design within few seconds. It showcases the web designer works in realistic and professional manner.
Business Card Mockup PSD
Business Card Mockup PSD are easy to be used in photoshop.It has front and back options. A web designer can showcase and design the card in the realistic environment. Top two smart object are used in the file and saved.
Free Business Card Template
This website has got the coolest business templates. They are free and unique in their designs. It has got a variety of it so choose the best according to your needs.
Icons
This website has got 312 icons for free. A designer can use these icons in the best possible manner to enhance the look of the website they are working for. These icons can be used for commercial and personal purposes.
Hope and Rise Icons:
This set of icons is based on the religion Christianity. They look incredibly unique. They can be used for non commercial purposes. A web designer may use them in the personal blogs. Click Here.
Flat Icon
This website has got all the icons a web designer needs. It has a variety of designs which can be directly downloaded from the website. Check this website to download the icons.
> Fonts
Creativebloq
Creativebloq website has got a variety of fonts. Some of them are inspired and created.it Includes scripts, serifs, and a range of ligatures. The list consists of various web fonts cursive fonts, tattoo fonts, graffiti fonts, handwriting fonts, retro fonts, typewriter fonts, stencil fonts and grunge fonts.
Graphic Design Junction – Free Fonts for Designers
Graphic design junction has got all the new fonts for the year 2016.They all come in different and stylish fonts.These fonts can be used to create modern logos, tattoos, badges, emblems, heading etc. Check this trendy website to download the best of fonts.
Behance
Behance has got the fonts from the different artist all around the world. A few of them are paid while others are absolutely free. It has got the collection of various fonts which a web designer must look at.
> Web Templates
Themefisher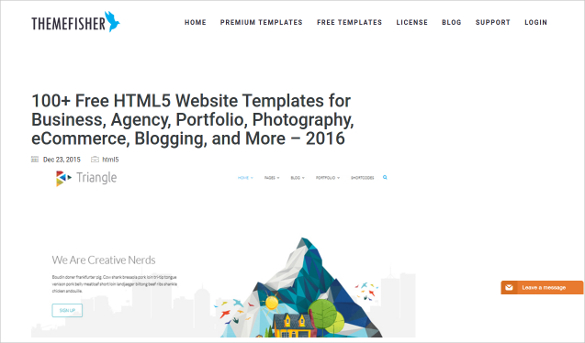 Themefisher has got hundreds of website template for free. They all have different varieties and purposes. A web designer who is looking for a change must have a look at these templates. They are free and can be used for business, agency, portfolio, photography, E-Commerce and blogging.
Just Free Templates
Just free templates provides free web templates, free wordPress themes and responsive CSS.This website lists you with different templates which can be used in multiple ways.
> Mobile Templates and Mockups
Speckyboy
Speckyboy has got 20 Mobile Device Mockup Templates for Web & UI Designers. This consists of mobile devices mockup for tablet and smartphones. If a designer is looking for IPhone specifically, he/she must use this freebie.
Downloadpsd
Downloadpsd For Instagram lovers, this PSD template is definitely good news. This is a free, downloadable and fully-editable PSD Instagram template which you can use for your Instagram endeavors. The template is high-resolution and can be re sized according to your needs and requirements. If you need a large-size Instagram image, this template is apt.
> All in one at a single place
 Web Designer Depot
Webdesignerdepot has got the needs of the web designer all in the single place. If you are looking for everything at a single place. Check this multi-purpose website where you can find icons, fonts, typefaces and everything you need.
Freebiesbug
Freebiesbug is a web design blog consisting of high-quality design like PSD file, HTML web templates, fonts and other things a designer needs. It has got various other features which can be downloaded directly from the website.
Web Design Inspiration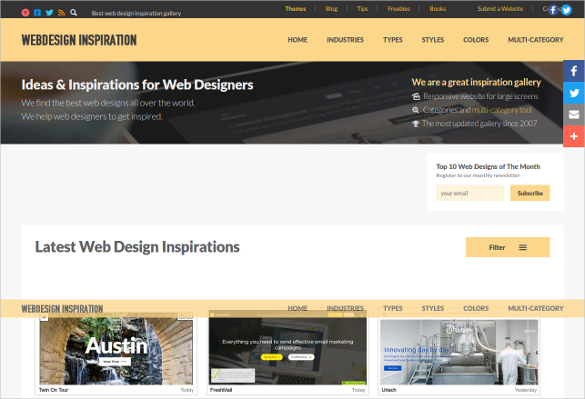 Webdesigninspiration has got the latest inspirational themes across the globe. It caters to the need of E-commerce, corporate, magazines, events, portfolio, product, web services etc. It has got paid and free version both. Even if you are not willing to buy the services you must land up here for the inspiration.
Having a good design on the web pages increases the number of hits on the website. A designer must choose the designs which are the finest and better than the competitors. Good photos, effects and content make the website attractive. The contents of the website should be visually placed in the appropriate positions to make it easier for the users. There are various online freebies for the web designer. See this Free Websites to Find Vector Graphics.