Success comes from the adaptability and flexibility, and all the successful individuals have molded themselves to attain the optimal position in the society. In order to prove yourself, a worthy person, for your company or even to your own business, you need to learn the new programming languages. According to Steve Jobs, each individual should learn to code in order to experience a parallel digital regime that exists among us. Last year has seen a lot of enhancement and changes in the software industry. Invest your time on the following languages to increase your chances of success. Anyone can learn them with some basic knowledge of computers. You can also see Web Development Tools 2016.
Java
Java language will surely get the first spot as it never gets old to learn the most popular programming language in the world. It has been the part of the programming industry since the 1990's. This Oracle Corporation language is quite open to anyone (open source). This is the most common language used around the world.
https://www.java.com/en/
C-Programming
This language is considered as the oldest programming language as it is labelled as the grand father of modern languages. This is the origin of the most of the modern languages and investing your time in it would certainly help you to understand the background of today's coding. [Go To Website]
C++
This language is bit of advance level and requires a certain level of pre-requisite to learn it. As if you are learning C-language, you should also keep in touch with this one too. It is simply the advance and more updated version of C-language. If your job is related to the financial trading, then this would certainly give you an edge. [Go To Website]
Python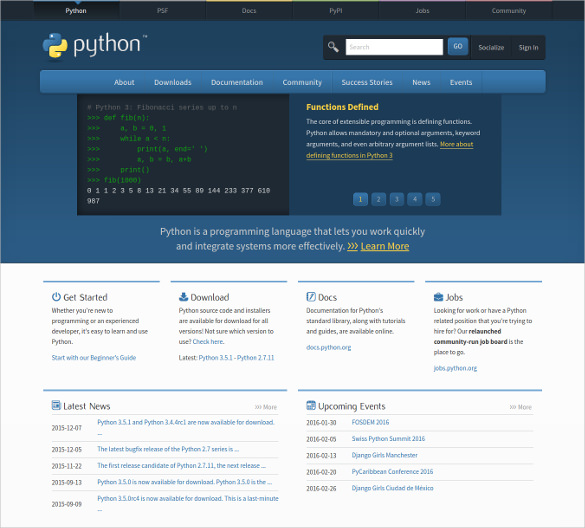 Again, this language has been founded in the 1990s and designed for the noobs to learn the coding. It will certainly familiarize you to the coding world as it is very easy to learn. As 3D rendering is in high demand, this language will give you a push towards it. [Go To Website]
PHP
This language has its association and an indirect connection with the C-language. After learning the C-language, it is recommended to either go for C++ or this PHP. This language is in high demand as it assists in the development of the apps that are integrated into the Facebook. You should definitely go for it.
Ruby
It is comparatively easy to learn and a very suitable for the beginners. But still C-language is the basic of all. It wasn't that a popular language until the development of the Rails framework. It is basically the bunch of shortcuts to improve the language which makes it faster to use. [Go to Website]
JavaScript
There is a difference between Java and JavaScript and new comers are usually unaware of the exact distinction between the two. It was originally labelled as ECMAScript but changed to JavaScript to make it more parallel to the Java. It is basically for the individuals that are interested in frontend web.
SQL
This language is used to write codes for a very particular purpose and that is the reason it is also labelled as the special purpose language. Data management is the specialty of this language as the programmers are in need to manage the database. This language is needed for the management of the data of the hospitals and banks. [Go To Website]
Objective-C
This language is created by the most popular computer giant Apple, in the 1980s. This is the basic language to learn if you are interested to produce applications for the iPhone, iPod, or MacBook. This language is in high demand and the compensation is also very descent for such programmers. [Go To Website]
C-#
Instead of calling it C-hash, it is called C-sharp as the music note. It is again a different flavor of the C-language. It also helps you to learn the C++ and Java. Microsoft is still holding on to it because it is being used to develop the desktop applications for the Windows Operating system. [Go To Website]