Most Popular Typography Portfolios of All Time on Behance
Typography plays a huge part in all forms of multimedia. Imagine browsing the internet, reading magazines, or watching foreign films without text or with boring themes, we don't think you will be able to understand the messages they are trying to convey.Choosing the right one that will fit your personality is as important as the content quality of your project. There's a lot out there to choose from, so we have compiled a list of the most popular typography portfolios on Behance. You can also see Portfolio Analysis Tools & Softwares.
Fontfabric
Fontfabric was launched in 2008 by the designer Svet Simov. They have unique high quality fonts that you can use almost anywhere. Fontfabric also creates corporate and customized fonts especially for you.
Steve Simpson
This designer is known for his whimsical characters and distinctive style. Steve Simpson has won over 50 awards in over 30 years of experience. His interesting and colorful works speak for themselves.
Muti
This creative studio was founded in South Africa. They produce original artworks and designs that are usually inspired by pop culture. This team undoubtedly consists of passionate artists and designers.
Sagmeister & Walsh
This design firm based in New York focuses on graphic design, typography, and art direction but their services don't stop there. They cater to a lot of clients from corporate and non-profit organizations.
Martin Schmetzer
Martin is a part of a famous illustration agency in Sweden. He specializes in detailed hand-drawn typography and has worked with big companies such as Ford, Pilot Pens, and Under Armour.
Sawdust
Sawdust is a partnership of two creative minds: Jonathan Quainton and Rob Gonzales. They contribute to design publications worldwide and have received many awards for their beautiful designs and explorative works.
Jackson Alves
Jackson Alves works locally and internationally. His background in calligraphy made his lettering style fluid and graceful. He is famous in the typography world and has been in multiple publications.
Chris LaBrooy
Chris first started using 3D as a tool to visualize and design products. As technology evolved, he saw an opportunity to use CGI as his creative medium wherein he subverts and twists everyday stuff into new creative forms.
Artimasa Studio
This is a lettering design studio based in Indonesia. They craft beautiful typefaces that can be used in almost every project design. They have fonts and types that will fit every mood.
HandMade Font
At HandMade Font, you can find cool and fresh fonts that will personally suit you. It was founded in 2008 and specializes in unique fonts inspired from our everyday surroundings.
Tobias Hall
Tobias is a freelance artist that finds inspiration from music, books, and other stuffs he reads. His versatility made it possible for him to work with different types of people and projects.
Alex Trochut
Alex had already established his own design studio in Barcelona, where he was born, before he moved to New York. He mixes styles and genres derived from pop and street culture, fashion, and music.
HVD Fonts
This is founded by Hannes von Doren from Germany. He believes that his background in graphic design made his fonts successful and interesting in other graphic designers' perspective.
Wete One
Wete is a graphic design studio based in Barcelona. They are featured in multiple publications around the world and have worked with popular clients such as Reebok, Adobe, and Mobile World Congress.
Anthony James
Anthony is a multidisciplinary designer who has worked for numerous clothing labels and literary agencies. He now specializes in vector based designs and runs a successful Type Foundry.
Jack Harvatt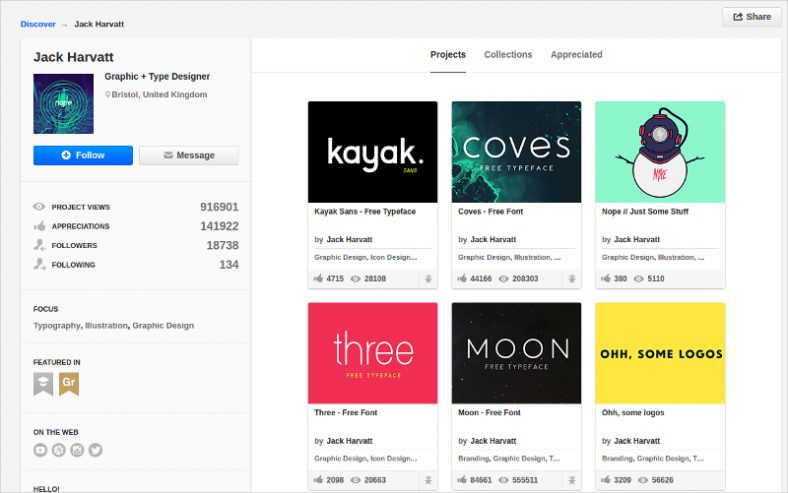 Jack Harvatt creates fonts, logos, and designs. His works' neatness and simplicity is what people like about his work. It seems direct to the point and doesn't really veer the viewers away from the content.
Ale Paul
Being an art director made it possible for Ale to work with studios that handle high-profile brands such as Procter & Gamble, Arcor, and many more. He has taught in seminars and has spoken in type conventions through the years.
Charles Williams
Charles has his own illustration and type studio: Made Up (http://www.madeup.org/about). His works mostly feature geometric shapes, lines, isometric grids, etc.
BMD Design
BMD has worked with famous companies through the years including Nike, Mulberry, and Starbucks. They focus on graphic design, typography, and illustration.
Luke Lucas
Luke Lucas enjoys type-making the most. He loves that letters can be treated in different ways and carry different meanings.
Typography and graphic design are important to catch your reader's and audience's attention. Having the right one for your brand can affect how people see your product. We hope we're able to provide a good list for you. There might be many types and design out there but rest assured that you will be able to find "the one." You can also see Brilliant Design Portfolios.