Baseball is a sport that has simple rules but is actually difficult to play. It is a sport that requires a lot of quick thinking and reflexes as well as maximum focus from both the offensive and defensive side. If you're on the offensive team, you need to make decisions on how to get your players back to the home base without getting caught. And if you're on the defensive team, you should pay close attention to the whereabouts of the ball to try and catch the players from the opposing team with it, preventing them from scoring. you may also see birthday invitations.
In parties or any event, the proper way to invite people is not through verbal means but through invitation letters. Some people may even include and RSVP note to get a confirmation from the invited if they are indeed going to your event. Check out this page for our collection of Party Invitation Template and check out Template.net for other invitation types to suit whatever need you have.
Baseball Birthday Invitation Template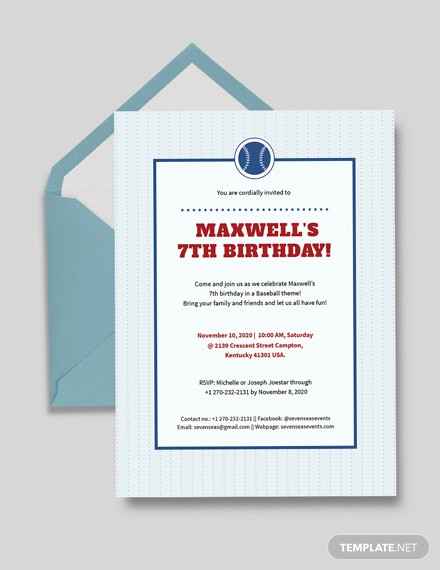 Free Baseball Birthday Party Invitation
Vintage Baseball Party Invitation
Download
Baseball Birthday Party Invitation
Download
Baseball Ticket Party Invitation
Download
Baseball Team Party Invitation
Download
Baseball Theme Party Invitation
Download
History of Baseball
The game of baseball dates back to the 18th century and is based on two English games—rounders (a children's game in New England) and cricket.
In 1845, Alexander Joy Cartwright, a volunteer firefighter, bank clerk, and a member of the New York Knickerbocker Baseball Club, formalized the rules for baseball.
In 1846, the first recorded baseball game took place and was played by the Knickerbocker Baseball Club and the New York Baseball Club.
In 1858, the National Association of Baseball Players was formed and became the first organized amateur baseball league.
In 1871, the National Association became the first professional baseball league but was eventually replaced by the National League on 1875.
In 1903, the first World Series, which is the annual championship event for baseball, was played.
In 1992, the sport was fully and officially included in the Olympics. However, in 2008, baseball was removed from the Olympic games.
For baseball-themed invitations for birthday parties, check out our collection of Baseball Birthday Invitation.
Facts about the Sport
The first World Series played in 1903 was between Pittsburgh and Boston, and Boston won the Series 5–3.
The first-ever television broadcast of a major league game was on August 26, 1939, between Cincinnati and Brooklyn.
The National Baseball Hall of Fame and Museum is found in Cooperstown, New York. It was created in 1935 to celebrate the sport's 100th anniversary.
No female player has ever played in a major league baseball game. Sports executive Effa Louise Manley is the first and only woman inducted into the Baseball Hall of Fame.
The New York Yankees holds the most World Series wins with twenty-seven (27) titles.
For other templates to choose from, also check out our collection of Ticket Invitation Template.
Baseball Pool Party Invitation
Download
Kids Baseball Birthday Party Invitation
Download
Printable Baseball Birthday Invitation
Download
Baseball Wigglers Party Invitation
Download
DIY Baseball Party Invitation
Download
It is included in the rules that a pitcher must always wipe his hand on his uniform first before he grips the ball for a pitch.
Wooden bats are used in minor and major league games. However, metal bats are used in college games.
Henry Chadwick is considered by some as the father of baseball due to his contribution in increasing the sport's popularity by reporting games. He is also the only writer to have been elected into the Hall of Fame.
Why Choose Our Templates?
Our invitation templates have been designed by creative and talented graphic artists who make sure that your invitation can draw as many attendees and guests as possible. You may be able to access and download these templates easily and for a reasonable fee, and you can choose to download it in either PNG, EPS, or PSD format for high compatibility with most photo-editing software.
For vintage-looking invitation templates, you may check out our collection of Vintage Party Invitation. But if you couldn't find what you were looking for on this page, scroll down and feel free to check out the links to other related content found on our website.