A birthday party is supposed to be about attractive themes, balloons, decorations, the customary birthday cake and of course, birthday invitations. If your child has their birthday coming up, then you are going to require birthday invitations. Instead of wasting both time and money on invitation cards, you can go for these printable birthday invitation templates found here. Plus, let's not forget, the templates come with a whole lot of customisation tools as well which allow you to personalise them.
Kids 2nd Birthday Party Invitation
If you are looking for a classic example of an invitation card for a kid's birthday party, then this is the apt template for you. Plus, it is customisable as well.
Digital Template Birthday Party Invitation
Digital templates are the new way to go when it comes to birthday invitations. Also, the template here is pretty easy to use. You will have to download the template to edit it.
Kid Invitation Card Design
The design on this invitation card for kid's birthday party is attractive enough to grab eyeballs. You get stock images with this template that you can utilise in your own way.
Under the Sea Birthday Invitation
If you are having an ocean or under the sea themed birthday party for your kid, then you need an birthday invitation card that goes with the theme. For that, you can use this template.
Sparkling Kids Birthday Invitation
Kids love anything that sparkle and glitter. For a gorgeous invitation card to your child's birthday party, you can go for this sparkling kids birthday invitation template.
Printable Birthday Party Invitation
This birthday invitation card template comes in a format that is all set for printing. This printable birthday card comes with the design and format already provided to you.
Happy Birthday Invitation Template
If you are planning to have a birthday party for your child, then you need to get your hands on birthday party invitations. Now the best way of doing so would be to use this template.
Polar Express Birthday Invitation
Now that winter is on its way, you could have a similar themed birthday party for your child. To make sure your birthday invitation goes with the theme, use this template here.
Prinatable Kids Birthday Invitations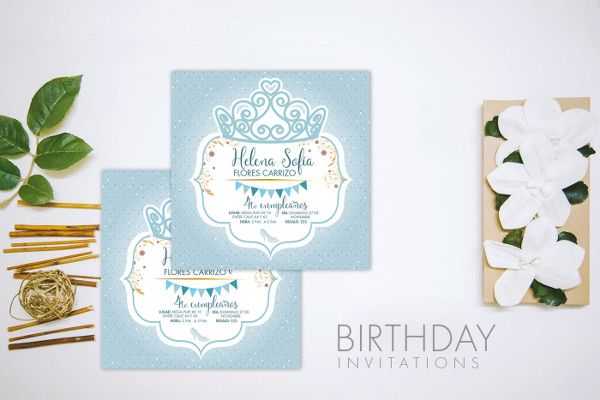 This birthday invitation template comes in a neat psd file with a print ready format, loads of customisation tools, standard size with allowance for bleed and a fairly high resolution of 300 dpi.
Kids Birthday Party Invitation with Baloon
Balloons are a must in any birthday party. A birthday party invitation too would be incomplete without balloons. This balloon themed invitation template would be perfect for your party.
Invitation for Birthday Party
This birthday party invitation template comes with an attractive theme and design, stock images and free fonts. Plus, you get images in a really high resolution and CMYK colour mode.
Kids Birthday Anniversary Invitation
The best way to spice up a kid's birthday party is to get hold of fantastic party invitations. You can do so with the help of this template which is both easy to use and attractive.
Cute Birthday Party Invitation Card
Birthday invitation card templates for kids are meant to be eye catching and creative. That is exactly what you get with this cute birthday invitation card template. Also, it is easy to use.
Ballon Birthday Invitation Set
This kids invitation template has to be one of the finest examples of birthday invitation cards. Plus, it comes with stock images and high resolution fonts in a neat psd file.
Pink Kids Birthday Invitation
Kids love pink – there is no denying that. If you have a kid who absolutely loves pink, then use that as the theme for your party. To go with it, you have this template at your disposal.
Editable Birthday Invitation
Happy Birthday Invitation
Kids Birthday Party Invitation Card
Kid's Cupcake Birthday Invitation
Funny Kids Birthday Invitation
Kid Birthday Invitation Set
If your kid's birthday party is coming up, then you would be needing some birthday invitation cards to send out. However, coming up with so many birthday invitations in a short period of time can be pretty tedious. Instead, you could just use these kids party invitation templates that are found here galore.