It's that time of the year again when we celebrate the culmination of the Lenten season by celebrating Easter Sunday. While this is being practiced differently among cultures, it still leads down to one thing—a celebration. If you're putting together an Easter party, we've got the perfect invitation templates that you might not only want but actually need.
5 Steps to Create an Easter Invitation
Step 1: Decide on a theme for your invitation
In terms of the theme, this refers to the features on your invitation including the color scheme, the font type and color, and the arrangement of the elements. Basically, the theme refers to the overall look of the invitation, and it is important to start your process of creating one by deciding on what theme you'll be going for.
Step 2: Gather the needed resources
Resources include not only the tangible materials such as the paper or card stock and the decorative materials for enhancing the invitation card's design, but also include the ones that you can download from the internet. It is always best to prepare all of these to keep the work going and prevent any hindrances in productivity.
Step 3: Prepare a list of the party details
This basically refers to the content of the invitation and this will provide the reader with all the details of the Easter celebration. For starters, this includes but is not limited to the date and time of the event, the name of the place and/or the street address, and the party host's contact details.
Step 4: Customize an Easter invitation template
We've got over ten invitation templates below that you can choose from, at least one of them should work with your chosen theme. After getting your hands on one, simply open it on an editing tool and start customizing the design and adding the content. With the right editing tool, you'll get the job done in no time.
Step 5: Print your invitation cards
What else needs to be done after editing an invitation template? Printing copies of the invitation, of course. If you have prepared a guest list or something that allows you to estimate the number of guests, it is best to print more copies than the estimated number to have spare invitations in case you might need them.
11+ Easter Invitation Templates
1. Easter Sunday Celebration Invitation Template
Here's an example of a straightforward Easter Sunday invitation card that you might want to use for yourself. You might need to keep your Adobe Photoshop handy since this is an invitation template in PSD, but you may still use alternatives such as GIMP, Photopea, or Paint.NET (with PSD plugin).
2. Simple Easter Party Invitation Sample
If you want simple, here's an event invitation template that doesn't hold itself back despite being simplistic indeed. The background shows a creative but faint pattern of Easter eggs and the foreground mainly consists of the text and an illustration of a white bunny. If this interests you, take note that you can get this either in PSD or AI.
3.  Risen Easter Sunday Invitation Layout
Download
Easter Sunday is all about the risen Christ and this is the reason why it is really worth celebrating. The formal invitation template above effectively brings the concept to life by illustrating an empty cross and stating that "Jesus has risen". This template has been optimized for printing, so feel free to do so after editing it.
4. Colorful Easter Invitation Card Format
Download
How can you make a design colorful yet minimal at the same time? By doing it the same way as the template above. This Easter invitation card template keeps the colors at the sides to make space for text in the middle. Once again, this template comes in a PSD format, so be sure to have Adobe Photoshop already installed on your computer.
5. Typographic Easter Sunday Invitation Example
Download
This event invitation template is purely typographic as in it's all text and no photos or illustrations. However, this template is also two-sided meaning you can dedicate one side for the event's title while place the rest of the details on the opposite side of the card. This would be the ideal template for an uncluttered Easter invitation card.
6. Easter Picnic Invitation Card Format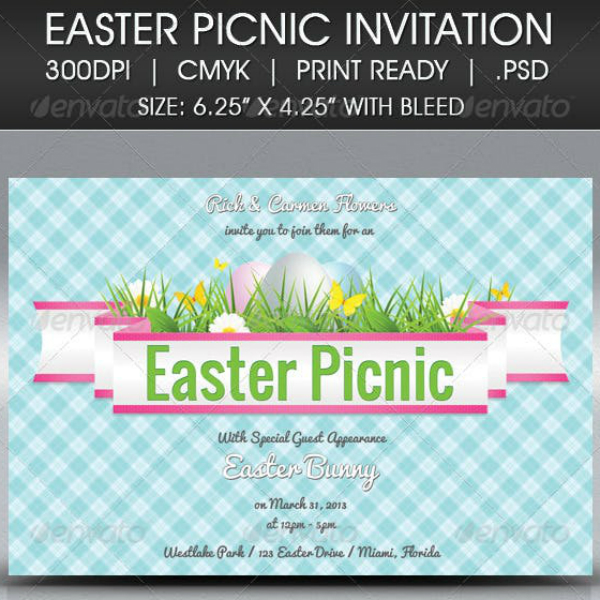 Download
You may be putting together a simple Easter Sunday picnic gathering with either your family, friends, or relatives and you need to create invitations for sending out. We've got the perfect Easter picnic invitation template that you can use for that purpose and you can get it in the PSD format.
7. Elegant Easter Brunch Invitation Sample
Download
A floral wreath is a common decoration during very special occasions which makes perfect sense to have it included on this elegant invitation card template. Whether or not you're planning to hold a formal Easter event, this would be a very good invitation template to use for creating your own invitation cards.
8. Vintage Easter Egg Invitation Template
Download
One very common activity or game that occurs during Easter Sunday parties is the egg hunting. This game involves getting participants to look for eggs (usually with painted shells), around a designated place. This would be a good pick if you're putting together an Easter egg hunting event and you prefer something simple yet stunning.
9. Square Easter Church Invitation Design
Download
Do you know how to make your invitation cards stand out effortlessly? Make it square-shaped. But don't stop there, you will still need to properly design your invitation cards to really make an impact. Use the Easter invitation card template above to gather guests from inside and outside the church to your wonderful gathering.
10. Easter Egg Hunting Invitation Example
Download
Using embossed elements for your invitations may require you to exert extra effort to pull it off, others might even resort to getting it done by professionals instead. To keep you off the stress, we've got a party invitation template above that contains elements that appear to be embossed. With this, you'll be able to pull off the effect easily.
11. Floral Easter Brunch Invitation Design
Download
Most Easter gatherings occur early Sunday morning, either during breakfast or lunchtime. To cater to those who prefer one over the other, why not hold it over brunch instead? We've got a beautiful and colorful Easter brunch invitation template available for you, the art style of this template is even inspired by watercolor art.
12. Flat Easter Party Invitation Layout
Download
We've got another PSD-based formal invitation template that you can use for your Easter egg hunting parties. This template has a straightforward design and uses flat elements which are good for easy editing and rendering. Also, this template comes in two different styles, eight PSD files, and three fonts that you can use for free.