Christening baptisms have been a staple milestone for the Christian church for years. This is the day when a child is being officially dedicated to God, and as for the child, it's his or her first journey of faith. Parents have always put an extra effort to make this celebration special. And what better way to make this celebration intimate and special other than inviting godparents, relatives, and close friends?
Elements of a Good Christening Baptism Invitation
To avoid the hassle of poorly planned celebrations, a favorable outcome should start with the invitations. You wouldn't want to have guests grumbling about how they got lost, or see people arrive late just because of a lacking invite. In this section, we will briefly discuss the elements of a good christening baptism invitation.
1. Precise details: Prioritize the accuracy of the information you are going to put in. Write down the complete address, put a few extra minutes with the time to set an expectation of when the guests will arrive, make sure of the date, and you can also include additional instructions. You can even include an actual or artsy version of the map of the venue just to make sure no one gets lost.
2. Typography: Be mindful of the font style that you will use. It is advised to keep one font style throughout the invitation. Choose a style that will fit the theme of the celebration and one that will blend well with the other elements.
3. Image of your baby: It's your baby's time to be introduced and to shine. Put in the cutest photo of your baby, preferably as the cover page of your invitation card. This will evoke excitement most especially to the people who are given special tasks and privileges as godparents.
9+ Christening Baptism Invitation Templates
To free you from the hassle of having to look through invitation templates, we have gathered it for ourselves. These templates are pre-designed and are easy to edit. Feel free to look through each of them.
Blue Christening Baptism Invitation
Christening Baptism Invitation Template
Floral Christening Baptism Invitation
Baptism Invitation Template
Sample Baptism Invitation Template
Christening Baptism Invitation Sample
Details
Size: Available in 5×7 inches + Bleed
Christening Baptism Invitation
Download Now
Blue Christening Baptism Invitation
Download Now
Simple Baptismal Invitation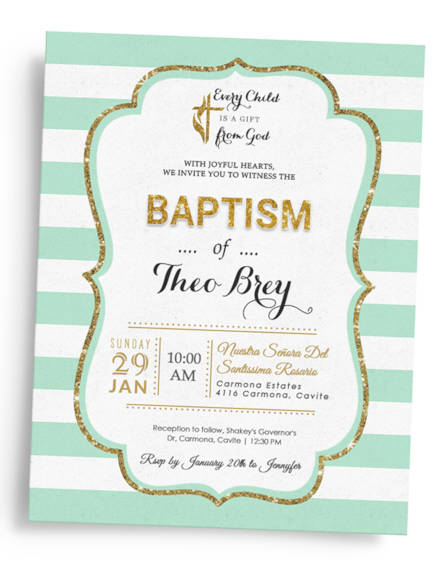 Steps to Make a Great Christening Baptism Invitation
A mediocre invitation card isn't hard to make, and the same goes for a successful one. So why settle with a bad invitation card when you can make a great one? These are the steps in making a great baptism invitation.
1. Figure out how many invites to make: Noting this first will help you stay in track of the deadline and will also help you figure out a budget for the invitations. Making too much would be a waste of resources, and making less would be a bad impression for the people.
2. Jot down the details: Never forget that your invitation should answer the four essential W's—who, what, when, where. Put down the complete address of the church or venue, you can also include a map just to give the guests a visual representation of where the building is located.
3. Pick a photograph of your baby: Find your baby's best picture and include it in the baptism invite. This is your first official introduction of your baby to the world and there's no better way to do it than to post his or her photograph. This celebration is all about your baby so why not make him or her the star.
4. Choose and edit a template: Templates are pre-designed files made to make your task a lot easier. So go ahead and pick out that appropriate template for your invite and edit it. Since the templates are pre-designed already, there's only so little left to do in order to achieve that dream invitation.
5. Evaluate your template: After editing the template, try to do a print preview of it and double check everything, from the details to the images' resolutions, up to the layout.
6. Print your template: Print a mock-up before printing multiple copies of your invite. Invest in having your baptism invites professionally-printed on a special finish or textured paper to add more style. Make sure that the paper's design would compliment the template layout you have chosen.
Tips to a Great Christening Baptism Invitation
Place your invitations on an envelope: While this practice may be so traditional, this is a very formal act of finalizing an invitation kit. Pick out special commodity envelopes that will match your card's layout. If you have a lot of time in your hands, then you can personally make one.
Include a small giveaway: Choose something that can be placed inside the envelope along with the invitation card. It can be a bookmark or a photograph of your family with the baby. These add-ons will make your invite more intimate and special, most especially to the guest.
Try contemporary designs: Embossing, letterpress, foil, these are a few of the new contemporary designs for invitations. Try out some if you want intricate details in your invitations. Some methods may be expensive, but there are some that are price-friendly.
Types of Christening Baptism Invitation
Flat: These invites are open-faced and have one panel only. You can easily see all the event details at one glance. Even with the limited space of flat invitations, there is still some working space (most usually on the sides) for design.
Folded: In contrast to the flat invitations, folded invitations have four panels. These are the traditional type of invitation cards that have more room for design elements.
Send and seal fold-up: Unlike the other types, this one has no need of an envelope. Opening this type of invitation is like unwrapping a present. Along with the invitation, you can also include the RSVP card in this one.
Sizes of Christening Baptism Invitation
Invitation cards, in general, don't have to follow a universal size. As for this article, the templates embedded above have a size of 5 x 7 inches. Listed below for your reference are the invitation sizes.
3.5 x 5 inches
4 x 6 inches
4.25 x 6 inches
7 x 5 inches
8.5 x 6 inches
10 x 7 inches
FAQs about Christening Baptism Invitation
Can I incorporate my own wordings in the template?
Yes, of course. These templates are pre-designed to make things more convenient for you but you can always edit the texts to your liking. If you have more stuff that you want to have adjusted or changed, you can always contact a site graphic designer.
When is the right time to send out invitations?
Sending out invitations too early or too late would be a bad impression to the receiver. There are things you have to consider when sending out invitations. If the venue is local or if the guests are local, you can send invites at least 3 weeks before the event. If you have to travel to get to the venue or if the guest is living in another state or country, send your invites a month or two before the event.