A college is a place where individuals try to figure out what they really want in life. It serves as a place they spend their formative years in as it helps set them up for the world that awaits them. Moreso, college is a melting pot of different people with very diverse ideas. It is a place where differences converge to create growth and to celebrate expression. But in between all these, college is actually a fun place to be in, as much as it encourages and helps you learn, it allows you to meet different people and create bond and memories with them along the way. You may also see printable party invitations.
34+ College Templates in PDF, Word, Excel, PSD, Google Docs, InDesign, Apple Pages, Google Sheets, Publisher, Apple Numbers, Illustrator - START DOWNLOADING
Graduation Party Invitation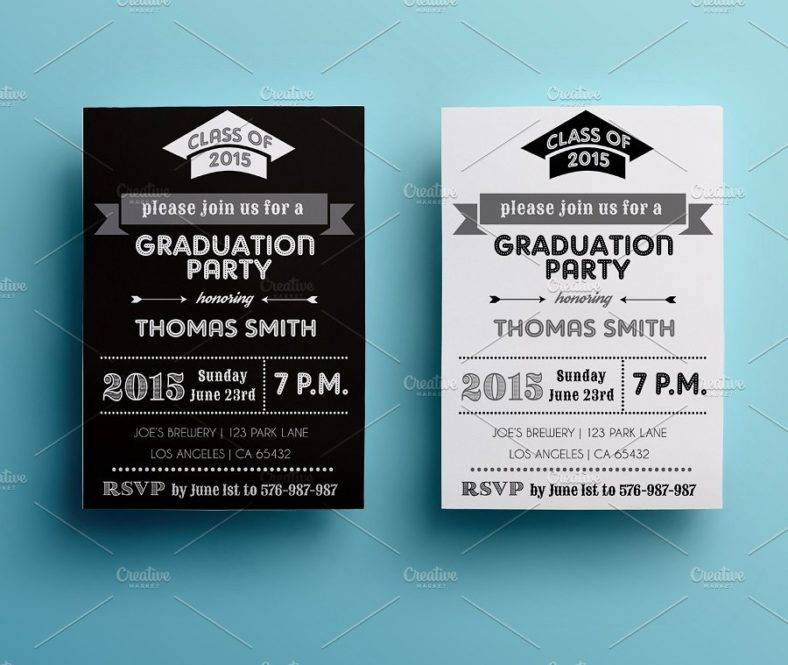 In college, there are a lot of different activities that different groups organize; it varies from one group to another. But there is a similarity present among all which is to allow college students to have fun and have a break from their academic life. It is true that sometimes these students need a break from their books, from homework, and more importantly, from just being stressed. They need to let loose, get crazy, mingle with other people, and divert their attention from anything academic related. With that said, if you are an individual or a group planning to organize a party for college students and is seeking the perfect invitation for such, here is a list of college party invitation that you can most probably use depending on the kind of party planned.
College Graduation Invitation
Graduation Party Invitation Template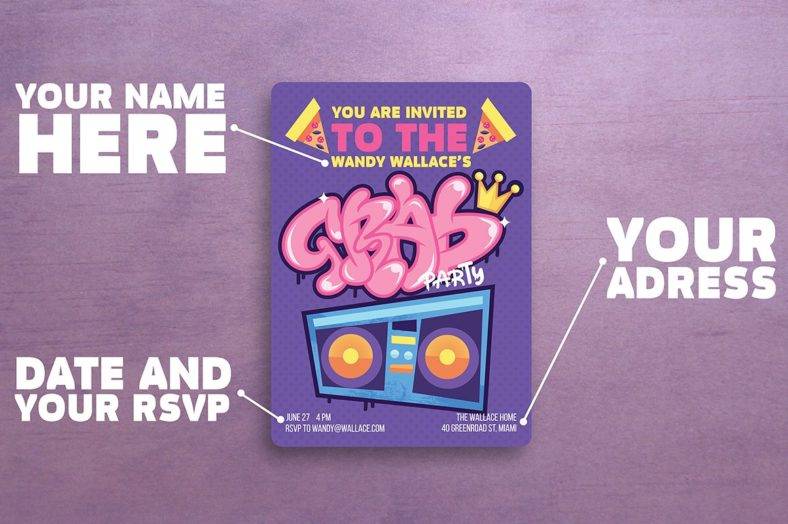 College Party Invitation Template
Kinds of College Parties that Exist:
One of the greatest pleasures in college is getting to meet different people that you can eventually consider as your friends. To do so, one must have to socialize by means of existing not just in the academic aspect but also in the social circles of different groups. There are actually different types of college parties that college students attend to; especially freshmen who need to experience these to jumpstart their college life with fun and adventures. With that said, here is a list of different college parties that exist:
1. Parties that are Sponsored by the Campus
This party is perfect for those incoming freshmen college students, as most of these college-sponsored parties are supervised by the college to help them get students acquainted with the new environment they are in. As such are part of the orientation program or held earlier in the semester. This kind of parties benefits mostly those who are still introducing themselves to the whole college life. Campus-sponsored parties are commonly alcohol-free as it is commonly prohibited and highly supervised.
2. Parties that are Sponsored by Dorms
Dorms act as a place of convergence, where different people are tasked to mingle and get to know other different people. Dorms usually have one of the best parties that help an individual get to know other people. Sponsored dorm parties, like the campus-sponsored ones, are commonly alcohol-free (but there are also some that allow). The way dorm parties work is, a college may from time to time allow floors to organize their own party, which will also benefit the freshmen as it allows them to interact and get to know different people. Sometimes, it is organized for the whole entire dorm to celebrate and is looked upon by dorm staff, resident advisers, and other college staff as well. But, it can also be supervised by different individuals or organizations living in a dorm, ardent to make their stay truly worthwhile. You may also see graduation party invitations.
College Game Party Invitation
Carnival Ticket Invitation Template
3. Rush Parties by Fraternities and Sororities
One of the most well-known aspects of college is fraternities and sororities, an organization with a tight brotherhood and sisterhood bond. Being that each year there are members that graduate and eventually leave the campus, it is inevitable for those who are still in their groups to invite and recruit new members. During the early days of the first semester, there is an event called the "rush", which is an event or party that is used to lure independent students to join in on their fraternity or sorority. Each group tries to outdo the other by organizing a better event, it is most common with the parties of this kind to be alcohol-driven. With that in mind, it is to no surprise that it gets really wild, fun, and even really crazy at times. The objective of this kind of party is to be able to invite or recruit those students who are well off, more hip, and more popular than others. You may also see blank party invitation templates.
4. Fraternity and Sorority Parties
During the span of their college life, fraternity and sorority members, more often than not, organize their very own parties. These parties actually vary from theme and kind, making one unique to the other. Fraternity and sorority parties are infamous for being wild and out there, especially having known the accessibility of alcohol in this kind of parties. Since fraternities and sororities each have their own "houses", it is inevitable that they get ample freedom to do whatever they want with their parties giving it at times the loud and obnoxious reputation. It may be so wild that police may be involved in toning it down. But, despite how bad its reputation is, it is true that sometimes it becomes the best thing or kind of party to experience (even just once in your college life) because of how fun and wild it can be. As they say: you only live once. You may also like invitation card designs.
5. Parties that are Sponsored by College Organizations
This kind of party is more streamlined and more organized because it is done with the supervision of college organizations. This party focuses on the welfare and interests of different students part of different organizations. Parties of this kind vary from social events such as outreach parties to campus government events such as student's nights or acquaintance parties. The asset of this kind of party is how well-organized it is and the safety assurance it has (compared obviously to those with little to no college supervision). You may also like graduation invitation designs.
Why Should You Opt for an Invitation to Your College Party?
As with any other medium in communicating for your event or party, there are also different reasons to why you should opt for an invitation. That, despite it being traditional, it can still live up to most of its modern counterparts (i.e social media and technology). Here are the different reasons to why you should still choose an invitation:
1. Effective
Invitations are still very effective even in today's technological age. There is no denying that with the rise and growth of technology and social media people opt to go for the much simpler ways of inviting. But, little do they know that invitation can still work as effectively as its modern and digital counterparts or even better. You may also like printable graduation invitations.
2. Informative
As the main objective of invitation is to inform the people you are planning to hand it out to, invitations provide all the necessary pieces of information with regards to the event being celebrated or even the person organizing the event. It contains the answers to the questions who, what, where, why and sometimes even how. You may also like best invitation examples.
Baseball Theme Invitation Template
Multipurpose Invitation Template
Christmas Party Invitation
3. Creative
Contrary to simply resorting to a two-dimensional digital invite, invitations can be an avenue for an individual's creativity. There are so many things one can do even if they prefer going for a much simpler design or prefers the more ostentatious one, creativity will most definitely shine on an invitation. You may also see sample party invitation templates.
4. RSVP
RSVP is an acronym of a French phrase that goes "Respondez S'il Vous Plait" which means "Respond please." Invitations that have this feature allow the organizer to perform a headcount so that they will know who is coming to the party, which will allow them to prepare the right accommodations. Compared to other mediums such as flyers, which will just simply spread the word across, an invitation will relay the message to the few people invited and will narrow it down to those who are sure to come. You may also see simple graduation party invitations.
What is the Best Way to Acquire Your Own Set of Invitation?
There are definitely a lot of different ways to how one can obtain their very own set of invitations (depending especially on what they prefer). If you prefer a more expensive option, then having it custom-made is the way for you. It undeniably costs a lot than the other in comparison since there is a ton of work that goes into the creation of your event's personal invitation. As with it in other different mediums, having something custom-made is a pricey option that will most definitely pay off in the end and in the long run. On the other hand, if you are on the lookout for an option that does not require a lot of money, buying it in stores is your go-to. Although it essentially costs a lot less than others, sometimes you get what you are paying for— with generic and mediocre designs.
Moreso, if you want an invitation that does not cost a lot but does not look generic and mediocre, then a great option is to go with a pre-made invitation design and template. A pre-made invitation design is an invitation designed by a professional graphics artist, but once bought will give the buyer the opportunity to do whatever he or she wants with it. Also, with a pre-made invitation, there are a lot of designs to choose from depending on what you want or prefer. It is also very easy to edit and customize as it comes in a file that is easy to do so. From texts, colors, cool fonts, layouts, you can do anything you want to personalize your invitation. At times, it comes with a smart object layer that allows elements of the design to be moved around to create a more personalized invitation.
As an organizer of the party, you want to make it personal or special to the person you are giving it out too. For you to be able to do just that, you have to go for an option that does exactly that very thing; an invitation makes it personal to the person being given the invite. Most importantly, it is a practical and efficient option compared to its other counterparts. An invitation is also a medium that is used to inform people of the necessary pieces of information or details with regards to the party. You may also like farewell party invitation templates.
Furthermore, college is a fun place to be with different parties that can be organized or can be attended to. It is okay to work hard to obtain a degree in college, but it is also okay to have a little fun, destress a little, and just enjoy the moments that college has to offer. You may also like free party invitations.
If you ever found this article helpful do not forget to bookmark this page for future references. And kindly share this with other organizations or individuals planning to organize a party, or to the college, in general, seeking the college sample party invitations.