If you are looking for a unique theme for a birthday party or just a gathering of like-minded people, how about having a DJ party event instead? As its name implies, it is party headlined by a DJ or a pretend one if you do not have sufficient funds to book a real DJ. Whatever the case, it still stands that having a DJ party is a sure-fire way to draw out guests and attendees to your unique celebration.
DJ Summer Party Invitation
Free Download
DJ Music Party Invitation Template
Free Download
Guest DJ Party Invitation Flyer Template
Colorful DJ Party Flyer Invitation Template
DJ Flyer Invitation Template
DJ Party Invitations: Handmade vs Pre-made Templates
When planning for a formal event or party, it is customary to inform your guests in advance of the forthcoming event. To do that, you need to create invitation cards or flyers. There are two main ways to create any kind of invitation card template. The first is by making the invitation card manually and the second method is by using invitation card template.
1. Handmade DJ Party Invitation Cards
Use the handmade card design method if you want more creative freedom in your invitation card designs. This approach will also suit those who only intend to create a few invitation cards. If you are going to invite a lot of people, it may not be feasible to create each invitation card manually. Also, you need to properly coordinate your time and prepare the necessary materials ahead if you want to finish making the party invitation cards on time.
A good thing about creating your own DJ party invitation cards is that you can properly execute any creative design that you like your DJ party invites to have. For example, if you want to incorporate sequins or paper cuttings into your invitation cards to give it a more three-dimensional appeal, you can certainly do so.
2. Pre-made DJ Party Invitation Templates
For those who may not have enough free time nor the patience in manually hand-crafting your invitation cards, following the second method of creating invitation cards may suit you. Pre-made invitation card templates are digital files that you can edit and/or print right away. All you have to do is find a card template design that suits your tastes and the kind of party you are planning.
So if you are planning a DJ party, using party invitation templates will allow you to quickly distribute these invitations to your guests. On top of that, these pre-made templates only cost a few dollars and will not really cause a big dent in your party budget plan. For more information on how to create a budget plan, check out the linked article.
Both approaches to creating a DJ party invitation card has its advantages and disadvantages. As the party planner or host, it is in your hands on what card-making method to use. Whatever method you choose to follow, just remember to enjoy the task and have fun while doing it.
Grunge DJ Party Invitation Flyer Template
Elegant DJ Party Invitation Template
Creative DJ Party Flyer Invitation Template
Birthday DJ Party Invitation Template
Modern DJ Party Night Invitation Card
How To Choose A DJ Party Invitation Card Template
In the previous paragraphs, you have learned the two main methods of creating a party invitation card. So if you have decided to use pre-made printable invitation templates, it is time to learn how to specifically choose a invitation template for your party. This task can be especially difficult once you see that all the different DJ party invitation template designs shown in this article are all well-crafted. That is why we have listed a few of the key factors to consider when picking out the best invitation card template for your DJ party. Read on…
How much does the invitation template cost?
When looking for a DJ party invitation template, you should first ask yourself what the price of the template is. This factor is especially important to make sure that you are not being scammed into buying something for more than its standard market price. Usually, pre-made invitation templates can cost between $3 to $50. The higher the price of template means that will include multiple formats, template types, and customizability options.
Looking at the base price of any printable template will also allow you to accurately estimate how much the printing of the invitation cards will cost overall. The price of a single pre-made template may be less but you may have to spend a ton when printing it out. Carefully factor in this detail before you decide on purchasing a DJ party invitation card template.
Can you fully edit the template?
The question to ask yourself prior to buying a DJ party invitation template is whether or not you are allowed to edit the invitation template after purchasing it. Remember that you will need to make minor customizations on the template like adding your own party details and changing some images. Being able to customize a template will also allow you to transform the template into something more creative and truly original.
On the other hand, if you do not know how to edit these printable invitation templates, you may opt to go to a seller or graphic designer who offers additional template editing services on top of the standard party invitation card templates that he or she sells. By following this route, you will save yourself the hassle of learning how to edit and/or learning more about graphic design.
How are your editing skills?
Another factor to consider prior to choosing your DJ party's invitation card template is your own editing or graphic design skills. This is an important factor to consider since you will need to do minor edits to any card template prior to printing it out unless you opt for the method we mentioned earlier.
If you have the time and resources, you can easily learn how to edit these pre-made templates by studying different Illustrator and Photoshop tutorials online. Some of these tutorials may even be free.
Factoring in your own graphic design skills also means that you should look into the different file formats that a prospective invitation card template comes in. For example, if know how to use and edit using Adobe InDesign, you should make sure that the invitation template that you like is available as an InDesign template file. If not, you may have to look for a compatible invitation template or you may just have to install another kind of graphic design software program on your computer.
What are the template's available printing formats and sizes?
Another factor to consider when choosing any kind of invitation template is the template's built-in print size. Party planners should always consider beforehand because it can affect how you intend to package and present your DJ party invitation cards.
If you are planning to create an envelope-enclosed invitation template, you may choose an invitation template that follows standard foldable greeting card format. Or, if you are having an informal way of distributing your party invitations, you can opt to follow a flyer design printing format.
Always factor in the printing size before purchasing a template so that you will save yourself the hassle of extra template editing and or paying more for printing an invitation that is of a bigger print size.
Does the template's design fit your DJ party theme?
Lastly, perhaps one of the most important things to factor in when selecting a party invitation card template is the template's design elements. To illustrate, if you are going for a retro DJ party, you should make sure that your invitation card design will reflect the same retro or vintage graphic design elements.
As the party host or organizer, you should make sure that your party invitation card accurately depicts the kind of party you are having. This way your guests will know what to expect during your party and, in some cases, they will also know how to dress up for your party.
Now that you know all these factors or questions to ask yourself before purchasing an invitation card template for your DJ party, it is time to apply them during your decision-making process. Carefully think back through each factor for every invitation card template design that you like. This will make it easier to narrow down the top 2 or 3 invitation cards, and then all you have to do is choose the DJ party invitation card design from that list.
Music Dance DJ Party Invitation Card Template
Summer DJ Party Invitation Flyer Template
Music DJ Party Invitation Flyer Template
DJ Party Flyer Invitation Template
Birthday DJ Dance Party Invitation Template
Stylish DJ Party Invitation Flyer Template
DJ's Party Invitation Poster Template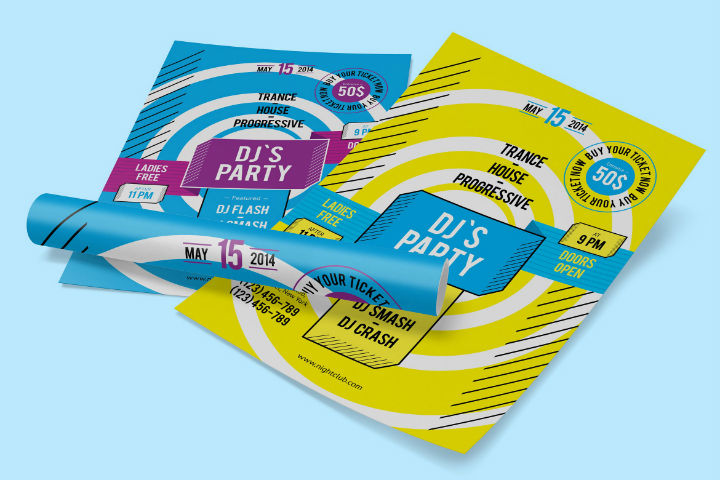 Choose the Best DJ Party Invitation Template
Picking out the best DJ party invitation card template design can quickly become a difficult job if you do not know what to look out for when choosing a pre-made invitation template. That is why you should use the different tips you have learned in this article and apply this knowledge in your decision-making process.
In fact, it is better if you choose among any of the invitation templates included in this article and download the template of your choice right away. This way you can customize and transform your chosen template into something that will truly complement the kind of event that you are planning.
In this article, we specifically focus on different DJ party invitation card templates that anyone can use if they are planning for an explosive birthday bash or gathering. Also, more information on how to choose a DJ party invitation design is included below. Be sure to read and apply these tips in your decision-making process.
What is a DJ Party?
A DJ party is a party or celebration where a DJ or disk jockey controls the music choices played during the entire party. In this type of party, the DJ selects the music and mixes it to give a more distinct sound or effect to its listeners. And to fit a party ambiance, most DJs will choose a dance tune and creates their own mashups of these songs. In some cases, the DJ himself or herself may also become the main attraction of a party or celebration especially if he or she has built enough DJ-ing street cred.
Planning for a DJ party will almost always mean that you are also having a dance party since it is the DJ's main task is to keep all the attendees dancing and enjoying the event. So when looking for a DJ party invitation template design, you can also begin looking into different dance party invitation templates.
Here are Examples of Printable DJ Party Invitation Templates
As promised earlier, what follows are examples of invitation card templates that may be used for any DJ party. Most of these card template designs are available either as Adobe Photoshop templates or as Illustrate template files. Make sure you have the correct software program installed on your computer before you purchase the invitation template of your choice.
For more examples of party invitation templates and other tips on how to design your own party invitations, feel free to search through this website. Also, help spread the word about these useful DJ party invitation templates by telling your friends, colleagues, and family members about it through social media or email.