In every celebration or occasion, one does not forget to invite someone to attend or to come. Invitation designs can be in any form, whether you're inviting someone verbally or by giving out invitation cards. An invitation is a written or spoken form with which a person is being invited, an act of inviting someone.
Now, for those who are planning to throw a party, especially an engagement party, well, this page is for you. Our list of engagement Party Invitation Templates are what you've been looking for. They are for everyone to make use of. Go check them out. You'll love them for sure.
Engagement Templates in Word, PSD, InDesign, Apple Pages, Publisher, Apple Numbers, Illustrator - START DOWNLOADING
Engagement Invitation Template
Elegant Engagement Party Invitation Template
Sample Engagement Invitation Card Template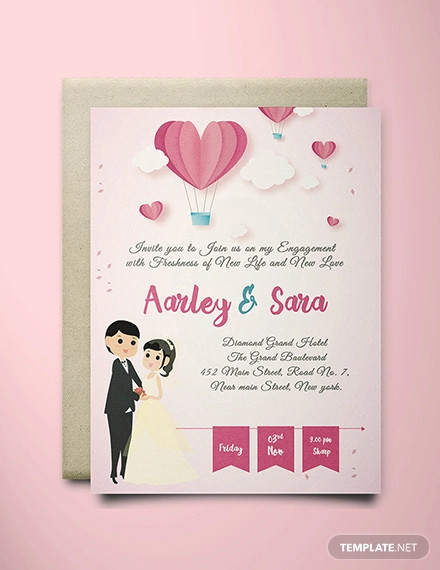 Surprise Engagement Party Invitation
Download
Printable Engagement Party Invitation
Download
DIY Engagement Party Invitation
Download
Engagement Announcement Party Invitation
Download
Engagement Dinner Party Invitation
Download
The Betrothal
So since we are talking about engagement parties, we might as well know more about this celebration and why this is one of the most precious moments in a couple's life.
An engagement party is a party held to commemorate a couple's new betrothal and to help future wedding guests to get to know one another. Generally, the bride's parents present the betrothal party; however, a lot of modern couples host their own celebration.
Basically, engagement parties are like normal parties in which the father of the future bride made a surprise proclamation of the said celebration to the guests. The engagement party had the intention of sharing the engagement news with members of the family and friends. Therefore, this type of celebration is not a gift-giving occasion as none of the guests were supposed to know of the engagement until after their arrival. Way back, engagement parties were used as a commercial transaction in ancient Greece. It was basically a form of verbal contract, created by the man who gave the woman in marriage (typically her father) and the groom.
In today's modern era, engagement parties may celebrate a formerly publicized engagement. An engagement party is a party like any other, except that usually toasts or speeches are made to declare the forthcoming wedding, where a Surprise Engagement Party Invitation and Engagement Invitation are to be prepared as well.
Cocktail Engagement Party Invitation
Download
Vintage Engagement Party Invitation
Download
BBQ Engagement Party Invitation
Download
Beach Engagement Party Invitation
Download
Engagement Event Party Invitation
Download
So You're Throwing an Engagement Party . . .
When throwing an engagement party, it is necessary to plan ahead of time. There are things you need to prepare and things to be considered. You need to make sure that everything should match the theme you are planning to have—from food and venue preparation down to small details such us decorations and invitation cards. Talking about invitation cards, the design does not need to be basic and monotonous. This is the time to bring your invitation to a whole new level, something that can capture your guests' interest.
So if you are planning to have a gorgeous invitation card design, no need to look anywhere else. Our amazing invitation designs for an engagement party are a must-have.
Why Choose Ours?
You can edit them if you want to since they come in editable formats.
You can easily download them anytime and anywhere.
Each contains distinct design that absolutely you and your guests will adore.
They all come in a high-quality resolution.
Color combinations are captivating and elegant.
Plus, you can easily print them too!
So what are you waiting for? This is an offer you should not miss. They are all yours to use. And not just that, our Vintage Engagement Invitation is also a must-have. Download them now!