People want to be unique or want something unique. They always find a way to be different from others. And in the case of weddings, couples planning to get married try to always deviate from the common wedding standards and ardently do it in their own preferred way. There are some brides who, instead of going the traditional white or beige wedding dresses, go for something irreverent such as black, red, or even gold.
Others try to fuse in their culture or roots to try to find the middle ground between being modern and being traditional to create something profoundly new and fresh. Some, however, focus on the details that encapsulate their weddings, such as menu cards and invitation cards to name a few. Invitation card samples most especially can be an avenue for couples to show their uniqueness, as it can be a canvas waiting to be painted.
202+ Wedding Templates in Word, Google Docs, Apple Pages, PSD, InDesign, Publisher, Illustrator, Google Sheets - START DOWNLOADING
Foil Wedding Invitation Set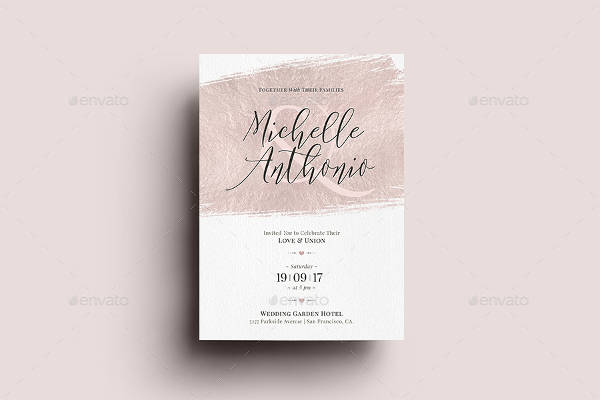 Elegant Foil Engagement Party Invitation
Gold Foil Wedding Invitation Sample
There is just a lot of things that can be done with an invitation card, most vary depending on what the couple mostly prefers. Like for example, a video montage attached to the invitation card for those digital invitation templates ideal for this technology-based world we are living in now and there are also elements that are creatively designed for those simple invitation cards that best reflect and represent your personality.
Or you can go for something unprecedented in invitation cards, one that is able to equally exude class and sophistication, a foil-designed invitation card. Something that is truly unique in invitation cards and something that will truly make your guests remember your wedding (most especially, your invitation cards) for the rest of eternity. With that said, here is a list of invitation card designs and templates with foil designs.
Silver Foil Wedding Invitation
Foil Wedding Invitation Design
Modern Foil Wedding Invitation
Why Foils in Invitation Cards are Appealing?
There are certain design elements that are just so appealing without having to do much. Design elements that are able to help let the medium speak and come to life and one of those design elements is the foil. A foil is generally described as a metal sheet of thin paper, and as a design, it resembles the same characteristics of a metal— metallic and luminous. But, why are foils just so appealing in invitation cards?
1. Unique
One of the reasons why a foil design element in an invitation card is appealing is that of how unique it is in the standards of invitations. Especially with the fonts, where people are commonly accustomed to the idea of a simple black, bold font, with almost little-to-no creativity, except maybe for when the fonts used are far from what are most usually use. That is why foil fonts are just unique because it is simply different from the common option. And in terms of design, anything with a metallic touch instantly becomes a unique feature.
2. Class
Silver, gold, bronze or copper, or anything that is metallic in nature just looks luxurious and sophisticated. No matter how simple the design is, when one opts to use foil as a design element, it will give the impression of a really classy event (which is what most couples aspire to achieve for their creative wedding). This has maybe to do with how people perceive metals (e.g. gold, silver, et cetera), how it has become a symbol of wealth and power, which the Egyptians clearly exemplified back in the day with all their pharoahs drenched in gold. Now, in a more modern setting, it just implies sophistication and luxury, even when you are a couple not in power.
3. Striking
Foils as design elements are simply just striking. Even if you only plan to use it as a border, or as minor details in your invitation, it can still capture your guest's attention (and maybe not just once). Since foils or anything metallic intensifies its luminosity when hit with a light, it makes it all the more striking to people who get to see it in free invitation cards.
Gold Foil Destination Wedding Invitation
Foil Letterpress Wedding Invitation
What Should Go In An Invitation Card?
An invitation card will only be as effective with the necessary pieces of information that will go into it. These pieces of information will altogether relay the information about your modern wedding and act as a design element that will congest the invitation card.
1. Name of the Couple
Since it will be your simple wedding, it is important to address it in the invitation card. Simply put in both of your names as a couple. It is one of those pieces of information that is basic and mandatory. Your names will also inform your guests who the event is for— who is getting married to who. This will also give your guests an idea about gifts to give, especially when there are people who do not know you are getting married and are personally close to you as a couple.
2. Date
The date is also a mandatory piece of information that should be on your invitation card templates, for this will help the guests save the date in advance. This will also give them ample time to prepare for the event like pamper themselves, buy gifts, or even buy clothes to wear.
3. Location
Do not forget to also put in the location of both the wedding and the wedding reception, so that guests will have an idea where you guys will be celebrating your union. This will also be of great help when guests do not have an idea with the whereabouts of the location as they can just simply search the location online, with the information you will provide.
4. Contact Information
You can also provide a set of contact information for your guests— cell phone number, telephone number, and your email address —to cater to their inquiries and concerns about your wedding. This piece of information will come most helpful especially that guests inevitably have inquiries about the wedding: what the dress code is, where the location is, and so much more. Just be sure that what you decide to put in is in active use and up to date.
Simple Foil Calligraphy Wedding Card
Rose Gold Foil Invitation for Wedding
Premade Wedding Invitation Card Designs and Templates
There are tons of ways you can acquire your very own invitation card designs and templates for your wedding, like having it custom made, buying invitations in card kiosks, or simply buying premade designs and templates online. Such ways differ from one another but ultimately share the same end-result. However, among the options common to people who seek invitation cards to use, going for the premade option is seen the most ideal because of how practical and efficient it is to the individual who decides to go for the option. With that, there are reasons to justify why the pre-made option is the most ideal option.
1. It is Very Affordable
One of the very main reasons why people gravitate towards the pre-made option is because of how affordable it is. Although there are also other affordable options out there, compared to the other, the pre-made option is affordable but is not compromised in quality. Also, one of the very main reasons why the pre-made option is affordable is because the graphics designer who create them design them according to their preference, which means they do not have to oblige to the demands and requirements of their customers, which ultimately makes it affordable as labor is not as intensive.
2. It is Workable
Premade designs and templates are very easy to work with, mainly because of the fact that it is premade. You do not need to have extensive knowledge about the different software to be used in order to create your invitation card, as basic knowledge with a little creativity and persistence can already help you realize one. Also, since it is premade, which means initial designs are already laid out, you can just finish what the graphics artist started or use it as an inspiration to base your design off of. You may also see handmade wedding invitations.
3. It is Editable
Considering that it is premade, meaning it is partially finished, there is an ample opportunity for you to still do whatever you want. You can edit the texts, the fonts, the colors, the sizes, and even a few of the other elements to your preference. Sometimes, it comes with smart object layers or vector files that enable you to move around elements in the design to create a more personalized and unique wedding invitation card.
4. It has a Variation
The premade option also comes with an array of design options to choose from. Options that will cater to different preferences. There are simple and minimal designs, as well as fun and modern designs; there are also printed designs that come with floral or glitter prints. And of course, there are designs that have foil as a graphic design element in it. Truly unique and different designs for every different preference.
Gold Foil Glitter Wedding Invitation
Foil Floral Lace Wedding Invitation
If you find this article helpful in any way, do not forget to bookmark this page for future references. And, kindly share this with other couples seeking the best invitation card designs and templates with foil as a design element to use for their wedding. You may also see vintage wedding invitations.