Invitation Templates
7+ Groomsmen Invitation Card Templates – PSD, AI
If brides can send her squad with custom-made bridesmaid cards, grooms may also create and send out their own groomsmen invitation card samples. So if you are a wedding planner or the groom yourself, be sure to read until the very end of this article as we will provide tips on how to create your own wedding entourage invitation cards.
Also, note that this article focuses on the creation of invitation cards using digital templates so be prepared to find multiple examples of downloadable groomsmen invitation card templates within this article. Another thing: Do not forget to install a compatible graphic design software program like Adobe Photoshop or InDesign before you purchase any kind of invitation template.
Groomsmen Invitation Card Template
Black and White Groomsmen Invitation Template
Chalkboard Groomsmen Invitation Card
Handmade vs Digital Groomsmen Invitations
A groomsmen invitation card is just like any kind of invitation card. The main difference is the intended recipients of this kind of wedding stationery. As its name implies, this kind of invitation card is only sent to people whom the groom (or the bride) would think would make the best groomsman for their wedding. And just like other kinds of wedding invitations, they can be printed on different paper sizes and formats.
There are two main methods for creating a groomsman invitation card. We will talk more about these two invitation card-making methods below. Read them carefully so that you can decide on what is best for the wedding that you are planning.
1. Handmade Groomsmen Invitation Card Designs
The first wedding invitation card-making method that we are sharing below involves the use of handmade card designs. With this method, you will be creating the invitation card yourself. Everything from planning the invitation card design to the manual invitation card assembly will be done by hand either by you or another person.
Handmade invitation cards are preferred if you want your groomsmen to feel special and appreciated for their efforts as a friend. Most groomsmen are already close friends with the groom so the creation of handmade groomsmen invitation card will only add another deep layer to your friendship. You can also read invitation card designs.
Also, remember that you do not have to take the creation of handmade invitation cards seriously. In fact, since groomsmen invitation cards are mostly sent out to male friends or colleagues, you may add a little inside joke to the invitation card message. Of course, this will highly depend on the kind of relationship you have with your groomsmen so factor this on the type of handmade groomsmen invitation card you will be creating. If you are interested in creating handmade greeting cards, check out the linked article.
The downside of using handmade groomsmen invitation cards is that you need a lot of time to create each card by hand. This may be alright if you are only making one or two invitation cards. But if you are officially inviting a lot of close and friends and making them all your groomsmen, you will need to allocate more time in the creation of all the invitation cards. You can also read bridesmaid invitation cards.
2. Pre-made Digital Templates
The second and most efficient invitation card-making method is the use of digital card templates. These templates are digital files created by experienced graphic designers that will already come with a built-in image and text placeholders and other graphic design elements needed to create a groomsman invitation card.
As its name implies, digital invitation templates are available in different digital file formats. For example, most wedding invitation card templates are available as Adobe Photoshop, Illustrator, or InDesign templates. It will be up to you on what kind of invitation card format to use for creating a groomsman invitation card. What is important is that you are able to find a card template that will best express the message you wish to tell the friend/s whom you want to be your groomsman.
Using pre-made groomsmen invitation card templates is preferred if you do not have a lot of time to create invitation cards or if you prefer to follow a pre-made invitation card design layout than to create the card design yourself. Another advantage of using pre-made invitation templates also has to do with their cost. After all, most pre-made printable templates only cost between $3 to $8 or even lower.
Those are two main invitation card-making methods. Choose a card-making method that you are most comfortable with. This way you will not have any regrets when it comes to creating your wedding templates and stationeries.
Funny Groomsmen Checklist Invitation Template
Great Groomsmen Invitation Card Template
Ultimate Guide to Choosing Groomsmen Invitation Templates
If in the first part of this article we have talked about the two main methods used in creating any kind of wedding invitation card templates, the next part of this article will focus primarily on the use of pre-made invitation card templates. So if you have decided to use these digital templates, make sure to read the rest of this article as we will be sharing a list of all the questions you need to ask yourself before you purchase the best invitation template for your wedding.
1. What is your wedding theme?
"What is your wedding theme or motif?" This is the first question to ask yourself prior to choosing a groomsman invitation card template. This is an important question to ask and to know the answer to since your groomsmen invitation cards need to sport the same theme as your other wedding stationery and decorative designs.
For example, if your bride and your wedding planner have decided on a nautical wedding theme, it is best to choose the same color palette and/or navy design elements that were used for the rest of your wedding. Doing this creates a sense of cohesion and unity in your wedding event.
2. Is the invitation template editable?
The question to ask yourself before you buy a groomsman invitation template is if the invitation card template is customizable or not. Remember that you still need to modify the wording of the invitation to reflect the name and contact information of your invitee. You also need to add your own wedding details into the template. And to do all these things, you will need to look for a wedding invitation template that has built-in customization options.
Sample wedding invitation templates created from and available as Adobe Photoshop, InDesign, Illustrator templates will often offer total control when it comes to editing the templates later on. So make sure to choose a wedding invitation card template that is available in any of these printing formats.
Groomsman Request Invitation Template
3. Do you know how to edit these templates?
In connection with the previous question, you also need to assess your own graphic design and editing skills before you purchase a groomsman invitation card template. This is an important pre-purchase factor to consider especially if you want to customize the printable wedding invitation template yourself.
There is no use purchasing a customizable Photoshop template if you do not know how to use Adobe Photoshop, right? That is why it is best to determine your graphic design skills first and choose an invitation template that you can edit well according to your own skills.
And if you do not know how to use any graphic design software program at all, you may ask another person to do the template instead. Knowing all these before you actually purchase the template will give you more room to make more informed decisions.
4. When do you need to send out the invitation cards?
The next factor to consider when picking out a groomsman invitation card template is the date you need to send out the invitation cards. If you have a lot of time (more than four to six months) before the wedding, you may certainly take your time in creating your invitation cards.
However, if a wedding is taking place in less than four months, you really need to send out the invitation cards as soon as possible. And, therefore, you also need to make sure that you have already chosen an invitation card template design before that.
Factor this into your decision-making process. This way you can choose a groomsman invitation card template that can be easily customized, printed, and sent out to guests on time. You can also like wedding invitation ideas.
5. What is your budget?
The last question you need to ask yourself before you purchase a groomsman invitation card template if your wedding budget. Some couples may have saved a lot and, therefore, will not have to worry about the cost of the whole wedding. However, some couples may need to follow a wedding budget and make sure that they get the best value out of what they spend.
So if you are on a budget, you may choose groomsmen invitation cards that only require regular printing methods so that you can save on money. Or, you may also opt to decrease the number of invitation cards that will be sent out. For more tips on how to make a budget plan, check out the linked article.
It is your call as a couple on how to proceed. Consider all the other factors that we have included in this list so that you will have a more holistic and more informed decision. When done right, you will have a groomsman invitation card (and other printable wedding stationeries) that will truly suit your personalities and your wedding.
Simple Groomsmen Invitation Card Template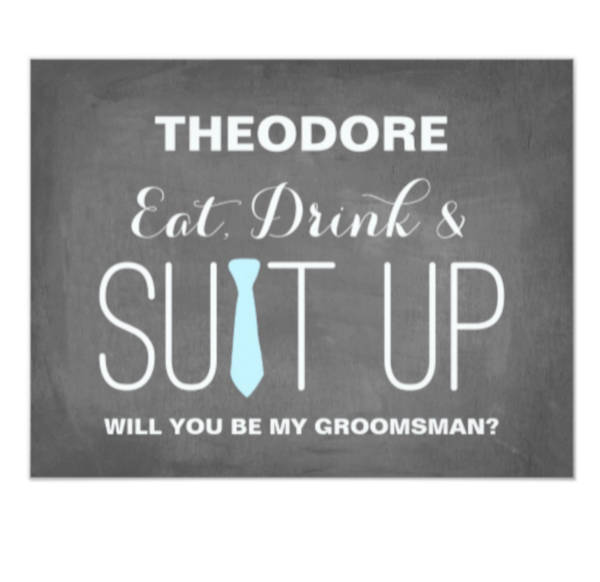 Vintage Gent Groomsman Invitation Card Template
What Groomsmen Invitation Card Template Did You Choose?
The use of groomsmen invitations may not be traditionally included in most wedding stationery templates. However, if you want your potential groomsmen to realize how much you want their presence on your wedding day, creating separate and specially created groomsmen invitation cards is the way to do it.
This article is filled with examples of invitation cards that you can use to wittily ask out your male friends if they are interested in being part of your wedding entourage. Do not hesitate to download any of these printable wedding invitation templates and with few edits, you will have something truly original in your hands.
For more premium and free wedding templates, check out the rest of our websites. Also, do not forget to bookmark and share this article with your friends and followers on social media.
More in Invitation Templates