Free Invitation Cards have been used to announce important events for centuries. People are able to describe the important details of an event, set the tone and allow only those invited to know these details. No matter what the event in question, an PSD Invitation Card shows a level of organization and importance placed on the event.Over the years, the concept of invitation cards template has not changed very much but what has changed, is the way in which they are constructed and sent.
The Internet has Elevated the Creation of Invitations to a Whole New level. By allowing consumers to have access to a limitless selection of invitation templates, styles and colours. The online invitation card sphere helps the user to reduce errors, bolsters creativity and simplifies the ease of sending your unique invitation card concepts to anyone.
Classic Wedding Invitation Card Template

Download
Mickey Mouse Birthday Invitation Card Template

Download
This is a fun birthday invitation template with the cartoon character Mickey Mouse as its theme. The design is very cute and exudes the excitement of a little kid inviting guests to come to the birthday party.
Download Elegant Black and Gold 50th Birthday Invitation Template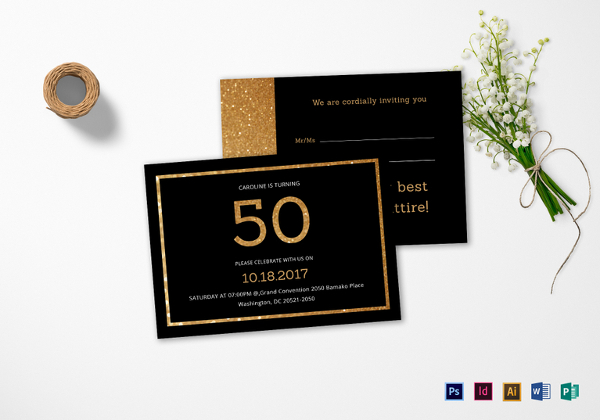 Download
Editable Farewell Party Invitation Template

Download
This one is a vividly designed farewell party invitation template which is a perfect fit for the occasion. The card design is quite unique and comes equipped with the essentials. It is editable and can be tweaked according to preferences.
First Birthday Invitation Card Template in PSD

Download
First birthdays are always very special. So, naturally the invite which has to be sent out must be fittingly innovative as well. Loaded with free commercial fonts and images, this template is a delight. With minor editing, you can quickly print Custom Invitations.
Minnie Mouse Birthday Invitation Card Template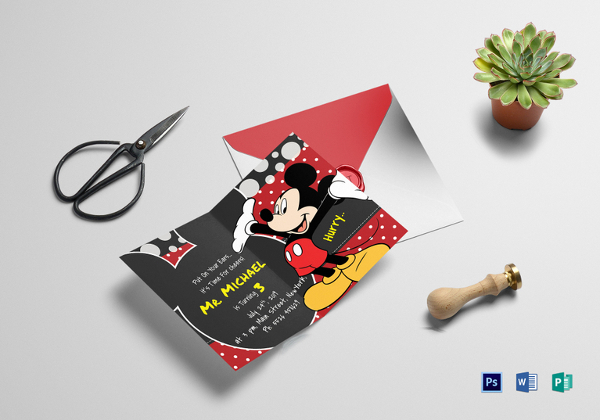 Download
This birthday invitation template is for the ones who love Minnie Mouse very much. The colors red, black and white are eye-popping and literally quite the coolest Micky mouse birthday invitation template ever.
BBQ Engagement Party Invitation Template

Download
For those looking for an apt invitation template to design an engagement party invite, the particular template design is just perfect. The invitation card format is user-friendly, so you can easily make changes as you wish and create a invite of your choice. You can see also Engagement invitation template.
Naming Ceremony Invitation Template

Download
If you have a naming ceremony coming up, here's the most suitable naming ceremony invitation which you can use to create the perfect invite card design.
Anniversary Invitation Card Template in Word

Download
This is an invitation card design in PSD format. It can be worked around with in Photoshop and you could use it to make just the most amazing Anniversary Invitation Card. You can see also anniversary invitation templates.
Unique Wedding Invitation Card Template

Download
Gem Wedding Invitation Card Template
Weddings are grand occasions, and the invitation card which gets sent out should be just as elegant and unique. This particular template with gem-inspired backdrop is the most awesome wedding template ever!
Wedding Invitation Card Template
This is yet another wedding card in PSD format which is a free download. You can very creatively insert the bride and bridegroom's picture on the cover for innovative effect.
Vintage Birthday Invitation Card Template
If you love vintage then here's a vintage theme birthday invitation card template which can prove to be a handy asset and make your job easy for designing a vintage birthday card invite.
Christmas Invitation Card Template
This is a Christmas themed invitation template which you can download to create the perfect invitations for the festive seasons. The layout and design is very cute and subtle.
Unique Invitation Card Template
Here's another interesting avatar of a wedding invitation template, complete with unique design and fonts. You can make changes and edits very easily in Photoshop, as the template files are in PSD format.
Fancy Invitation Card Template
This one's a much fancier version of a birthday card invitation. The template is very useful for those who wish to express their birthday joy in a much more colorful manner.
Retro Birthday Invitation Card Template
The retro themed birthday invitation template is just the most awesome pick for those who wish to call on the guests with an invite which has an old-school charm!
Family Reunion Invitation Card Template
Hand Drawn Invitation Card Template
Golf Invitation Card Template
Clean Invitation Card Template
Corporate Invitation Card Template
Bachelorette Party Invitation Card Template
Bakery Invitation Card Template
VIP Invitation Card Template
Royal Invitation Card Template
Ornament Invitation Card Template
Beach Invitation Card Template
Simple Wedding Invitation Card Template
Travel Invitation Card Template
Printable Wedding Invitation Template
Royal Wedding Invitation Card Template
Baby Shower Invitation Card Template
Decorative Invitation Card Template
Bridal Shower Invitation Card Template
Creating an Invitation Template online has never been easier. Simply choose the template you like, include the important details and create the look and feel that right for the occasion.The days of waiting until they are printed to make changes are over! Printing is only done once you are satisfied with the concept. Just a click away from the best invitation cards template, the world is now experimenting more than ever before!