Among the basic tools that come with the Microsoft Office package is Publisher, which is described as an entry-level publishing application from Microsoft. Unlike Microsoft Word that's specifically for text composition and proofing, Publisher is more on page layout and design which makes it perfect for making invitations.
We have got an entire collection of invitation templates in various file formats, but if you're looking for something that's compatible with Adobe Publisher, then we've got ten of the best ones below. Aside from just the templates, we also have other useful information below to help you out in creating your invitations.
Elements of a Splendid Invitation
Make your invitations worth treasuring even after the event, and this will only be possible if the content is also worth remembering. A list of elements is provided below to serve as your guide on what should be included on your invitation cards.
1. Name of person responsible for the event: This is also referred to as the event host and they are the people who organized the event. Oftentimes, the host and the event planner are two different people, but only the former is usually mentioned on the invitation card.
2. Name of person/s honored in the event: Some events such as birthdays, graduations, showers, and weddings involve a person/s who is/are the reason/s why the event is thrown. These people are called the honorees, and they should also be mentioned on the invitation, if appropriate.
3. Schedule of the event: The schedule includes both the date and the time, which are two of the most important details in every invitation card. Simply write both details according to how you want them unless certain rules are being applied.
4. Location of the event: This element refers to the place where the event is going to be held. When writing this element, don't just settle with the name of the place, you should also provide the street address, you may even be allowed to include landmarks.
5. Dress code or appropriate attire: This is usually applicable for formal events and others that involve costumes or uniforms. In cases like these, you should mention it on the invitation card just to make the invitees aware of it.
10+ Invitation Templates in Publisher
As promised, we have here ten of the best invitation templates that we have gathered from the internet. But these aren't just any regular invitation templates, these are all in Publisher format.
Elegant Engagement Party Invitation
Details
File Format
&nbsp
&nbsp
&nbsp
&nbsp
&nbsp
Size: 4×6 Inches, 5×7 Inches
Marketing Agency Invitation Card
Details
File Format
&nbsp
&nbsp
&nbsp
&nbsp
&nbsp
&nbsp
Size: 4×6 Inches, 5×7 Inches
Summer Barbecue Party Invitation Example
Download Now
Adult Birthday Invitation Card Format
Download Now
Watercolor Birthday Celebration Invitation Layout
Download Now
Breakfast Event Invitation Card Design
Download Now
Golf Tournament Invitation Card Template
Download Now
International Parents Day Invitation Sample
Development Workshop Invitation Example
Birthday Party Invitation Layout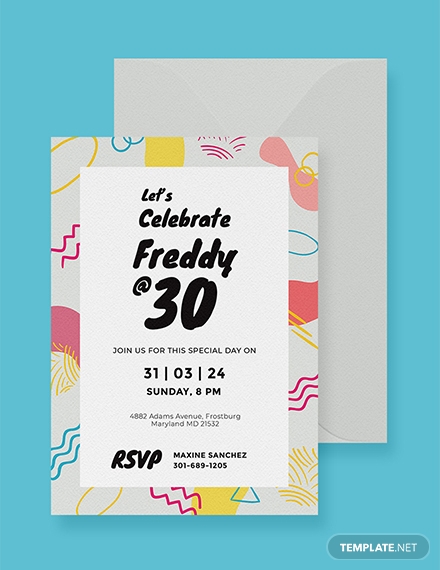 Details
File Format
&nbsp
&nbsp
&nbsp
&nbsp
&nbsp
Size: 5×7 inches
How to Create an Invitation Card using Publisher
If you hadn't known yet, you can actually create high-quality invitation cards using Adobe Publisher, and provided below is a step-by-step guide that'll teach you how to do that efficiently.
1. Prepare all the resources and tools: Before doing anything, you will need to prepare everything that you will use for creating your invitation card. This includes resources and tools such as photos, the card stock, ink toners, and the editing software.
2. Decide on the type of invitation: Below, you'll find out that there are actually numerous types of invitations that you can choose from, with each one having their own purpose. Make sure to choose an invitation type that's perfect for the event that you're planning to throw.
3. Construct your content: Instead of writing your content directly on the invitation layout, construct it first on a sheet of paper. If it seems time-consuming, you can simply write down keywords instead. What's important is you'll have a guide when you're actually adding the content of your invitation.
4. Download an invitation template: By now, you've probably seen every single invitation template in this article, and it's time to get your hands on one.
5. Edit the template using Adobe Publisher: Once you have downloaded a template, open Adobe Publisher and start editing it. Here, you may either add more elements to the design or remove unnecessary ones.
6. Evaluate and proofread: After the editing phase, check the quality of the design and the content and determine if it's ready for printing. If not, go back to Step 5 and make the necessary changes.
7. Print copies of your invitation design: The last step in the process of creating invitations are printing out copies of it. It is advised that you should print extra copies of your invitation just in case you might need to send one out at the last minute.
Simple Tips for an Excellent Invitation Layout
People love holding on to invitation cards as a keepsake, and they usually do that if the invitation's design actually looks like it actually holds sentimental value. Here are some tips that can help improve the layout of your invitation cards.
Dramatically improve your invitation's layout by choosing a font that's appropriate to the theme of the event.
Avoid from using too many font types, stick to two or three only.
Play around with colors, mix and match those that go well with each other.
When adding photos or illustrations, make sure that they match the feel of the rest of the design elements.
Types of Invitations
Part of the process of creating invitation cards is deciding on a type. If you aren't sure what these are, here is a list of the different types of invitations. Feel free to refer to this list when you need to.
1. Party invitation: This is the type of invitation that people can use for inviting guests to a party, and it can be for any type of party. This is also the most basic among the ones on this list, making it the easiest to create.
2. Wedding invitation: For this type of invitation, it serves a specific purpose of inviting guests to a wedding as well as inform them of the flow of the event. The reason for that is because wedding invitations usually come with a program and a list of the guests with specific roles in the wedding.
3. Business invitation: Even though this type of invitation is considered a formal type, they usually don't require the use of an RSVP. Business invitations are mainly used for inviting people to business-related gatherings which may involve employees or people outside the company.
4. Handwritten invitation: People often enjoy going the extra mile when preparing their invitations and this is one good example of it. Having to write the content by hand is quite tedious which is why this type of invitation is only best for small events.
5. Pocket invitation: When compared to the other types of invitations, this one is notable for its smaller size. Nevertheless, pocket invitations make up for their size by having a design that's heavily creative.
Sizes of Invitations
An invitation card can either be small or large, ranging from 3.5 by 4.88 inches to 6.75 by 6.75 inches. Check out the list of the different invitation card sizes below and choose which size is most appropriate to you.
Standard: 5.25″ x 7″ (Folded); 10.5″ x 7″ (Unfolded)
A1: 3.5″ x 4.88″ (Folded); 7″ x 4.88″ (Unfolded)
A2: 4.25″ x 5.5." (Folded); 8.5″ 5.5″ (Unfolded)
A6: 4.5″ x 6.25″ (Folded); 9″ x 6.25″ (Unfolded)
A8: 5.38″ x 7.88″ (Folded); 10.63″ x 7.88″ (Unfolded)
A9: 5.63″ x 8.63″ (Folded);  11.5″ x 8.63″ (Unfolded)
A10: 5.88″ x 9.25″ (Folded); 11.75″ x 9.25″ (Unfolded)
Small Square: 5.5″ x 5.5″ (Folded); 5.5″ x 11″ (Unfolded)
Medium Square: 6.25″ x 6.25″ (Folded); 6.25″ x 12.5″ (Unfolded)
Large Square: 6.75″ x 6.75″ (Folded); 6.75″ x 13.5″ (Unfolded)
FAQs about Invitations
If you need to educate yourself more regarding invitations, this section might just help you with that. This section contains questions that people have frequently asked on the internet, and we answered them for your convenience.
When is the best time to send out invitations?
As early as six weeks before the party, but never less than two weeks before the party.
How much should be spent on invitations?
More or less around $50.00 for a hundred invitation cards.
How can you save money when creating your own invitations?
Start early in order to find good deals for the resources.
Go for the standard size so you can use a standard envelope.
Simplify the design.
The invitation templates that you have seen in this article not only have high quality, but they're also fully editable if you're using the right editing tool. In this case wherein the templates are all in Publisher format, you will need to have Adobe Publisher installed on your system. If you're ready, start downloading a template now.