Some people are so fond of cats that it got to a point of religiously patronizing 15 minutes-long cat videos online. Although seemingly just at the surface, their attraction towards these feline creatures goes beyond its cuteness, as both mutually build a connection with each other. To a point of humans being able to comprehend slight feline body languages and different meanings to different "purrs". Yes, cats are very cute and charismatic, but they are also very loving and loyal, probably the reasons why some people gravitate towards these furry creatures. You may also see birthday invitation formats.
Because they are naturally cute, lovable, and endearing, add to that how most media depict them as so, it is to no surprise people will fall under the traps of their cuteness, ultimately creating a community congested with cat-loving individuals. And with this is also the inevitability to have images of cats on almost anything for extra cuteness and just all around positive impressions. You may also see birthday invitations.
120+ Birthday Templates in Word, PSD, InDesign, Apple Pages, Publisher, Illustrator - START DOWNLOADING
Kitty Birthday Invitation Template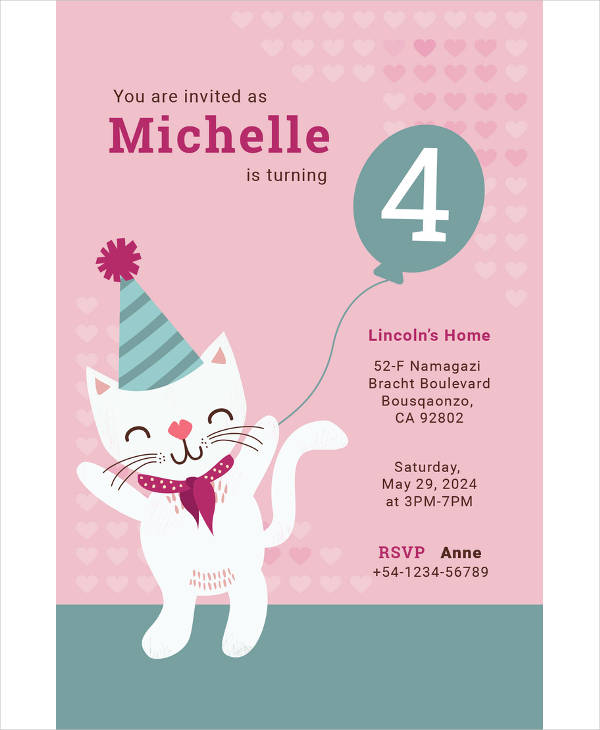 Hello Kitty Party Invitation Template
Kitty Party Invitation Template
No exception to this is organizing and celebrating a birthday party, although throwing one for your furry pet is as acceptable, the notion suggested is decorating the event with as much kitty references as possible. One can simply bombard the event with anything cat related, especially when the celebrant is between the ages of 1 to 3 years of age. With that said, if you are someone organizing your child's birthday party and is planning to have a kitty them, here is a list of birthday invitation card designs and templates with kitty designs.
Kitty Birthday Invitation Sample
Kitty Birthday Invitation Sample Template
Floral Kitty Birthday Invitation
Cat Birthday Invitation Design
Importance of an Invitation to an Event?
We now live in a really digitalized world, where mediums nowadays are being diversified to feed the needs of the ever-changing and growing digital market. Where the likes of magazines and newspapers now produce digital contents to cater to those who are constantly online, but more importantly to stay relevant and visible to everyone. You may also see birthday invitation designs.
And indeed resorting to digital or even social media platforms have ease in them that the traditional invitation cards do not, with just one click you are able to send texts and chat messages relaying the information of your event coming up. With one single click, you are already able to invite your guests to your event. Thus, the question of why bother with invitation cards when doing it digitally is much easier?
Invitation cards have been incessantly pushed to the side with the continued growth of technology and social media platforms. The idea of being able to collectively and effectively invite people in just one effort is what always attracts people, compared to the more elaborate invitation cards. However, despite the continued growth of technology and all it encapsulates, invitations are still preferred by some because of how revered it is in the events industry. It simply offers something that a simple text and chat do not.
1. Invitation Cards Set the Tone of the Event
Since invitation cards are the first ones guests will know about your event, it has the capacity to set the tone for the entire event. Whether you go for a simple or grand celebration, your sample invitation card will be able to relay that. And in this case, where the central theme is cute furry felines, it can inevitably imply to your guests your event will be filled with mostly cute cats and will just be adorable in general.
2. Invitation Cards Help the Guests Anticipate
Because an invitation card sample is used as a medium to inform your guests about the event you are organizing, it also has the capacity to make them anticipate. The fact that they will be made informed of what is coming up is only enough to excite them. More so, invitation cards actually serve as a prelude to your event, a slight hint of what spectacle is to come.
3. Invitation Cards Inform Your Guests
As the basic purpose of going for a medium that can contain pieces of information, an invitation card is able to inform your guests about the event that you are organizing. It can contain different pieces of information such as the name of the celebrant, date of the event, the address of where it will be held, and even different contact information for inquiries purposes.
4. Invitation Cards Can Be Kept For Keepsakes
One of the beautiful assets of a beautiful invitation card is how it is a tangible medium for inviting. In line with that, guests will be able to keep it as a souvenir from your event or simply keep it for keepsakes. In moments of solitude, a guest will have something to look back to, reminisce on the beautiful memories that contain the invitation card. This medium ultimately becomes a vehicle for nostalgia.
5. Invitation Cards Can Cohere to the Theme of the Event
Since an invitation card is like a canvas waiting to be painted on, it can cohere to any kind of theme for any kinds of events. It can be congested with floral designs for a floral-themed birthday party or cute kitty cats for a really adorably themed birthday party. In line with that as well, an invitation card can be added to the plethora of other design elements in your event such as menu cards, place cards, and table numbers to name a few.
Vintage Kitty Cat Birthday Party Invitation
Gold Kitty Invite Template
Pre-made Invitation Card Designs and Templates
There are tons of ways an invitation card can be acquired and it mostly dependsonh what you prefer and how much simple budget you have. But, if you are the type that is seeking a kind of option that is practical and efficient, going for the premade option is for you. You simply only have to buy premade designs and templates online that are readily available and create them to however you wish fits your preference.
Although there are also other options available such as going to a professional graphics artist and have your invitation card custom made or even simply buy bundles at card kiosks, there are different reasons to why the pre-made option is ideal. And all together these reasons justify why simply buying premade designs and templates online is what you should also do. You may also see surprise birthday invitations.
1. Pre-made Designs and Templates are Affordable
This is the gulf between going for a professional graphics artist to have it custom made and simply buying ones that are premade because of their affordability. The premade option is simply way more affordable because there are no factors that are being taken into account that would lead to its price to skyrocket, compared to the custom-made option. The premade options are generally made according to the graphics artist from the design to when he or she wishes to do so, which is something that is not present in the custom-made option. You may also see sample kids birthday invitations.
2. Premade Designs and Templates are Workable
Considering that it is pre-made, which means there is already a predetermined design, it makes working with the pre-made option so much easier. You also do not need to have the most extensive knowledge about the different design software as basic understanding can already help provide you with your invitation card. Also, because it is pre-made with initial designs already laid out, you can simply finish what was started or use it as an inspiration to base your own design off of. You may also see 80th birthday invitations.
3. Premade Designs and Templates are Fully Editable
There is just so much liberty granted to you with the pre-made option. You can do whatever you, however, you wish to do it. Essentially, the premade option is an option that is fully editable because it provides you an ample opportunity to also do what you want. You can edit the texts, the cool fonts, the colors, even the sizes and a few other elements in the design. Sometimes, it comes with smart object layers or vector files that enable you to move around elements in the design to create a more personalized and unique-looking invitation card.
4. The Pre-made Option Comes With Different Design Variations
The pre-made option is not monotonous when it comes to its designs. It comes with an array of different variations that perfectly cater to different themes for different events. There are simple invitation card designs for those who want a more clean, minimal, and more streamlined approach in their invitation cards; there are also modern designs, for those who wish to have a more modern-looking, fresh, something new and creative invitation cards. However, there are also printed invitation card designs, for those who prefer a more fun invitation card as the choices range from floral, stripes, glitters, and even furry cats. There is definitely one for every different preference.
Kitty Cat Birthday Invitation
Kitty Cat Birthday Party Invitation
Kitty Birthday Invitation Example
If you find this article helpful in any way, do not forget to bookmark this page for future references. And, kindly share this with other individuals organizing a birthday party and is seeking fun and cute feline-themed invitation card designs and templates.