Aloha! Hawaii, the beautiful islands of tropical paradise, is a concept the everybody loves doing when they go for a summer vibe. Although it may seem a bit cliché at times, you can never go wrong with a bunch of tiki masks, some totem poles, and a few flaming torches on the sides. Oh, and if you are willing to go the extra mile, you can put up huts and palm trees around the area. That would be crazy but in a good way. You may also see floral invitation templates.
If you are going for a luau concept for any type of event, it wouldn't be complete without a luau invitation. Luau invitations may have the same graphical elements in them but you can switch it up in multiple ways for various occasions. With that said, we have luau invitation designs and templates ready to feed your eyes with stunningly beautiful aesthetics which you will surely like and appreciate. They are catered for an array of occasions such as birthday, graduation, and, of course, tiki parties. You might also want to check out some tips on how to word a luau invitation.
Dark Luau Invitation Template
Birthday Luau Invitation Template
Modern Luau Invitation Template
How To Make The Perfect Luau Invitation
The hosts of the event often go for a Luau theme simply because it's fun for the guests. The colorful tropical flowers, the floral patterned shirts, the grass skirts, the tiki masks, and other Hawaiian elements are just entertaining to look at. You will definitely feel the heat and the summer vibe even if you're holding the event in winter! With that in mind, the guests will be enthusiastic about attending the event if the invitation will exude exactly that. So, if you are wondering how to make the perfect luau invitation, look no further as we have prepared tips and steps on how to make one.
1. Information
The details that the invitation contains will define how good the host is in terms of relaying information. You should take note of the important things to include and make sure that they are final to avoid wasting the production of the sample invitations or sending messages to the guests about the errors unless it's an update due to an unforeseen circumstance that changed the whole timeline of the event.
Catchy phrase. "Aloha!" is an overused greeting but it's the norm and standard for any luau invitation. Well, how do you plan to greet your guests anyway? But aside from that, you need to come up with a catchphrase that people will definitely "catch" the attention of the guests. Get it? Catch? Okay, that was bad. Moving forward. You can create a catchphrase that the guests will be able to relate or a line that they are familiar with, like a phrase that the host/s habitually say. A mannerism in speech, perhaps. You may also see free printable invitations.
The host's name. What would an invitation be if you don't know who is hosting the event? If anything, the hosts' names should be bolded, italicized, or anything just to be highlighted. The guests need to clearly know who is inviting them so they would know if they are attending them or not. Because sometimes, there are events that only requires the adults to attend, thus swaying the decision of the guests who are parents. You may also see invitation template in word.
Provide the date and time. You don't want your guests to show up late, right? Well, they still might but, at least you know it's not your fault but the guests'. In setting the date and time, make sure that it's already final before printing the invitation to avoid wasting resources. But, in cases of unforeseen circumstances, you have to update the guests about the new time and date through text, call, chat, private message in social media, or send them an email. You may also see formal invitation templates.
Give the address. The address is important especially for guests who are not familiar with the venue of the event. If possible, lay out a map that is easy to understand and navigate. This is a practical information as it will help the guests easily locate the venue. They can either navigate it themselves or ask locals of the neighborhood by showing the map to them. You may also see fall wedding invitation templates.
Offer a couple of ways to RSVP. With messaging platforms such as social media sites, it is now easier to reply to RSVPs and other important matters. So it would be better for both you and the guests if you offer ways for replying the invitation, like including your social media account handles, email address, and telephone and mobile phone number. Just access your social media accounts from time to time in case your guests will confirm their attendance or not, or if they have questions regarding the event.
Simple Luau Invitation Template
Party Luau Invitation Template
Neat Luau Invitation Template
Clean Luau Invitation Template
Luau Birthday Invitation Template
Watercolor Tropical Invitation Template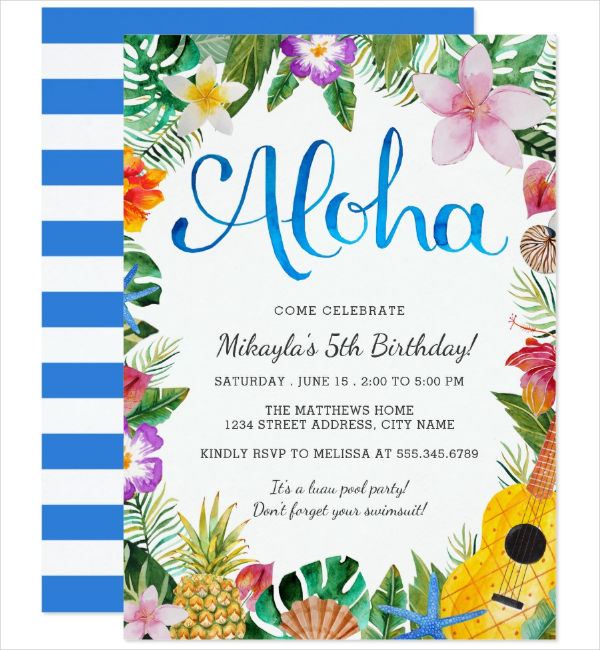 2. Design
More often than not, invitation designs are made to be extravagant or something that has a special flair. They are the appetizers to a full-course meal. They set the mood. They hype up the expectation and anticipation of the guests. They are your introduction to the world of wonders. In the case of luau invitation, there is more than just a couple of palm trees and tropical fruits to make a stunning design. Crafting a design takes as much time in planning as it does in execution. You can never start the design without properly knowing what you want it to be and how you should go over it. Check the tips that you need to take note of in order to create an impressive luau invitation!
Choose a style. Normally in this section of the article, we would ask you to choose a theme or concept for your invitation template. But since this is already an invitation with luau as the concept, we would just ask you to choose a style. Although luau has a tropical and summer vibe, you can still put another twist on it. Are you up for a vintage style luau invitation? How about something sleek? Will you go for a luau invitation that exudes class and elegance? Or perhaps a luau invitation that's up for a modern approach? Although luau has this tropical and summer vibe, you can always choose to deviate from the usual and take it up to another level. But despite all the various styles that you can go for, don't forget to put your personal touch to it. It's always more endearing to have a part of yourself in whatever you are doing and making. If you actually do it, you'll be surprised at the results and will absolutely be satisfied and proud of it.
Plan the layout for your invitation. Creating a layout is the first step in designing as it marks the positions and arrangements of the elements.  In spacing, make sure that the lines of words have enough space apart from each other to avoid crowding the text area. Margins around the invitation should not be too wide as it will compress the design. Margins, spaces, and everything else that you need to create a skeletal form of your layout should be properly planned. As you plan the arrangements, you can also include the outline of the images and the font styles that you need to use for the texts. This way, things will be easier for you to design since everything is already in order. You may also see leaves invitation designs.
They should be attention-grabbing. Everywhere you go, there will always be that one thing that grabs your attention even at a peripheral view, be it a poster, a billboard, or even a person. Attractiveness is a weapon that should be utilized to its maximum potential, especially if you plan on using it for an invitation. The thing about invitations is that it sets the mood for the event. If the invitation is crappy or shabby, then the guests will expect the same for the event. It may sway their decision to attend the event, or if they do attend, they will have low expectations and not feel excited about it. So, as much as possible, make the design the most stunning and beautiful it can be. Don't waste the perfect opportunity of hyping up your guests by putting up a so-so design. You may also see innovative printable invitations.
Choose colors that pop! Since we've already discussed how the design should be attention-grabbing, one cannot end that topic without talking about the colors that should be used in the design. Having a luau theme means you will be using a lot of colorful elements like a variety of tropical fruits and flowers. But, it still doesn't escape a lecture on how the colors should be applied and utilized in the design. Although the beauty of a design is subjective, it is hard not to admit that colors are what make a design lively and fun to look at and that they make such a huge contribution for its impact. Using bright colors is one way for a design to be eye-catching, and these types of colors are what encompasses the luau theme. You may also see floral invitation banners.
The variety of fruits and flowers makes up for most of the design. But even though luau is all about that, you can still opt to make it something that's black and white. It's your invitation anyway. Besides, there is more to black and white than their simplicity. You can use them to create a sleek, stylish, or classy look for an invitation. There are those who prefer minimalistic color tones for their design, and using a black and white color scheme is one way to achieve it. Colors are essential elements which you should use carefully as they can greatly affect your design.
Make sure that the design is relevant to the concept that you are going for. Colors and striking designs will not matter if they are not relevant to the invitation's theme. The ideas that you have thought of should be evidently shown on your invitation's sample design. For example, in the case of a luau invitation, the images, icons, and fonts should all complement each other and they should be able to truly show what a luau concept is. Gather all the tropical fruits and flowers, look for different heights of palm trees, take all the tiki masks and totems. Putting images that do not relate to anything luau will only make your invitation look disorganized, distracting, and disappointing. Every element's relevance to the design should be carefully considered.
Retro Luau Invitation Template
Pineapple Luau Invitation Template
Stylish Luau Invitation Template
Bridal Shower Luau Invitation Template
Cute Luau Invitation Template
Graduation Luau Invitation Template
Are you ready to party?
Luau parties are fun and colorful and everything that you imagine in a tropical and summer party. There's a certain flair to a luau-themed party that makes it unique and entertaining. Maybe it's because of the design, like the tiki masks, palm trees, huts, and colorful flowers that exude the perfect summer vibe. And you know how summer parties get into crazy levels sometimes. And since a luau party has that certain kind of charm, the design of invitation should not be far too behind.
The luau invitation designs and templates that we have shown you can cater for different events, like birthdays, bridal showers, and even a graduation. Pick the one you think will be the perfect fit for your event. They are all beautiful, so you won't have to worry about picking the best of the best because they are all of standard quality. We do hope you have enjoyed going through our list of luau invitations. We wish you all the best in your event. Good luck and have fun!