Food unites people. People bond over food like they bond with movies and TV shows. Whether it's just a simple bowl of chips that friends gobble over or a sumptuous buffet to eat your heart out, bonding over food always results to a tighter connection with the people you invited over and, of course, a happy and satisfied stomach. Inviting people over lunch can be because of anything. It lunch invitation may be that you just wanted to treat them out because you got promoted or that you simply wanted to spend time with them. So, to make things official, why not send over an invitation? You may also see lunch invitation samples.
Sending an invitation is a formal way of asking people out to any event, which in this case is for a lunch out. And, to make things more interesting and convincing, the invitation needs a beautiful design. If you are looking for creative designs that will impress both you and the guests, then you have come to the right place. We have collected more than a handful of designs and templates specifically for the lunch invitation examples. You can choose any template from the list and easily purchase and download them with a single click. Let's check them out, shall we? You may also see team lunch invitations.
Lunch Invitation Template
Team Lunch Invitation Template
Lunch Party Invitation Template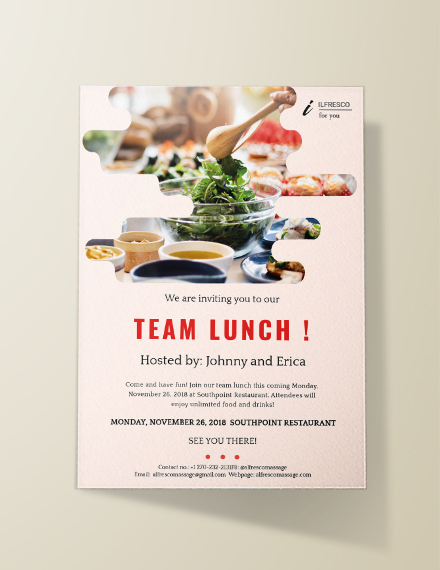 Farewell Luncheon Invitation Template
Appreciation Luncheon Invitation Template
Sample Team Lunch Invitation Template
Free Luncheon Invitation Template
Complimentary Lunch Invitation Template
Free Simple Lunch Invitation Template
Free Formal Lunch Invitation Template
Free Lunch Invitation Template
Free Office Lunch Invitation Template
Free Email Lunch Invitation Template
Easter Printable Lunch Invitation Template
Bridal Printable Lunch Invitation Template
Lunch Events
As we said, people unite over food. This can be said for various purposes such as having a business meeting over lunch or planning a wedding while you talk about it over food. You would want to fill your stomach with food as you use up energy from all the brainstorming and discussion. You can plan any event over lunch, and to give you more ideas on it, we have prepared a short list that you may want to look at.
1. Easter Lunch
Easter Sunday is highly celebrated at dawn, which signifies the resurrection of Jesus Christ at that time. But, that doesn't mean that it can't be stretched throughout the day. It's a Sunday, so it's also a family day. Families either stay at home and spend the time and bond over lunch or go to different places like a beach or a resort.
And since it's about family, you can invite family and friends over. They may want to spend the Easter Sunday with a lot of familiar faces. The more, the merrier, eh? You may also see business lunch invitation templates.
2. Staff Appreciation Lunch
In the industry, institution, or even at home, your staff always works hard to comply with your demands and make sure that they are doing their job exactly as they should. They have been there for you when you can't find the other pair of your boots or when you craved for an ice cream in the middle of the heat at 12 noon. There's so much to be thankful to your staff for, so why not show your appreciation for their efforts by treating them to lunch?
You can prepare a simple lunch at your house to make it personal or invite them over to a restaurant. This will make them feel valued and may turn their decision around in staying longer under your employment. Who knows? They might have been on the brink of resigning because of your constant whining.
3. Mother's Day Lunch
No matter where we go, no matter who we meet, we always go back to the person who feels like home the most. The unbreakable connection that we have with our mothers naturally gravitates us towards them. But, even with such a strong bond, there are moments that we regrettably can't spend time with them despite the strong desire to do so. And, as we grow older, that thread of time becomes thinner.
We get occupied with our personal endeavors and with most of us moving out from our original home, things get more difficult to keep up with everything. So, always make free time for your mom despite the hectic schedules and the incessant demands at work. Treat her out to lunch. She will appreciate it no matter if it's a simple lunch or one that's in an expensive restaurant. What matters most is that you get to spend time with her. Even if it's just an hour or a bit more, make it worth her time. You may also see holiday lunch invitations.
4. Bridesmaids Lunch
Being a bridesmaid isn't just an ordinary role that is filled by anyone. If someone is selected as a bridesmaid, it means that she has been with you through your highs and lows in life and has chosen to stay with you until now. If you are the bride, this is the type of lunch that you hold for your bridesmaids for being there for you from the moment that you met them.
It's more of an appreciation and thanksgiving kind of lunch if you look at it from a different angle. In this lunch, you can opt to have it in your house to have a more relaxed atmosphere or you can treat your girls out to a restaurant that you know will be loved by everyone. It matters not if you go all out for this lunch or opt for a simple one as long as you have properly thanked them and that you had fun as you treat yourselves to nice conservation and great food. You may also see farewell lunch invitation templates.
5. Retirement Lunch
Retiring from your years of service in your chosen career is a celebration of your achievements and contribution. So, to make your departure worth remembering, invite your co-employees and those that have helped you in your career to lunch.
You can opt to have it in the office or at your workplace or you can choose to have it in a place where everyone can be accommodated. You can even create a small program before or after the lunch. This allows you to make more memories that have supported you all the way until you retired. You may also see sample farewell lunch invitations.
Bridesmaids Printable Lunch Invitation Template
Simple Printable Lunch Invitation Template
Retro Printable Lunch Invitation Template
Glitter Retirement Lunch Invitation Template
How to Create the Perfect Lunch Invitation?
The perfect invitation only exists when the content and design work harmoniously. This means that the content of the invitation should be accurate and complete and that the design is beautiful, stunning, and impressive. This will save you the embarrassment and would even give you some great feedback. You may also see office lunch invitation template.
1. Information
An invitation can never be without the necessary information about the lunch. If this is your first time creating a lunch invitation, you must take note of the following details to be included in the invitation.
Title.  Having a title helps the guests easily identify what the lunch is for at first read. It's the first phrase that the recipients will read, so make sure that it is highlighted in the most noticeable way. Format it with a different font style than others or you can italicize or bolden it and give it another a larger font size than the other texts in the content. You may also see complimentary lunch invitation template.
Name of the host/s. Of course, as the host/s of the lunch, you should identify yourself. Your name/s should be highlighted, like format it in a different font or a size bigger than the rest of the text. This goes the same if you are just organizing the lunch event for somebody else. You may also see free team lunch invitation template.
Time and date. In setting the time and date of the lunch, make sure that it is final and accurate. The guests surely have prior commitments and they are going to clear up their schedule for the lunch, so make sure that it is worth their time. But, for instances that it needs to be changed for some reason, be sure to notify the guests ahead of time. If possible, it should be days before so they have ample time to adjust their schedule.
Address of the venue. This is a crucial information that should be set in stone, just like the time and date. Put in the address of the venue for the lunch so the guests can estimate their travel time. Also, it would be better if you can include a simple map of the area. This will greatly help the guests for an easy navigation. And if the guests still can't locate the venue, they could show the map to the people around for help. You may also see luncheon invitation designs.
Other options for RSVP. Technology has taken us far and with the rampant use of social media and other means of wireless communication, people have a lot of options to reply to the invitation. Put on your social media handles so they can send you a private or direct message to confirm their attendance or if they have other questions regarding the luncheon. Also, include your email address and telephone and mobile number for additional choices. You may also see farewell dinner invitations.
Watercolor Printable Lunch Invitation Template
Mother's Day Printable Lunch Invitation Template
Corporate Printable Lunch Invitation Template
Rustic Rehearsal Lunch Invitation Template
Red Printable Lunch Invitation Template
2. Design
The design is the other half of the recipe to concoct the best lunch invitation. But how can you work on the design so you can utilize its full potential? The answer lies in the tips that we will show you below. you may also see potluck invitations.
Choose a theme. In a lunch, the theme depends on its purpose. For example, if you are going to hold a lunch to celebrate Mother's Day, then the design would be decorated as such. You can include designs that would resemble motherhood. And, to make it personal. you can put in the picture of your mother or a photo with your family. Again, just remember that you can choose any theme as long as it is in line with the purpose of the lunch.
Pick a color scheme. There is power in colors, and it can make or break your design. In picking the color scheme, make sure that the colors are complementary. Doing this will help you arrive at your desired results. Also, it would be the design more pleasing to look at.
Plan the layout. Planning the layout is as important as the implementation. Set the margin around the layout, the font size and style of the text, and the position of the images. This allows you for an easier and faster implementation of the design later on. You may also see farewell invitation templates.
Set the size. There is no standard size for the invitation, so you can choose any size you want. But even though you have such freedom, you have to be mindful of the impact of the size towards the design. Although the design can be scaled to whatever the size of the invitation is, sometimes, it does not work the way you want it to. You may also see holiday dinner invitations.
Collect relevant images. A design is more lively with images. But, you shouldn't get just an image. You need to pick those that are relevant to the theme. For example, in the case of a staff appreciation lunch, it is expected that the design would have images that relate to it. This allows for a cohesive and appropriate design for a certain type of lunch. You may also see formal dinner invitation templates.
It's lunch time!
Have you chosen the perfect template yet? It's going to be a difficult one especially if you are presented with choices that are all impressive and beautiful. Well, we only collect the best of the best in this site, so that is already expected. But, despite the difficulty in choosing a template, always remember to pick the one that's relevant for the type of event that you are holding for lunch.
We included designs that can cover a variety of lunch events, so rest assured that you have a lot options to select from. You may also see team dinner invitations.
We hope that we have helped you with the preparations for your lunch event and made it easier and faster for you to pick the design for your invitation. All that we can give you right now are our wishes that your lunch event will be successful and you will have fun with the people that you care and love. Whatever the purpose for the event may be, make it special and worth everybody's time. Good luck and have fun!