Do you know of someone who's finally planning on retiring after so many years of service in a company or institution? In sports, they would symbolize a player's retirement by hanging up their jersey or uniform at their team's stadium to honor that player for their commitment and loyalty.
For most of us, especially those who have just started working, retirement is still a very far thing to reach, unless you decide to actually retire at an early age, but why would you? The only people who would go on early retirement are those who have physical or health issues that hinder their performance at work. But other than that, the most ideal age to retire is when you reach sixty. you may also see Invitation templates.
Retirement Invitation Template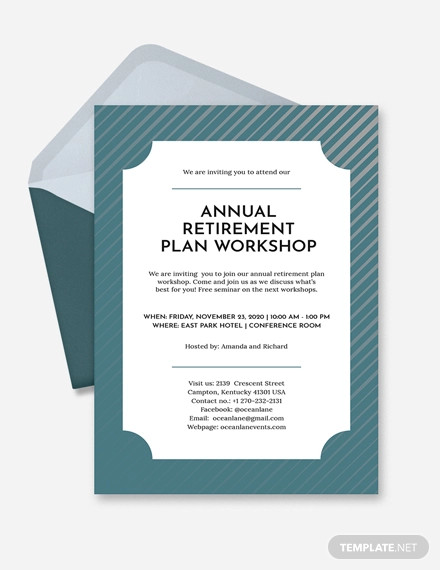 Surprise Retirement Party Invitation Template
People retire for a bunch of reasons, some related to health and some related to personal preferences, and we'll discuss more of those in a bit. When people retire, it usually involves a celebration which, as mentioned earlier, is meant to honor that person for their commitment and services.
Most retirement parties are thrown by friends, co-workers, or teammates of the retiree since this is their way of bidding farewell to a member of their team, you will very rarely find retirement parties that are hosted by the retirees themselves.
Simple Retirement Invitation Template
Free Floral Retirement Party Invitation
Retirement Party Invitation
Free Surprise Retirement Party Invitation
And this leads us back to the question in the first paragraph, do you know of someone who's planning on retiring? Because if you do, and you are planning on throwing a retirement party in honor of them, we may just have what you need in order to reach out to people. We have gathered up various retirement invitation card designs and templates for your convenience, you can download and use any of them to make your own invitation cards.
Floral Themed Retirement Party Invitation
If the retiree is someone who loves flowers, then you may want to use the template above to make your own flower-themed invitation card. What's great about this template is that it's typographic elements perfectly compliment the row of flower elements on the upper edge of the design. The most likely target audience for this party invitation template would be women, then again, it can also cater to any person who simply loves flowers.
Luxurious Retirement Party Invitation Template
Looking for something luxurious and elegant, but also simplistic? Check out the event invitation template above, it may probably be the exact design that you want for making your retirement party invitation cards. The design on this template are very straightforward and simply contains the information necessary for the reader. However, if you prefer to include an image of the retiree on the design, you may also do so with this template.
Teacher's Retirement Party Invitation Template
Teachers are indeed worth honoring, it takes a lot of them to be able to convey effectively what they know towards their students. In other words, most of what children learn comes from their teachers. But before you react to that statement, the things that children learn from their teachers are more than just knowledge-based, teachers should also observe proper behavior and etiquette in front of children. After all, teachers are the second set of role models for a child, the first ones being the child's parents. You may also see funny party invitations.
Because of this, when a teacher resigns, the children along with their parents throw a retirement party in honor of the teacher who helped them in the molding of their children. If you are indeed planning on throwing a teacher's retirement party, then you may very well like the invitation design template above.
Vintage Retirement Postcard Invitation Template
Do you like vintage-style designs? Vintage designs, along with retro ones, have never grown out of style and are almost always the safest choice since they are highly versatile and will go along with almost anything. For vintage and retro invitation card design, the same thing can be said, they go along with almost any type of event regardless of the theme. But before you actually decide on download the event invitation template above, you might want to know the differences between retro and vintage styles.
Retro vs. Vintage
When we say something is retro, we often associate it with something that is already outdated or out of style. Retro can also be referred to as something that is no longer cool but is still valuable. Vintage, on the other hand, is something that is more than just outdated, it is something that is already very old. But just like retro styles, vintage ones are still valuable regardless of how old it is. You may also see retirement farewell invitations.
Rustic Retirement Party Invitation Template
But if you are looking for a rustic-themed invitation card design, then you may consider downloading the template above. The overall design of this template is quite simplistic and focuses more on textual elements. But in order to keep the design visually appealing, the background resembles wooden planks which actually contribute to the rustic feel of this template.
Modern Style Retirement Invitation Template
Elegant Retirement Party Invitation Template
World Map Retirement Invitation Template
If the reason for the person to retire is to settle down in a different country, then the template above would be perfectly appropriate. Aside from that, this invitation template would also be perfect for a person who wishes to retire from their job as an overseas traveler. If the latter is the reason for you to use this invitation flyer template, then you may also be interested in reading about the benefits of being a seafarer or a pilot, who knows? You may even want to pursue that kind of career.
Benefits of Seafarers
1. Seafarers have relatively good wages, in fact, they are even considered as one of the highest paid professionals. Also, seafarers may also get the chance to earn a greater amount since they are exempted from taxes. You may also see floral retirement party invitations.
2. Being a seafarer gives you the opportunity to travel globally. Because of this, it gives seafarers the chance to experience different cultures as opposed to others that are only given this type of experience during business or holiday travels. You may also see surprise invitation templates.
3. Rather than just being isolated inside an office, seafarers get to experience something different and exciting which is perfect for those who are young and adventurous. In the long run, being a seafarer can lead to an enjoyable and reasonably paid career. You may also see farewell potluck invitations.
Benefits of Airline Pilots
1. Just like seafarers, pilots also get the chance to travel to various countries and experience their different cultures. But this may require some bidding to be able to get the route that you want, so bid away! You may also see elegant invitation templates.
2. Being a pilot is very rewarding, you get to interact with passengers of different nationalities and help them get to their different destinations. You may also see printable event invitations.
3. While many people complain about their jobs but still do it because they need to, being a pilot allows you to do things that you will surely enjoy, and you get paid for doing it. You may also see invitation templates.
4. According to professional pilots, the greatest challenge of being one is maintaining a very extremely smooth flight from the take off down to the landing. They would finish this by saying that the flight has to be smooth enough so as not to cause someone to spill their cup of Joe. You may also see dinner invitation PSD templates.
Stock Happy Retirement Party Invitation
Chalkboard Retirement Party Invitation Template
Minimalist Retirement Party Invitation Template
Postcard Themed Retirement Party Invitation
Name of the retiree? Check. Date, time, and venue for the retirement party? Check. RSVP contact details? Check. And the number of years that the retiree has been on service? Check, and this is something that you don't see very often on retirement party invitation cards. The most ideal people for this type of invitation are those that have worked in the postal services, considering that the entire design resembles a mailing envelope.
Were you able to find that particular retirement invitation card design that you need for your own party? From the twelve templates that we have just shown you, you probably have set your sights on at least one of them.
While you may agree on the beauty of our invitation templates, we also know that you may likely have some doubts whether our templates are indeed worth downloading or if they are just a waste of good cash. We, personally, can assure you that these templates are indeed worth downloading, you have our word on that.
To explain further on why we are very much confident with our templates, the reason for that is because we know that they have been professionally-designed by some of the world's best graphic artists, and when it comes to quality, we also know that they have been designed specifically to attract a wide range of audiences.
Also, in relation to quality, these template have a exceptionally sharp and crisp resolution which helps in making the printed output look stunning regardless of the size. But there's also another factor that helps in making these templates remarkably sharp, and it has something to do with its format used. You may also see sample invitation cards.
These retirement invitation templates come in fully editable PSD and vector formats, and they are capable of preserving their resolution and overall quality even after undergoing extensive editing. With these formats, you are allowed to do individual editing for each element, and you may even enlarge them without causing it to pixelate.
But you will need to use the right editing tool for them, which means Adobe Photoshop and Adobe Illustrator for PSD and AI templates, respectively. And have we mentioned that these templates are inexpensive? Because they are. If that didn't impress you enough to make you decide on downloading a template, we don't know what will.