Turning a year older is a milestone one ought to celebrate. Knowing that you have survived another year, you may want to make it extra special by celebrating it with the people you love such as your family and friends. Indeed, birthdays are extra special when you celebrate it with others. Rarely is it a wonderful occasion when one celebrates his or her birthday alone. With the fun of getting together, enjoying each other's company, and eating scrumptious meals, birthday parties can be a blast. You may also see wedding party invitations.
Back when you were younger, you may have celebrated your birthday through a themed party or have been invited to one. There was a jolly excitement that came with parties like that, knowing that you were going to see your friends or dress up according to the theme. Now that you're much older, having a themed party is still possible and there should be no shame in that. Holding a birthday party with your friends is a great way to reminisce or relive the golden days of your youth. And what better way to do it, than with a retro-themed birthday party? With that said, here is a list of retro birthday invitation cards perfect for that throwback themed birthday party.
120+ Birthday Templates in Word, PSD, InDesign, Apple Pages, Publisher, Illustrator - START DOWNLOADING
Birthday Breakfast Invitation
Vintage Birthday Invitation
Retro Birthday Invitation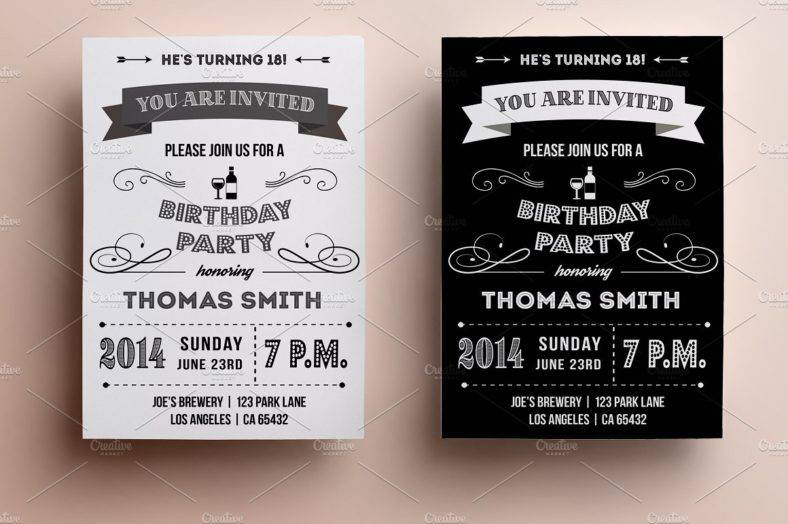 Editable Retro Birthday Invitation
Invitations over E-invites
There is no denying that with technology and social media's rapid growth, communication has been made tremendously easy for people. Everyone is just a chat away and in an instant is made known of any event that might occur. But one should never deny the beauty of a tangible invitation, to that of just a two-dimensional e-invite. There is so much you can do with an actual invitation than just simply relaying the message online. It's effective, but what kind of experience are you trying to impart to your guests?
Moreover, with a tangible invitation, you can get as creative as you can and as you want with the design in a physical sense, which is something you cannot do with an invite through social media. You can do different designs such as floral, polka dots, watercolors, modern designs, and, for this matter, retro designs. There is an abundance of ways you can show off your creativity through your invitations. Also, with an invitation, as said, you can impart an experience to your guest, being that it is tangible. The people you will be handing this out to will get an idea of what to expect in your party. They also get to keep it for keepsakes, which can help preserve memories and bring back at nostalgic moments. You may also see event invitations.
Retro Birthday Invitation Design
Retro theme for birthday parties
Vintage parties are loved by many people. This is because people get to travel back in time and relive certain decades that appeal most to whoever is organizing the party. "Retro" is as broad as it can be, considering it covers styles or events of the recent past. There is a lot to choose from, allowing you to select one that resonates with you the most. You may also see dinner invitations.
The very idea as to why most people are into the concept of retro is that it allows them to experience the greatness of past years that they did not get to experience, considering most of them were not even born yet. But for those who were, it is an opportunity to relive and reminisce their youth and whatnot. There is also this sense of nostalgia that they might not have experienced, but they remember from indirect or direct experiences. The concept of retro themes allows whoever is celebrating it to experience a time that isn't the current, to give them a much broader perspective in life, and to make them more knowledgeable of the history or the years that went before them. You may also see addressing wedding invitation.
Vintage Birthday Party
Vintage Birthday Invitation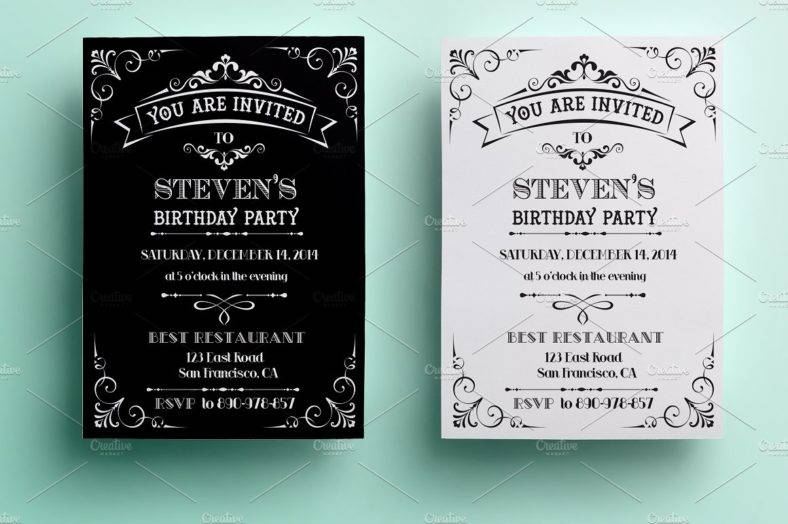 Retro Airmail Birthday Party
How should you have your invitations designed?
There is a plethora of different options for any individual seeking to buy or have an invitation made. Among the many, two are most commonly used. People tend to either have them custom-made to their preference or buy a bundle of them in stores. Although the two methods allow you to get the kind of invitations you want, there are drawbacks you might want to consider. If you have it custom made by a professional graphics artist, the price-point may be really high. This is due to the number of consultations and countless hours that a graphics artist has to put in his design process. When buying it bulk in stores, the invitations may look generic and uninspiring, which can potentially discourage people to go to your party. You may also see party invitations.
Fortunately for you guys, there is an option that supersedes both formerly mentioned and it can serve as a middle ground to both options. It is by simply buying one that is premade and readily available online. Having a premade designed invitation will allow you to have an invitation that is far from generic or mediocre that is priced at a really affordable point. But more than being an affordable option that can surpass expectations, premade designs are also packed with features that make it fun, exciting, and an ideal option. Since premade designed invitations are made as options at the ready, they come in a variety of other designs as well. You may also see handmade wedding invitations.
Other than retro designs, there are designs that are fun like polka dots or floral. There are also designs with a more modern feel and there are some that are simple and minimal. There is a lot to choose from depending on what resonates with you the most. Premade designed invitations are also very easy to edit and customize, this is due to the fact they come in a file that is easy to do so. Some even come with smart object layers that enable you to move around elements in the design to create a more personalized invitation that is unique to you. Premade designed invitations are fully editable and customizable from text effect, colors, fonts, backgrounds, designs, and so much more. You may also see reunion invitations.
What goes in an invitation card?
Aside from the fun designs that can catch anyone's attention, there are necessary pieces of information that should be put in order for an invitation to be effective:
1. Name of the celebrant
It is important that the people invited know who is celebrating or who is inviting them. It also, in a way, allows them to have an idea of what kind of gifts or presents to give by knowing the celebrant is. You may also see peacock wedding invitations.
2. Age
Although some like the idea of not disclosing their age, it is also appropriately right to give your guests how old the celebrant is by stating it in the invitation card. You do not want them guessing the wrong number, do you?
3. Date and time of your birthday party
Since the purpose of an invitation is to provide information and since you are giving one for the purpose of having guests come to your party, it is important that you put in where and when you are celebrating your birthday party. This will allow your guests to block off the date for you and to avoid guests being delayed. You may also see rustic wedding invitations.
4. Place of the event
This information goes with the one previously mentioned. If you are planning to celebrate it at home, provide your guests the a specific address to avoid confusion, as it is most common for an invitation to provide a vague home address. Avoid that. But, if you are planning to celebrate it somewhere else, also provide accurate directions and specific information regarding the location like landmarks, street address, etc. You may also see engagement invitations.
5. Dress code
Some birthday parties impose and implement a strict dress code. So if you plan your birthday to be one of those, state the kind of dress code you want your guests to be in, in your invitation card.
6. Contact information
Contact information can also be optional since you are already providing most information in your invitation card, but it is also ideal for those who have certain inquiries and questions especially about the exact location if they still find it confusing. You may also see vintage wedding invitations.
Birthdays are an important event in one's life. In order to make it extra special, always provide your guests with invitations as it builds up the hype. To also note, invitations are still a better option despite the rapid growth of technology and social media as this imparts a kind of tangible experience to the guests. From an ocean of fun and creative themes, one that is most rampant in birthday celebrants is the retro theme. This is because it allows any celebrant to experience the styles or events from years that went before them. There is also this sense of nostalgia that makes them reminisce about things they have directly or indirectly experienced. And the best way to acquire one is by means of buying a premade designed invitation for practical and efficient reasons. They have an affordable price point and they are very easy to edit and customize. You may also see princess invitations.
If you ever found this article helpful in any way, do not forget to bookmark this page for future references. And kindly share this with other birthday celebrants seeking the best invitation designs and options, or on the lookout for the perfect retro-themed birthday invitation cards.