Sweet sixteens are a celebration of a young girl's coming of age, where she is presented as a young girl ready to leave her youth. This is a parent's way of conveying the idea that their daughter is stepping out of the young shadows of her own self and is slowly taking into a much older role. Sweet sixteens are either a simple or an elaborate gathering. It can go from a simple house celebration with just family and friends or to an extravagant affair with DJs, makeup artists, and more guests. Although they vary in terms of style, they share one common objective and that is to celebrate the young girl's coming of age.
As with any other parties, there are actually so much that goes into a sweet sixteen birthday party. Certain things are taken into consideration like the venue, the foods to serve, the dresses to wear, the guests, and of course the invitations, to somehow live up to your daughter's dream party. These factors, altogether, create an experience not only for your daughter but also to the guests being invited. So, to maybe help you a little with your problem, this article presents numbers of different invitation designs and templates perfect for your daughter's sweet sixteen birthday party.
Sixteen Birthday Party Invitation
Sweet Sixteen Party Card EPS
Sweet Sixteen Invitation Template
How Sweet Sixteen Birthday Parties Came to be
Sweet sixteens are derived from the Latin American tradition of Quinceanera, where fifteen-year-old girls are presented to their community in an elaborate party as a way of coming of age. But, there is somehow different interpretations of the history of sweet sixteen parties that is debated to which is more likely accurate. Some argue that sweet sixteens stem from a tradition in medieval Europe where "a girl is presented to a court in her early teens as a right of passage and signaled her readiness and availability for marriage". You may also see masquerade invitation templates.
Simple Sweet Sixteen Birthday Invitation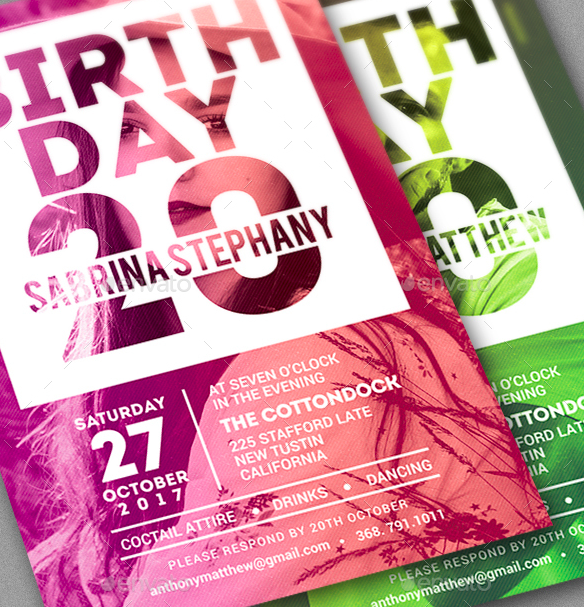 Others also think that the concept of a sweet sixteen sample birthday party is derived from unfortunate economical constraints back in the mid 20th century. It is believed that a sweet sixteen, despite how dreamy and glamorous its concept is nowadays, were derived from a more disheartening occurrence back in the days when 15, 14, or even 13-year-olds have to work at such a young age. They had to work in order to sustain and to survive, not only for them but also for the whole family. And, when boys and girls around that age became adults, they inevitably adapted all of which entailed being an adult. They got to pay their bills, pay their rent, and they also were able to marry and have children of their own. But, in order for it to happen, young boys needed to find their wife or vice versa.
Back in the day, young girls were fully sheltered and protected during their earlier lives and never got to leave their houses unless called for. The only way for them to leave their parents restrictions was by finding a husband and starting a family of her own. So, parents would often arrange their young girls for marriage to set them up for adulthood. How exactly did they do this? Parents present their daughter to the community by means of a party or a celebration. They invite their friends and families and the people around their community with the hope of finding the right young boy. Parents would often dress their young daughter in beautiful dresses, have her serve food to somehow let her showcase her capabilities as a young mother or wife-to-be. You may also see quinceanera invitation templates.
Even though different historical backgrounds are being presented as the root of the sweet sixteen birthday party, there is one underlying similarity that is present in all: that a young girl is presented to the community to welcome her to young adulthood. It is safe to say that despite the differences of these sweet sixteen histories, it has never lost its intent. Although now, it is done in a much light-hearted manner with no marriage in mind; it is just a celebration of a young girl's coming of age.
Sweet Sixteen
Invitations for a Sweet Sixteen Birthday Party
Organizing your daughter's sweet sixteen birthday party takes conscious efforts and it has to be done close to perfection to make the day of her coming of age memorable. In order for it to be one truly unforgettable event of her life, you need people close to her to celebrate it with. Guests are paramount because how they receive your party will determine the success of it. You may also see sample masquerade invitation templates.
There is no denying that with the rapid growth of technology and social media it has been made tremendously easy for people to communicate with one another. True as in the case of events or parties, where you can just simply create a group and send the message to the people you are planning to invite in an instant. But, despite this growth in technology and social media, one medium of letting people know about your party has remained steadfast all through these years. This medium is the invitation, a card that contains all the important pieces of information regarding your daughter's sweet sixteen birthday party or any party in general.
The beauty of an invitation aside from it being tangible and physical is it allows any person who uses it to be creative. It has endless possibilities to it that you can do almost anything you want. As for your daughter's sweet sixteen birthday party, there are a lot of options you can choose from depending on the theme you and your daughter have chosen, the kind of invitation you or your daughter prefers, or just simply depending on what you want. You may also see sleepover invitations.
Invitations are the most ideal to use as it has the capacity to reflect the overall theme of the party and along the way impart an experience to your guests. This is important because you want your guests to look back not only remembering what transpired in the event but also the things that wrap the event together. You may also see quinceanera invitations.
Birthday Invitation Sweet Sixteen
What are the Things to Consider for an Invitation?
It is mostly true that planning an event or for this case; a sweet sixteen birthday party takes a lot of time and effort. Due to the extravagance of a sweet sixteen party, it is inevitable, especially if you do not acquire the help of an events organizer, for some things to be left neglected. Leading others sometimes to just simply resort to a mediocre option. With that said, here is a list of things you should consider in an invitation:
1. Premade
A premade DIY invitation template should be the first reason on your list (as it is in ours) because it can greatly help lessen your stress. A premade invitation is an already designed and laid out invitation that only needs a little tweaking from you depending on your preference. There are as many opportunities for creativity in choosing a premade designed invitation as there is in having it custom made.
2. Design
Most parties have an overall theme, so it is important that your invitation somehow coincides with whatever theme that was discussed. It just makes the details of the event coherent with each other. For example, you and your daughter have decided to go for a princess-themed sweet sixteen birthday party, your invitation could either go for a sparkle-designed invitation or floral-designed invitation, both of which elicits daintiness and fairytale. Moreover, premade invitations have tons of options to choose from that caters to anyone's preference.
3. Price
It is okay to be practical in some other aspect of the party considering that most of the factors are already priced heftily. There are invitations that cost a lot less than others, true as in the case of premade invitation designs and templates. This option is ideal for those who want to go all out but are under budget constraints. Also, this option is truly efficient and practical making it the ideal choice. You may also see birthday invitation templates.
4. Ease
Being that you are doing things on your own, it is most important that there is ease in the option that you choose. Premade designs are initially designed by graphic artists which leaves you with an already laid out and designed invitation. With that said, it will be so much easier for you since you already have a guide and the only thing you need to do is change the information that is appropriate to your daughter's sweet sixteen birthday party. You may also see birthday invitation samples.
Birthday Party
5. Quality in Design
It is also important to consider the quality of the design. Just because you are paying for something a lot less than others should not mean you get a mediocre and generic design. Premade designs are equally fair in price and design. All of these premade invitations are well-designed that you will be getting more than what you will be paying for. You may also see simple birthday invitation templates.
If you found this article helpful in any way do not forget to bookmark this page for future references. And, kindly share this with other parents seeking the perfect invitation designs and templates for their daughter's sweet sixteen birthday party. You may also like photo birthday invitations.