As parents, you always want to make sure that you only give and do the best for your children. When the time comes to celebrate their day of birth, more often than not you guys go out of your way to provide the fun-filled day they have always wanted and waited for. Organizing a birthday of a son or daughter is in itself a task. What more when you are blessed with twins? Girl and boy, girl and girl, or boy and boy. There is this rarity with parents to be blessed with twins, so the urge to give their two little babies the best birthday parties is understandable. You may also see birthday templates.
Depending on how old the twins are, they would often go for themes that best represent their personalities. Unless, when they are still a year old wherein they still cannot decide on their own, so parents captain the ship when it comes to deciding the birthday party. Parents would often go all out in celebrating their twins' birthday. They would at times hire a clown, a mascot, a magician, or even an inflatable playground.  You may also see invitation designs.
120+ Birthday Templates in Word, PSD, InDesign, Apple Pages, Publisher, Illustrator - START DOWNLOADING
Twins First Birthday Invitation Template
Twin Birthday Invitation Template
But, the success of a birthday party does not solely depend on how grand your preparations are, but also with the presence of your guests. With that said, here is a list of invitation card designs and templates for twins (or parents of twins) seeking the perfect invitation card design and template for any themed birthday party.
Twins Mermaid Birthday Invitation
Watercolor Twins Birthday Party Invitation
Why are invitation cards still preferred despite the continued growth of technology and social media?
No one can ever deny the development of technology and social media in today's time and age. It has immensely grown that has led to the simplification of people's lives. With the digitalization of almost any medium, inviting people is simply a click away. But, there is one medium that has remained steadfast amidst the growing powers of technology and any social media-based platforms: invitations.
An invitation card has been around for decades that it has become part of the custom of celebrating birthday parties. What is more ideal is that an invitation is a more tangible medium for inviting compared to its digital counterpart. With that said, here are the different reasons to why you should keep patronizing an invitation card:
1. Invitations can wrap the overall theme of the birthday party
No matter how grand the birthday party is, it will always be the small details that will wrap the overall theme of the party. Cohesion is important in a party as you do not want to have a disconnect within your details.
For instance, your twins would want a sporty and princess themed birthday party, it is simply right to go for a sporty and princess invitation card and not some farm themed invitation, because you thought the farm animals looked cute. Disconnection should be avoided at all costs.
2. Invitations can be a place to showcase your creativity
Because an invitation is tangible, there are boundless things you can do with it. You can either bedazzle or bejewel it, or you can put it in an envelope that goes with the design of your sample invitation. Possibilities are on a high with an invitation card and it is a perfect avenue to show off your creativity.
3. Invitations can be kept for keepsakes
The greatest asset of a simple invitation card is it can be kept for keepsakes. Considering that it is tangible and is amidst your presence, you are given the opportunity to keep it with you for as long as you want.
Also, one of its benefits is that it allows you to look back on things that happened on the day of the birthday party. Invitation cards have the capability to let you reminisce about the beautiful memories that come with the card.
4. Invitation cards can invigorate the guests
The idea of an invitation card is it serves as a prelude to the birthday party to take place. The moment guests receive the invitation card sample, it gives them the feeling of excitement and thrill about the event. It also gives them an idea of the event— who is celebrating, where, and when the celebration is.
Twin First Birthday Invitation
Twin Princesses Birthday Invitation
Simple Birthday Party Invitation
What are the factors to consider upon buying an invitation card?
There are different things to consider when choosing and buying the perfect invitation card for your twin's birthday party. Altogether, these different factors help in the making of your decision.
1. Theme
A theme is what is initially thought of when planning a birthday party. It is the driving force for what invitation to consider and to go for the whole birthday party. For example, you have planned to do an underwater birthday party, so you go for an invitation that entails such designs, like a shark or mermaid, to name a few. You may also see sample invitation card templates.
2. Price
Organizing a party is in itself an expensive affair, so it is completely understandable to cut off expenses in some other aspects. That other aspect could be the invitation card since this is an option that is completely affordable compared to its digital counterpart. You may also see beautiful invitation card designs.
3. Premade
There are an array of options with how you can invite your guests or with how you can acquire an invitation card. There is the option that uses technology and social media-based platforms, and there are tangible invitation cards that can be acquired through custom-making with a professional graphics artist or by simply buying one that is premade and readily available online.
Out of the three, the most ideal is by simply buying premade invitation card designs and templates. A premade invitation card is an option that is priced affordably which does not compromise design quality. It also comes in many different design variations to choose from.
4. Easy to Make
Invitation cards are generally easy to make. All you need is a ton of creativity and an unwavering effort to go with it. You can also acquire the help of digital software that is used in designing. In line with the premade option, these invitation card designs and templates all come in a file that is easy do so. You may also see free invitation templates.
5. Editable and Customizable
To also go with the premade option, these invitation designs and templates are all fully editable and customizable. It also sometimes comes with smart object layers that enable you to move around elements of the invitation card design. You may also see invitation cards in PSD.
6. Size
When choosing the invitation card, size matters. invitation card's most standard size is 5 1/4 by 7 1/4 which is an A7 size.  Though it is acceptable to go beyond or within the standard dimensions of an invitation card, its handiness should be an utmost priority considering that the guests are sometimes required to bring it the day of the event. You may also see folded invitation templates.
Summer Twin Photo Birthday Invitation
Twins Birthday Invitation for a Boy and Girl's
Twins Birthday Invitation Card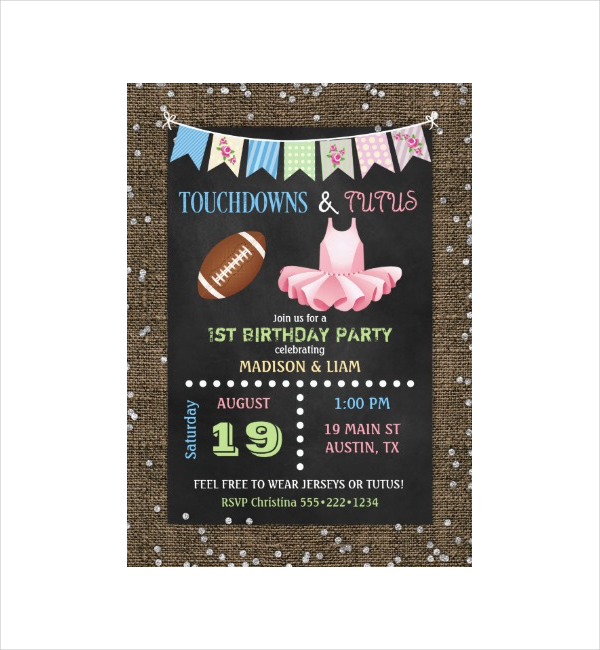 What are the pieces of information that should be on an invitation card?
An invitation will not be an invitation card without the different pieces of information on it. These pieces of information, not only make up the design elements but they also help inform the guests about the birthday party. With that said, here are the different pieces of information you can put on an invitation card:
1. Name
Putting in the name of the twins help identifies who are celebrating the birthday party. By doing so, you will help inform your guests who the celebration is for. You may also see birthday invitation designs.
2. Date
Having the date on your twin's invitation card will also help better inform your guests about the party. Doing so will enable them to prepare ahead of time to buy gifts, block off their sample schedule, pamper themselves, and so on.
3. Dress code
This piece of information is also most important when you have imposed a theme for your twin's birthday party. Putting the dress code on your invitation card will encourage your guests to dress accordingly, which will also help in fully realizing the theme of the birthday party. Doing so will help bring the party come to life. You may also like birthday invitation email templates.
4. Address
Address on a birthday invitation card is mandatory. Having this piece of information will help the guests direct themselves, no matter where the location will be. Be it in an isolated location, a restaurant, or even in the comfort of your home. Never forget to put in the address on your twin's birthday invitation card.
5. Contact Information
Having different contact information on your birthday invitation card can serve different purposes. It can be used for guests to RSVP or as a means to inquire about the party. It is inevitable for guests to have concerns or inquiries about the event, as such maybe about the location, the direction, or even the dress code. These different contact information could be a cell phone or telephone number or even an email address.
Mermaid Party Invitation Sample
Twin Baseball Birthday Invitation
Creative Twins Birthday Invitation
Sibling Birthday Invitation Sample
If you found this article helpful in any way, do not forget to bookmark this page for future references. And, kindly share this with other parents of twins or the twins specifically who are seeking for the perfect invitation cards to use for their birthday party. You may also see personalized birthday invitation templates.