An invitation is a written or verbal request inviting someone to go somewhere, to make something, or to invite someone to a certain event or celebration. Mostly used in events such as weddings, birthdays, anniversaries, graduations, and so much more, an invitation can either be in a verbal form or with through an invitation card, which is common and is a formal way of inviting someone.
If you are planning to throw an event, especially an engagement party, no need to look elsewhere for designs. Our Invitation Templates come with a very unique vintage designs that will surely add more meaning to the celebration of two people about to be wed. You may also see invitation designs.
Engagement Templates in Word, PSD, InDesign, Apple Pages, Publisher, Apple Numbers, Illustrator - START DOWNLOADING
Vintage Engagement Invitation Template
Engagement Invitation Template
Engagement Invitation Template
Engagement Invitation Card Template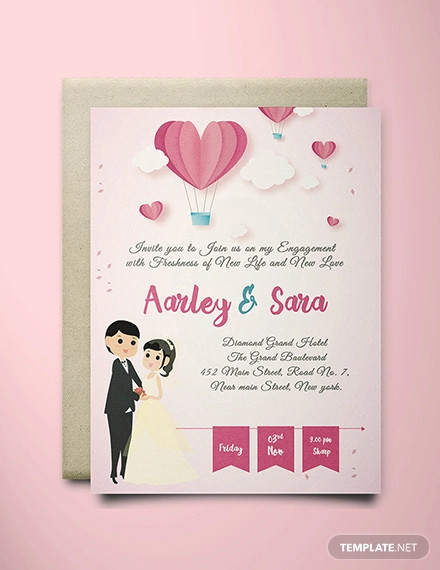 Vintage Chalkboard Engagement Invitation
Download
Vintage Engagement Party Invitation
Download
Personalized Vintage Engagement Invitation
Download
What Are Engagements?
Speaking of an engagement, in the case of relationships, this is one of the most anticipating and exciting moment in a couple's life. It is a sign that a wedding is bound to happen in the future for the two lovebirds. Nowadays, almost all people in the world follow this tradition. But where do engagements come from? Let us all find out more.
An engagement, or betrothal, is a vow for a wedding and also a period of time between a marriage proposal and a marriage itself. During this time, a couple is said to be engaged to be married. Future grooms and brides are called the betrothed, a husband-to-be or wife-to-be respectively. The courtship duration differs immensely and is greatly reliant on cultural norms or upon the agreement of the parties involved.
A Bit of Betrothal History
Way back, for Jewish people, it was the groom together with the bride's parents who would organize the marriage of their child. The choice of the bride-to-be and the wedding proposal were both being decided and made by the parents or the groom's father. Then during the acceptance of the bride's parents, they would then arrange the Jewish engagement. The custom parties were held to create a formal contract between both parties.
Rustic Vintage Engagement Invitation
Download
Vintage Engagement Photo Invitation
Download
Vintage BBQ Engagement Party Invitation
Download
Common Betrothal Cultural Norms
Generally, before the ceremony to fix the date of the wedding, the mothers of the future couple would meet. As a common custom, it is the bride's parents who would host the ceremony. The husband-to-be would send beautiful flowers to his fiancée on the day of the engagement, and his soon-to-be mother-in-law would  also receive a more vintage bunch of flowers.
When it comes to the ceremony's expenditure, the family of the bride would offer the celebrations, while the groom's family or the groom himself would offer the ring for the engagement. When an engagement is destroyed, it is the woman's right to keep the engagement ring. Hence, it is in good taste for the woman to offer to return the ring while the man can refuse it.
What We Offer
So that's a little bit of information regarding engagement. Now if you are planning to throw one and at the same time looking for gorgeous invitation card designs, our vintage engagement invitations designs are a great deal! There are 6 choices for you to choose from in this list, and a whole lot more is available to download on our website. They come with fantastic layouts and color palettes that you and your partner will surely love. All the invitation templates and wedding card designs on our website are yours to download, including our Dinner Invitation Templates.