Address Label Templates are much needed when you are about to send a letter or a card to someone by post. You fix it on the envelope and write the recipient's name and address over it. There are return address labels as well which you will glue at the bottom of your envelope where you will write your own name and address so that the envelope can be returned to you – if it cannot be sent to the desired recipient.
Sample Address Label Template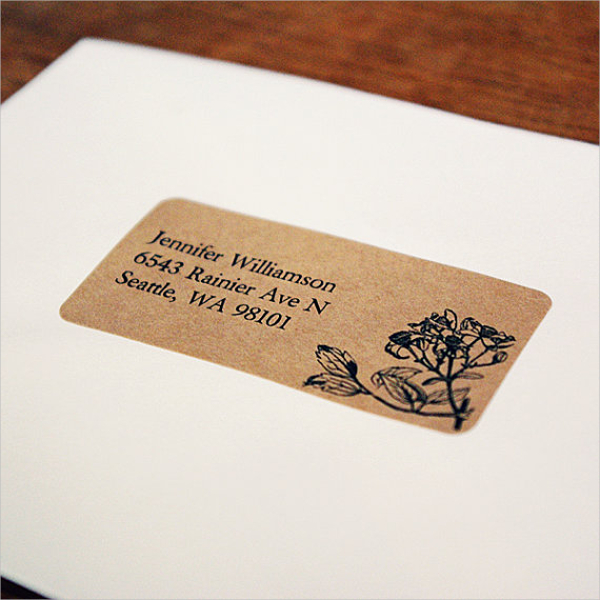 Address Label Template Download
If you are looking for minimalist shipping label template, this Address Label sample here would be just the thing for you with its breezy colored lettering against a pristine backdrop.
Postcard Address Label Template
If you are on the lookout of a creative and out of the box address label template, this template here is sure to make your day with its cool rounded label format.
Wedding Return Address Label Template
The sparkling lights at the top immediately remind of the merry celebration of a wedding party and hence, make it an apt template for a grand wedding return address label.
Printable Address Label Template
If you are looking for something beyond the normal plain address label templates without going over the top, this one is sure to charm you with its floral accents at the left.
Address Label Envelope
With a smiling cute impish Mickey dominating the picture, this address label envelope would be perfect when you are sending a card or a letter to a little one on his or her birthday.
Address Label Template to Sender
The hand pointing at the backward direction makes the right picture when you want to convey the message of "return the mail". You have it in a wide range of color options.
Mailing Address Label Template
You have a truly elegant mailing address Label Template here, courtesy the beautiful bunch of flowers at the top. The vintage font speaks of class from just every angle.
Are you looking for ideas on address Label Templates? Well, the templates mentioned above would be really cool for you here as they have arrived with a huge bunch of address labels in a fine series of styles- from vintage to the cute Mickey- you just have everything over here.