Are you tired of writing your name and address in every mail you send? If it is a yes, then it is time to print your own address labels and send those letters with no fuss. You can finally put off your messy handwriting and utilize something that is actually computer generated.
Creating your own address labels is simple. You just need the right materials and software. However, if you want to add more details and colors to your labels, you can browse any of the label templates available on this site. Not only will your labels be precise but will also be eye catching and easily identified.
Printable Return Address Label Template
Download
Printable Holiday Address Label
Download
Printable Christmas Address Label
Download
Printable Address Label Template in Word
Download
Printable Rainbow Address Label Template
Download
How to Create Your Own Label
As mentioned, the task of making your own address label is plain and simple. You can do it in no time. When making your own, follow these tips below that we offer you:
Microsoft Word and Excel are great tools for quickly generating a simple address label, but among these different methods, online templates not only offers a convenient way of creating labels, but they also provide colorful and attractive label templates.
Printable Wrap Around Address Label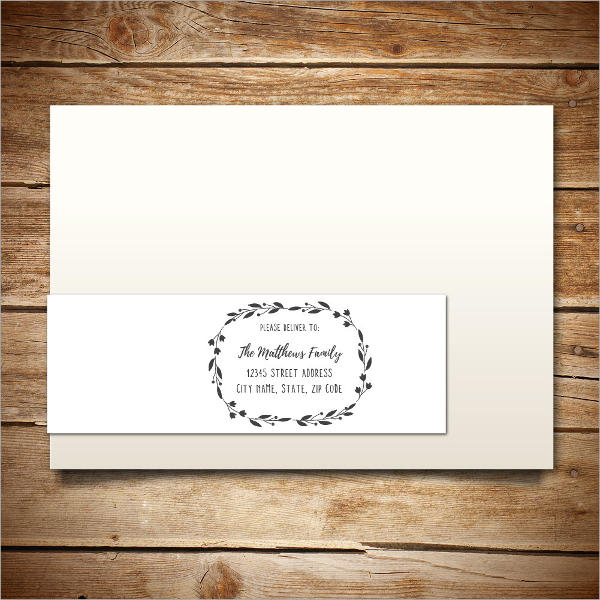 Download
Printable Blank Address Label
Download
Printable Space Race Address Label
Download
Printable Wedding Invitation Address Label
Download
Birthday Address Label Printable
Download
Why Put Address Labels in the First Place
Address labels may be taken for granted for some time. Most people might not even know how important it is until some mail shows up with no return address on it. So to know how valuable your labels are, here are the advantages:
For a

mailing label,

it offers convenience for the sender, mailman, and recipient. 

It informs

recipients where they should address their replies.

It directs mailmen and post offices where to send the mail back in cases the recipient isn't found.

It is often used to secure your mail and to avoid losing it.

Sending back your mail is an easier and faster task for the involved parties.
The Design of Your Choice
With regard to the design of your address label templates, you should not be limited by the minimalist characteristics of black texts and white backgrounds. In fact, you ought to design your labels the same way as you would create art.
To provide you more label design ideas, you can look through the templates on our website and download those that suit you. Our templates can be downloaded for free or licensed at a reasonable amount and is already in printable version. You can have it in either PSD, EPS, or AI file formats.