Letter envelopes used today are not just the common brown and white in color. There are already a lot of variations and improvements done on a letter envelope so that it may fit better on certain events, functions, and design ideas.
A letter envelope is not only used for a single purpose. Nowadays, they are used to conceal messages and be an integral part of invitations.
Our envelope templates can show you designs and other creative manipulations done in envelopes for it to look more appealing or for it to fit a specific aesthetic of the person to use it.
Vector Letter and Open Envelope
Romantic Letter Envelope
Letter Envelope with Red Heart
Kraft Letter Envelope
Letterhead with Envelope
Retro Letter Envelope
Vintage Letter Workspace Envelope
Though there are a lot of creative ideas that you can use to make a letter envelope look better, envelopes that are used for formal and professional purposes must remain to be clean, neat, and polished. We have business envelope templates that you may use for this purpose.
On the other hand, if you want to unleash the creative juices that you have and apply it in the creation of new envelope designs, here are a few things that you may experiment on:
Use materials to bedazzle your envelope. You can select from various arts and crafts items and put them all together to create a very unique looking envelope.
If the paper used in the creation of the envelope, you can actually dye the envelope in different colors to give it a fresh look. If there is only a thin paper used, you may use a few threads and dip it to different colored paints. Make different thread patterns outside the envelope and remove the thread so that the patterns may be intact as it cools.
Create color gradients by using a brush to splatter colors on the outside parts of the envelope.
You may use paper design cutters so you can make the edges of the envelope more fun.
Also, why not use a sponge and create different textures on your envelope?
Abstract Letter Envelope
Set of 5 Letter Envelopes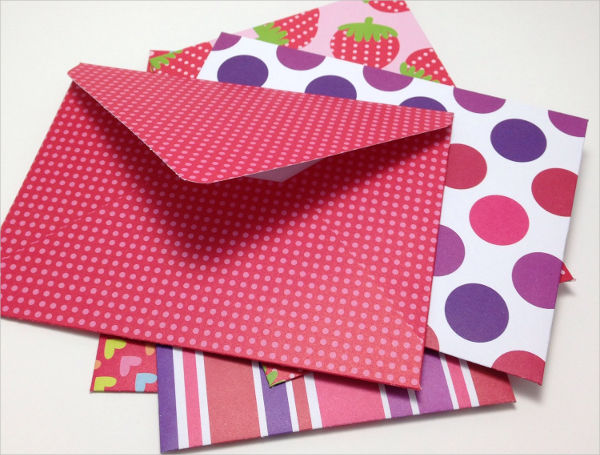 Letter Envelop Mock up
There are actually a lot of other fun ways where you may give an envelope a new look. You can print our templates and have it personalized using your creativity. If you think that they are already creative enough, just put the warmest messages inside them, and the receiver of what you are to give will surely appreciate it.
Again, an envelope should never be boring. If you cannot find any envelope in the market that matches the color scheme of your event or your invitation card, try creating one so that it is more personal, and it assures you that no one can buy it elsewhere as you've put your own spin on it.
Make sure that the next time you give a letter or a gift to someone, an envelope that you have made will be included. It is for sure a great addition to what they will receive.
A little effort will not hurt especially if it is for the people to whom you are willing to give something. Also, it will help you to be resourceful and think of many other ways on how to make something look better and more appropriate for its purpose of use.
We have wedding card envelopes available on our website that you may download and use.