When we talk about the environment, most of us have good intentions. Some people like to fight against global warming, while others try to preserve the flora and fauna with proper trash segregation and recycling. As for expressive individuals, they prefer either vocalizing their love for the environment or putting up logo designs about environmental awareness.
Either way, it is important for everyone to exert their effort in improving the quality of our environment as well as retaining all the healthy parts left. When everyone on this planet is involved, no act will be too small. So, better get ourselves together and start saving Mother Earth.
Recycling Logo Vector
Download
Recycling Earth Logo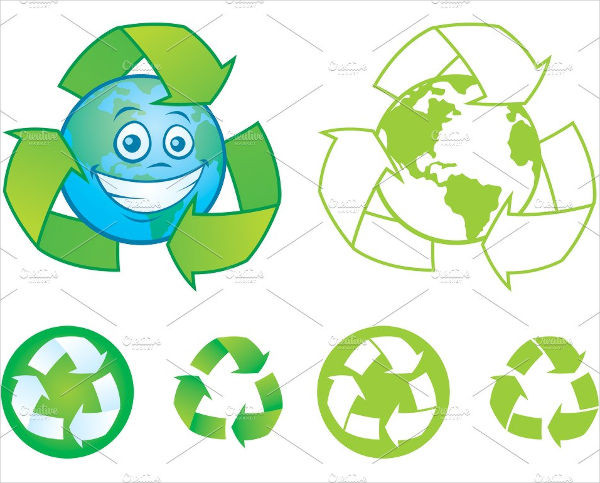 Download
Trash Recycling Logo
Download
Recycling Company Logo
Download
Green Recycling Logo
Download
What You Can Do to Save Mother Earth
You don't really need to go out of hand to save Mother Earth. There is no need to fly over to the ozone layer or save polar bears in melting icebergs. Simple gestures would suffice as long as you do them regularly. And here's what you can do:
The three Rs.

This is the basic tenet taught to us when we were children. This basically means to

Reduce. It helps a lot if you maximize your usage on the natural resources and daily necessities. This way, you get to waste less and save more of them.
Reuse. As long as you are using nondisposable material, you can reuse it as often as you can. You can start reusing plastic bags and also buy rechargeable batteries instead.
Recycle. Though this may be a tedious task for others, you get to save both your money and the environment. Create new and exciting objects from old, worn-out things that you once planned on throwing.

Promote awareness.

You can create green logos signifying the value of Mother Earth and how important it is to save her. Luckily, there are numerous environment and recycling logos you can choose in this page.
Speak up. Never hesitate to speak up and report any environmentally damaging events to responsible authorities.
Recycling Bin Logo
Download
3D Recycling Logo
Download
Eco Recycling Logo
Download
Small Recycling Logo
Download
Recycling Logo Design Free Download
Download
Raising Environmental Awareness
If you want to raise environmental awareness, you can't do it alone. And even if you do, it won't have as much impact as a group of concerned individuals would have. Hence, to effectively promote environmental care and preservation, create a team of green lovers and follow these tips we offer:
Support and share company logos that are pro-environment.

Design posters online and publish them on popular social media sites.

Create trending blogs and forums where individuals get to share both environmental issues and resolutions.

Aside from making announcements in public, start the awareness at home. Be an example to other family members and start utilizing your resources properly.

You can promote awareness in an old-fashioned way—that is, by putting posts on bulletin boards and distributing flyers. (When you opt to make your own flyer design, browse our website for more ideas on recycling logos and other environment-themed designs.)

Promote environment-friendly products and encourage everyone to use them instead of those with toxic ingredients.
If a lot of people get to cooperate and perform those aforementioned, then we could be a step closer to saving our Mother Earth. It is important that we strive to save it. After all, it is the only living planet we got.