Skulls are enigmatic, mysterious, creepy, and beautiful; but it doesn't have to be Halloween to use these visual images because they don't have to be always scary. After all, we all have one. That is why they are used in many designs ranging from prints to architecture and even tattoos.
To prove our point, we have collected some of the best skull patterns out there for use by any designer or artist who comes and visits our website. You now have the power to make the world more beautiful by using these Free PSD Logos on your projects.
Skull and Bones Logo
Download
Monster Skull Logo
Download
Black Skull Logo
Download
Death Skull Logo
Download
Flame Skull Logo
Download
The Meaning of the Skull in Logos
The use of skulls should not be seen as negative as it invokes mindfulness of our own mortality and a humble reminder of our temporary existence in the physical world and the importance of living in the moment.  Here are some meanings that can be associated with the image:
Invoke fear or caution. The skull with crossbones is used to signify a poisonous substance as well as pirates in the sea. When they appear on a glass bottle, it means you are not supposed to drink or eat it.
Symbolizes transformation. Such as the appearance of the Death card in a tarot reading, the skull means life after death, metamorphosis, or change whether in life itself or other aspects of living.
Symbolizes nonconformity. When seen on flags, signs, or tattoos, the skull represents freethinking, rebelliousness, toughness, courage in the face of danger and death.
Celebrate the dead. In Mexico, the skull is the main of symbol of one of its festivities called the Day of the Dead, or Dia de los Muertos. Sugar skull candies made with chocolate and amaranth are given during the festival.
Good luck charm. Ancient and primitive cultures believed that skulls can ward off evil, so they wore them to ensure protection and well-being. In Celtic culture, it represents the seat of power and the house of the soul.
Decoration. As they are visually appealing, many people think they are cool so a lot of fashion items and other design materials use them for decoration. Alexander McQueen once popularized the trend of stylized skulls.
Don't forget to check out other logos available on this website, such as our Animal Logos!
Skull Music Logo
Download
Cartoon Skull Logo
Download
Monkey Skull Logo for Company
Download
Skull Helmet Logo
Download
Abstract Skull Logo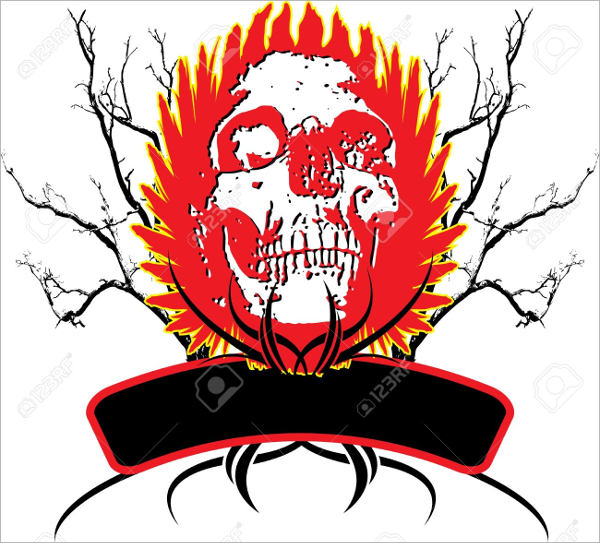 Download
Other Symbolisms of the Skull for Logos
Life. In ancient times, the skull represents life, which is the honoring of humanity in the flesh and the embodiment of consciousness. It often has the greatest visual appeal than any human bone, so it is easy to be fascinated with them.
Death. Probably the most used symbolism of the human skull is death. Because the human brain is attuned to see faces in a few dots and lines, it cannot separate the skull from a familiar human face. Thus, the skull symbolizes past life.
Sex. A skull that is usually without the lower jawbone was an emblem worn by bawds, rakes, sexual adventurers, and prostitutes during the Elizabethan England. It is used to advertise their station and territory.
Vanity. It is depicted in the famous lithograph by C. Allan Gilbert where a girl is seated in front of her mirror and the picture transforms into an alternate image of skull on the observer's perspective.
Also, take a look at these Funny Logos among other logos you can see throughout our website.