The global magazine publishing industry is worth $100 billion and is still set to grow in the coming years. This further proves the fact that magazines are still very much popular and are nowhere near being brushed aside by multiple online marketing platforms. It's still read by a sizable audience which further reinstates the need for effective magazine layout designs. You can also check out magazine templates in publisher.
Elements of A Good Magazine Design
If you're planning to publish magazines en masse or if you're working in a magazine company, whether you circulate to give entertainment, spread information or print to give updates on latest trends in fashion, technology, etc., you could easily be designing the layout of a magazine on a regular basis. This is a challenging task. The following elements can help you nail your magazine's layout to satisfy your audience:
1. Headline: This is perhaps the most important part of a magazine's design. It can come in various sizes but should always be bigger than the rest of the textual content on the page. A headline should be snappy, interesting, compelling and meaningful to increase the chances of an article being read.
2. Introductory Paragraph: Also known as "intro" "kicker", "deck" or "stand-first", an introductory paragraph is the main piece of content that introduces a reader to an article. It carries forward what a headline has succeeded in doing – catching the attention of a reader. It connects a reader to the main article, taking forward a reader's journey into the midst of the article.
3. Body Text/Copy: A more lengthy and detailed element of a magazine design compared to the heading or article headline. The goal of a body copy is to keep readers hooked to the article towards the end. When you decide to use the templates included in this article for your layout, it should start with the body copy design since that takes a majority of the space which runs into a number of paragraphs.
4. Content: Whenever a magazine starts to lose readers and circulation, the finger for blame often gets pointed at the design team. However, in almost all instances when a publication starts to slump, it's because the editorial quality has dropped for some reason. Although good design is crucial in creating a "complete" magazine package, it's the editorial content that attracts and keeps readers. Good editorial can save a poorly designed publication, but good design can't compensate for weak or bad content.
5. Focus: What is the primary topic of your magazine? Keep in mind that most magazines are niche publications that target a highly-specific audience (for instance, people who are interested in quilting or brides looking for wedding ideas).
Ask yourself: Will this be a standalone publication or one in a series? If it's part of a series, what's your larger theme?
Try to draw the title of your magazine out of this overarching theme. Note that most magazines have one- or two-word titles (such as TIME, National Geographic, Seventeen, Rolling Stone, and Forbes). Not only can a short title sum up your theme nicely, but it is also easier to deal with from a design standpoint.
10+ Magazine Design Templates in Publisher
Travel Package Magazine Template
Download Now
Sports Magazine Template
Download Now
Photography Magazine Template
Download Now
Real Estate Magazine Template
Download Now
News Magazine Template
Download Now
Modern Lifestyle Magazine Template
Download Now
Printable Interior Design Magazine Template
Download Now
College Magazine Template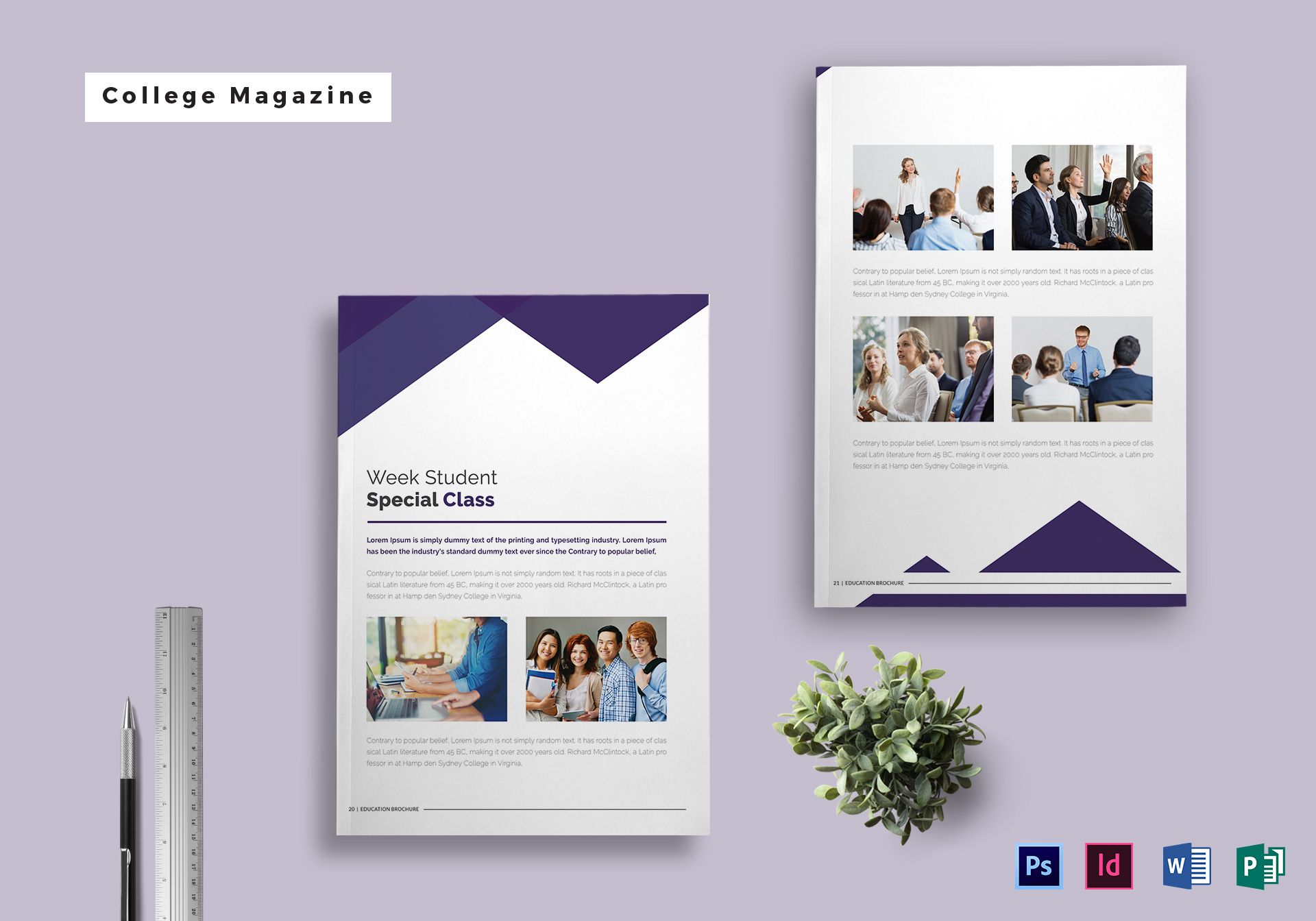 Download Now
Square Interior Magazine Template
&nbsp
&nbsp
&nbsp
Size: 8.5×11 inches
Free Digital Photography Magazine
&nbsp
&nbsp
&nbsp
Size: 8.5×11 inches
Steps to Design a Magazine Template in Publisher
Today, the magazine seems nothing too valuable except as a source of entertainment and even then, one can argue that you can always find that information online with just one click. However, you can't deny the fact that magazines remain to have that great impact on our society as a whole, gossip, fashion, news and all. Here are some steps to guide you in designing your own magazine:
1. Know who your readers are: Know them inside out. When you create content that pushes the right buttons and makes your readers feel like they're part of the story or the message where there can dive in and let themselves lose in their passion, that kind of reader relationship is what every designer and editor should always aim for and nothing less.
2. Take photos: More than other things, a magazine is expected to be a visual medium, even if you primarily publish for say, business content or straight-up journalism. You still need photos of phenomena quality because that's what your audience would also expect and would be looking for. Furthermore, high-quality images add value to the articles written and the magazine design as a whole.
3. Research your topic. Once you know what your theme is, it's best to do some research about it. Even if you know the basics as a designer, editor or writer, you should know what your readers expect to see in your magazine. Research helps a lot in filtering your ideas and concepts for this month's issue. It also helps you understand what discussions or content to avoid in your niche. These are the questions you need  to ask:
What are the most recent trends, fads, gadgets, apps, and fashions that relate to my topic?
What kinds of articles do people need or want?
4. Design a cover: The magazine cover is perhaps the most important part of a magazine's branding since it is the main selling point. It should, therefore, be designed to give readers a tempting taste of everything you have in store for them inside, without giving away too much.
Tips In Designing A Magazine Template in Publisher
There's nothing wrong with having a glossy 100 or so pages on our lap to flip and read through to keep us entertained and turn an otherwise ordinary day into a "productive" one. Guilty pleasure or otherwise, here are some tips in designing a magazine that gets picked in the stands:
Go for a personality: We're serious. The best magazines don't just deliver great content to their readers, they do it in a conversational style that creates rapport. A good publication or magazine company should stamp its personality or brand on a magazine. Every single feature or story in your magazine should convey the message that you know and understand your readers. Make it informative and trendy. But make it personal too.
Teamwork actually works: Every time, it does the trick. Writers and designers often have very different ideas and may see a design in many different ways, but the whole editorial board with the design team should make collaboration an important part of the design process. If teams don't collaborate, challenge each other or occasionally squabble, you end up with a very destitute issue.
Types of Magazine Design
A layout should not only look attractive but also communicative, which means that the layout should be easy for the reader to receive all available information. Here are the types of magazines based on their layout:
Conventional Magazine Design: This is probably the most simple design you can go with. The title is often placed in the page's upper left corner so that the reader can see the first part of the content. This design is usually used in traditional publications in which the audience is more interested in the news articles and other information in the magazine.
Classic Magazine Design: More popular as a medium of a publication, this isn't too different from the conventional design except for the title which is placed in the center top of the page while the copy body is usually arranged and divided into two columns. The layout is reminiscent of the age of the tin printing machine that still exists and remains in use to this day.
Modern Magazine Design: In contrast to designs mentioned previously, the layout for this type of design presents more images and more use of typography such as thick line elements which is known to be very useful for giving emphasis and setting focus in all types of print media.
Magazine Design Sizes
Magazine sizes can vary from these two standard sizes, so if you're thinking of having your printed over-sized or undersized, the cost will naturally be higher:
Standard Size: 8 3 ⁄8" x 10 7 ⁄8"
Digest Size: 5 3 ⁄8" x 8 3 ⁄8"
Magazine Design FAQs
What sizes are magazine covers?
Magazine covers come in 8.5 inches by 11.5 inches size but you need to leave some bleed area.
What is a magazine layout?
A magazine or page layout is the part of graphic design that involves putting together all visual elements on a page.
How important are magazines today?
Magazines are highly-targeted, more than a source of entertainment, they provide information that a very specific audience wants to read or know.
Putting together a magazine is a great way to share your vision in print. Some DIY zines even become more professional publications down the line. But there's no reason to wait. To make a magazine, you simply need to create meaningful content around a solid theme capable of attracting a specific market, then organize that content into an appealing layout and publish it digitally or via print.