Many people celebrate Memorial Day in different ways. Acts of patriotism, attending Memorial Day events, spending time with the friends and family, and a variety of other people-oriented activities are common practices done by many to honor those who have died while in military service. In commemoration of Memorial Day, we have collected a few banner templates to help you and your peers celebrate this holiday.
5 Steps to Make a Memorial Day Banner
Step 1: Identify the type of celebration
As mentioned in the introduction, people celebrate Memorial Day in different ways. First, identify how you want to celebrate Memorial Day. After doing this, you should be able to create the content of your banner. Being aware of where you want to place your banner is also very important.
Step 2: Create the content, design, and layout
Memorial day is all about being patriotic. Memorial day banners are typically designed with American flags, not only for decorative purposes, but to also tell people what holiday is being celebrated. Design your banner according to the occasion. Remember that this holiday traditionally celebrates the lives of those who have parted, so refrain from inputting inappropriate quotes or remarks.
Step 3: Test your initial banner design
If you want people to come to the event you are holding, make sure that your banner looks appealing to them. Sometimes, a badly designed banner or invitation can dampen people's mood for an event. Test and experiment with other banner designs to see which ones can generate a bigger impact among your audience.
Step 4: Edit and finalize the banner design
At this stage, you can now edit: add and remove certain details from your initial banner design. If you do not want to create a banner from scratch, you can download and customize the templates we collected. Using the templates is more efficient than creating your own design, not to mention that these are made by professional designers.
Step 5: Print and Post
We recommend that you print your banner on a durable surface—like a tarpaulin, for example—so that the ink won't run, avoiding damage to the design. Find a good print shop to print your banner. But before that, remember to set a budget. Keep in mind how many banners you want printed and posted for your event.
1. Free Memorial Day Tumblr Banner Template
Memorial Day celebrations are perfect when held in a wide open-space area. Fireworks and BBQ parties with family and friends are an incredibly fun, way of celebrating this federal holiday. Advertise for a Memorial Day event in your local park (or simply in your backyard) by using this star-spangled template you can put up in your Tumblr profile.
2. Free Memorial Day LinkedIn Profile Banner Template
Varsity fonts never go out of style. Celebrate Memorial Day in this old-school banner, which you can download for free! Put this banner up in your LinkedIn profile to hype people up for this momentous holiday. This banner can be easily downloaded and edited (with the use of Photoshop).
3. Memorial Day Web Banners Set
Download
Due to the three-day weekend everyone gets to enjoy, department stores and other retail stores usually celebrate Memorial Day by holding up sales. Download this Memorial Day Web Banners Set for a low price, and advertise for your store! We assure you that the graphics are of high quality. Technologically challenged? This banner also comes with a "help file."
4. Memorial Day Sale Banner Template Design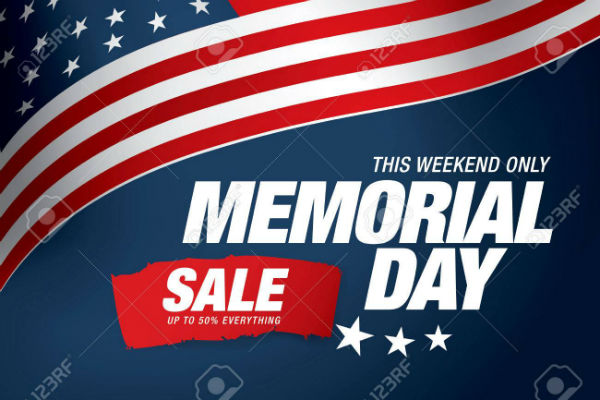 Download
Nothing screams "American holiday" more than this Vector – Memorial Day Sale Banner Template Design. With its bold font, set on an all-American backdrop, this banner is sure to attract customers. Paired with a bold memorial day headline, this banner template will surely be an eye-catching one. What are you waiting for? Download it now! 
5. Memorial Day Banners
Download
Short on money? Don't worry! This Memorial Day banner design package offers ten variations of the shown design, making it the perfect budget purchase. Aside from simply acquiring a design for a banner, you can also get a similar design already set in templates of different sizes for flyers, coupons, and the like.
6. Memorial Day Banner with American Flag
Download
Coming with a design that shows a litter of stars and sparkles, reminiscent to fireworks you see in the night sky, this Vector – Memorial Day Banner with American Flag is a choice selection for celebrating this holiday. This is the perfect banner to use when promoting a fun Memorial Day event which people of all kinds can participate in.
7. Edgy Memorial Day Banners
Download
Multi-purpose templates are an incredibly convenient for a variety of reasons. Apart from the obvious fact that it is a cheap option, multi-purpose templates also saves a fair amount of time in designing—this is vital if it is only one type of holiday being celebrated. Avail yourself of this multi-purpose Memorial Day banner template now by purchasing it!
8. Memorial Day Banner Design Logo with American Flag
Download
Create an awesome banner for Memorial Day with this cute banner layout! Sometimes, we forget  that simplistic designs are a good form of decoration. With a banner that can double up as a good Memorial Day badge or logo, this is perfect for events like simple cook-outs, family gatherings, and BBQ parties.
9. Memorial Day Template Set
Download
Red, blue, and white will forever be a classic color triad that is perfect for American holidays, Memorial Day being a part of it. Download this traditional Memorial Day template, ideal for advertising sales and discounts. This banner is also fully editable, ensuring a hassle-free process in creating a banner.
10. "Honoring All Who Served" Banner for Memorial Day
Download
Suitable for solemn celebrations, this banner layout is perfect for publicizing Memorial Day services held in churches and cemeteries. Aside from Memorial Day, this banner can also be used for other American holidays—for instance, Armed Forces Day and Veterans Day. However, due to the simple design of the banner and the implications, we recommend that it be used for dignified events.