Do you have an event to plug or advertise on Memorial Day but don't know how to go about it? Are you organizing a party on Memorial Day weekend but do not have enough time to prepare flyers and other marketing tools? Rest easy because there's a way out of your advertising dilemma: Memorial Day Flyers. These are ready-made flyer templates, designed to make any Memorial Day activity less stressful and more convenient.
Memorial Flyer Template
Commemorated each year on the last Monday of May, Memorial Day is a day for remembering fallen soldiers and every patriot who died serving the country. The whole nation honors their selfless service. For revelers, Memorial Day weekend marks the start of summer vacation and a season full of fun and excitement.
Memorial Day Newsletter Template
Memorial Day Poster Template
Memorial Day Google Plus Cover Template
Memorial Day Google Plus Header Photo Template
Memorial Day Youtube Profile Photo Template
Memorial Day Instagram Profile Photo Template
Memorial Day Instagram Post Template
Free Memorial Day Wine Label Template
Memorial Day Flyers
Memorial Day Event Flyer
If you're organizing a formal Memorial Day event to commemorate men and women who died for the country, this flag-inspired flyer (complete with a star-spangled backdrop) is highly recommended. You can customize this sample flyer to encourage your friends, relatives and colleagues to participate in your event and join you in remembering those who served.
Memorial Day Sale Flyer
This flyer template is ideal for individual stores, flea market organizers and just about anyone intending to sell discounted goods on Memorial Day. The template is already formatted for your convenience. All you have to do is specify the details and print as many as you want to invite a throng of buyers. If the event comes with a street party and special performances, then all the more reason to get this Memorial Day sale flyer.
Memorial Day Celebration Flyer
Need more party people to your Memorial Day weekend party? Use this theatre-themed Memorial Day Celebration flyer to spread the word about your awesome event. The flyer design makes everything easier for you. Just fill in the details including ticket price and when, where and what time the party would kick off, and you're all set.
Memorial Patriotic Flyer
There's nothing more patriotic than a person who initiates a Memorial Day event to honor those who died for the nation. Your effort is not only highly appreciated, but we're also offering this color-rich Memorial Patriotic flyer to help you attract more participants to your event. This special flyer sports a unique design – a soldier's hat, flanked by two American flags, and a faded background of the national cemetery. You can customize details as you see fit.
Memorial PSD Flyer Template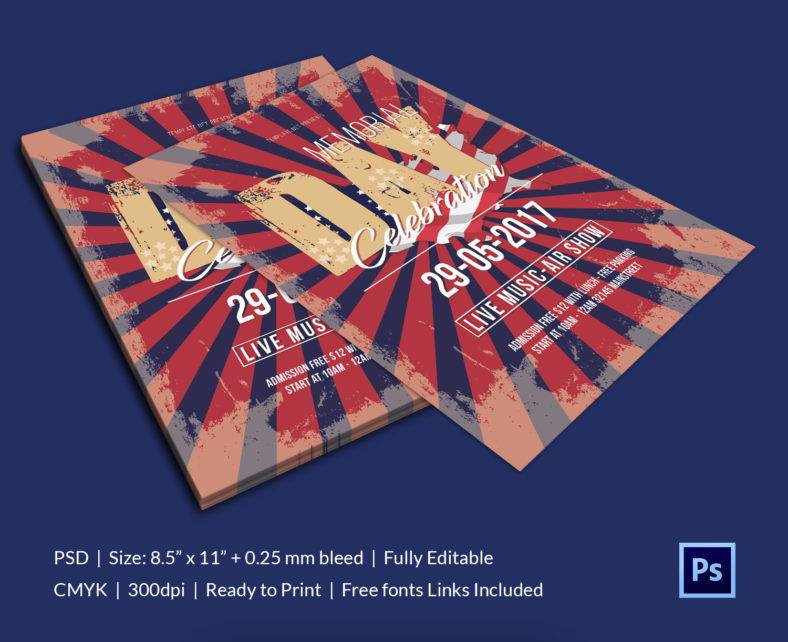 If you have a grand activity in mind this Memorial Day weekend, why not use this high definition flyer template with a U.S. flag background to promote your event instead? Give target invitees a glimpse of the grandeur that awaits them.
Whether it's a rock music concert blasting songs about the motherland or an air show your eyes can feast on, no other marketing tool is more capable of creating hype than this Memorial PSD flyer template. PSD flyer templates have quality resolutions and are generally visually appealing. You can't go wrong with this flyer.
Memorial PowerPoint Templates
Memorial Day Church PowerPoint
Hold a solemn Memorial Day church service and pay homage to the bravery of fallen soldiers using this Memorial Day Church PowerPoint template. Blades of grass, a setting sun and a moving "We Will Never Forget" headline—all these elements paint a poignant and nostalgic picture, guaranteed to make any Memorial Day service memorable.
Memorial Day PowerPoint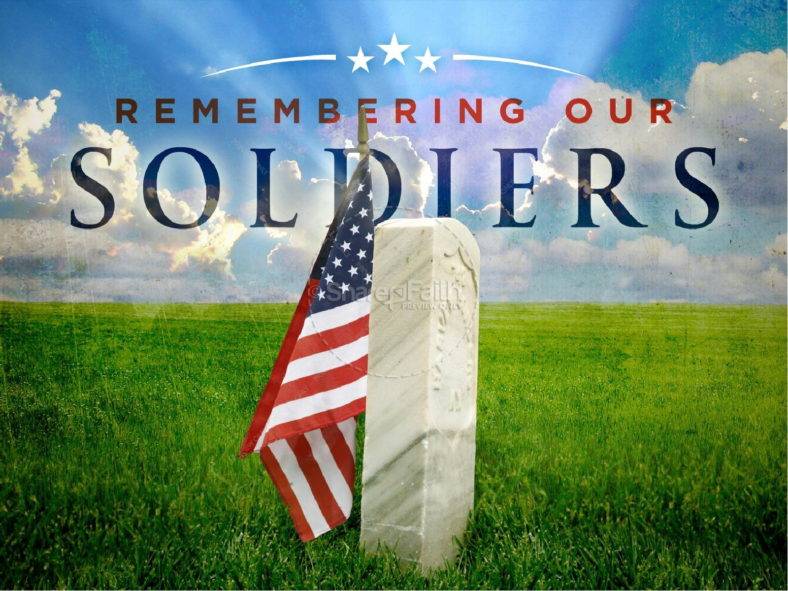 If you're hosting a Memorial Day program to remember these fallen soldiers yet are strapped for time, you can use this Memorial Day PowerPoint to facilitate the conduct of your event.
Memorial Day Invitations
Polka Dot Memorial Day Invitation
Memorial Day weekend is coming up and you're supposed to be hosting an event for friends, colleagues and anyone interested. The problem is… you've got no marketing plan in place. How do you create hype for your event and attract the audience you want with little time to spare?
This Polka Dot Memorial Day invitation will show you the way. It's quirky, fun and a little less formal. Print several copies of this invitation card and go on a distribution spree. You'll soon congratulate yourself for hosting a successful event.
Memorial Day Party Invitation
All fun-loving people know that Memorial Day weekend is the start of the hot summer season. Summer spells one thing for most folks… the beach! If you're kicking off your summer with a beach party, you might as well print a bunch of groovy Memorial Day Party invitations to let everyone in on the fun.
Memorial Day Bash Invitation
Throwing a Memorial Day bash this weekend on short notice? There's nothing to worry about as long as you have this Memorial Day Bash invitation to back you up. This sample invitation card is designed for couples and families hosting a Memorial Day party within their own abode. It comes with a set design and format plus a customizable image section.
Memorial Day BBQ Invitation
What's Memorial Day without gourmet barbecue? Send this Memorial Day BBQ invitation and let everyone know what you're grilling. This formal invitation template comes with a sophisticated, minimalist design and pastel shades. The format has already been set for you. Simply fill in the details, distribute to your invitees and you're ready for some barbecue before you know it.
Memorial Day Posters
Memorial Day Celebration Poster
It's Memorial Day weekend and you're about to party the time away. The stage is ready, DJs have been booked and the event you're organizing has trended on social media. All that's left are hordes of people to join you in this weekend salute. A cost-efficient way to reinforce your current digital marketing plan? A stack of these Memorial Day Celebration posters, placed at strategic areas near your celebration venue.
Memorial Day Service Poster
For their sacrifice and courage, these departed soldiers deserve to have a day dedicated only to them. They are the unsung heroes many of us overlook. If you're holding a memorial service to honor the memory of these soldiers, this Memorial Day Service advertising poster is a good way to promote your event.
Memorial Day Sale Poster
There's no better time to announce a weekend sale than this Memorial Day weekend! Take advantage of the dense population of merrymakers while celebrating everything that Memorial Day represents.
Give your store some much needed mileage through this Memorial Day Sale poster template. Pre-formatted and pre-designed for your convenience, using this poster saves you time and money. Just purchase online, supply the necessary details and print. You're ready to advertise your weekend sale promo in no time.
Memorial Day Event Poster
As token of undying gratitude for the men and women who sacrificed their lives for America, the country celebrates Memorial Day in various ways. If you're hosting an event dedicated to our fallen heroes, we recommend this Memorial Day Event poster. Designed with the colors of the flag in mind, this promotional tool can spare you from time-consuming and costly marketing processes.
Memorial Menu Design
Memorial Day Tent Menu
Food is one of the reasons why people look forward to Memorial Day. Who celebrates Memorial Day without skewers, ice cream or pie? Hardly anyone does! Restaurants, cafes and diners that intend to launch a publicity campaign for their special Memorial Day menu may use this Memorial Day Tent menu template to let customers know about their latest food offerings.
As a final tidbit:
Did you know that in 2016 there were more than 2,000 soldier deaths in the War in Afghanistan? Some of these soldiers were the breadwinners of their respective families, but they chose to serve the country regardless of the outcome.
Commemorating them on Memorial Day is an expression of gratitude for their noble deeds. So invite all your friends and family to celebrate these patriots!