All you need are slabs of meat, some marinade, a grill, and some visitors, and then you can pull off a simple yet enjoyable barbecue party with your friends or your family. But if you're doing it for customers, then you'll need more than just those to be able to live up to expectations.
What you'll need is a menu, which is something that allows customers to choose from among a selection of barbecued dishes. If this is indeed what you're planning to do, then you are in the perfect place. Below, we have a collection of barbecue menu templates that you can use for your food establishment.
565+ BBQ Restaurant Templates in PDF, Word, Excel, PSD, Google Docs, InDesign, Apple Pages, HTML5, Google Sheets, Publisher, Apple Numbers, Illustrator - START DOWNLOADING
1. Logo and name of food establishment: Your menu should always have an identity, which is why you should include not only your name but also your logo on it. This way, your customers will have an idea on who they're dealing with, and will easily remember you if are able to leave them with a positive impression.
2. List of dishes and drinks offered: This is the main feature of the food menu, the lists of the foods and drinks that the establishment is offering to their customers. To make it even more informative, write a short description for each item to let them know at least some of the ingredients used and how the dish or drink is prepared.
3. Prices for each item on the list: This is usually found at the opposite end of where each item is written, and this provides customers with an idea on how much they'll be paying for their order. Be careful, though, not to make your list of prices look more prominent than your list of items. This will make customers more conscious of their expenses.
4. Photos of food and drinks: The use of photos serves two purposes on food menus. They not only help enhance the look of the menu, but they also provide customers with a visual representation of the dish.
5. The contact number of food establishment: In any business, making your contact number visible would mean that you are expecting prospects to call you for inquiries or to make transactions. It's almost the same with restaurant menus, you want people to call you either to order food, to make reservations, or simply to inquire.
6. Address/es of other location/s: If by any case, you managed to open a branch of your restaurant in a different location, you should mention that on the menu by indicating the address. This way, people will be notified of that location which may or may not be more accessible to them.
Simple BBQ Food Menu
Minimal BBQ Factory Menu Template
Details
File Format
&nbsp
&nbsp
&nbsp
&nbsp
&nbsp
Size: (US) 8.5×11 inches
Rustic Smokehouse BBQ Menu Example
Artistic BBQ Food Menu Format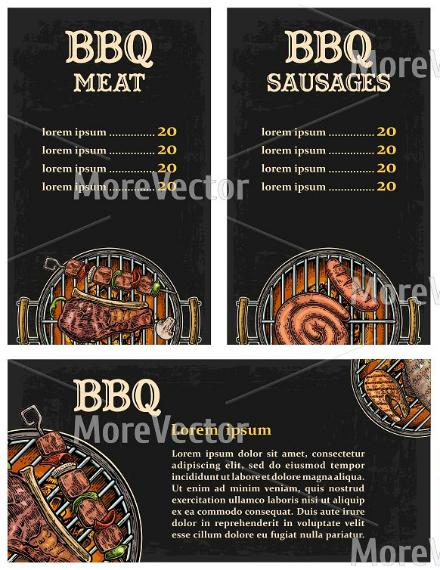 BBQ Menu Example
Sample BBQ Menu
Urban BBQ Food Menu Sample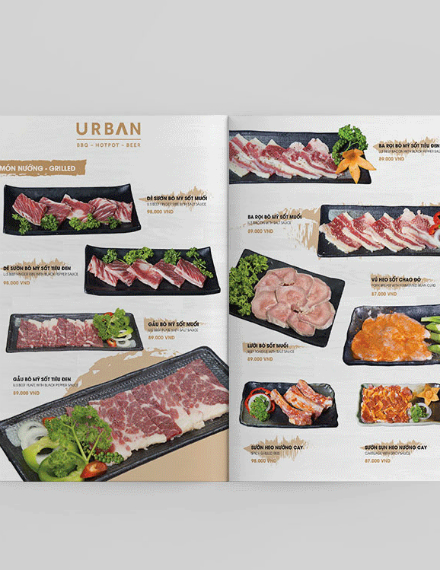 Smokes BBQ Food Menu Design
Country Best BBQ Menu Example
1. Choose a type of menu that fits the direction of your business: Depending on how you want to do your business, there is an appropriate menu for it. There are many types of menus that you can choose from, and you learn each one of them later on.
2. Plan your menu layout by making a sketch or taking down notes of it: While this may seem to take up some of your time, this will actually be very helpful along the way. Why? Because you'll be able to work more efficiently if you already have a concrete plan of your layout and what elements to include on it.
3. Choose an appropriate size for your menu: You can always choose to have your menu small or large, although there are things to consider when choosing the size. Below, there a list of the different menu sizes that you can choose from. And further down below, there is also a piece of advice regarding the "ideal" menu size.
4. Prepare your menu's content by listing down possible items that will be included: Just like the second step, the extra minutes spent doing this can actually save you hours, and it is because you'll already know what items to include on your menu. Since this is only a draft of the possible items, you can write as much as you want and just narrow it down along the way.
5. Download a BBQ food menu template: After doing all the pre-design steps, you can finally start working on the actual menu by downloading a menu template. If you have indeed made a sketch or a note of it, you can use this as your basis when choosing a template.
6. Edit the downloaded BBQ menu template: Templates already have a pre-designed layout, but it still needs to be worked on. Here, you can still make use of the sketch or note you prepared to arrange the elements according to how you want them to be.
7. Enhance the design further: If you feel like the menu design lacks something, you can always edit it further to enhance its quality and appearance. You may do this by either adding more elements or by removing irrelevant ones.
8. Proofread the written content on the menu: By now, we assume that you have already finalized the design on the menu. The next and most important step that you will need to do is to proofread the content for any error in the spelling or grammar.
9. Print out your BBQ food menu: And finally, after finalizing the design and proofreading the content, the only thing left for you to do is have your menu printed out. Just make sure to use high-quality materials for a highly durable BBQ food menu.
Simple Tips for an Excellent BBQ Menu Layout
Try not to inundate your customers with too much text. After all, they went into your restaurant to eat food, not to read books.
The typography can help enhance the look of the design as well as the readability of the menu. Choose fonts that are able to complement the theme of the entire menu.
Aside from the choice of font, also play around with the choice of adjectives. These should make the food sound even more delectable and stimulate the imagination of your customers.
Add images, but use them sparingly, it is not necessary to put an image for every single item.
Keep your menu organized by dividing it into sections and arranging the sections in a logical manner. This way, customers will find it easier to go through your menu.
1. À la carte menu: À la carte is French for "by the menu", which means that customers will be getting exactly according to what's indicated on the food menu.
2. Du jour menu: Du jour is a French phrase that means "on the day". For this menu type, their items may change from day to day depending on the supply in the kitchen.
3. Prix fixe menu: This translates to "fixed price", which means that while the restaurant offers their customers various options, their meals will consist of a pre-determined number of courses and the price that they will be paying is fixed regardless of their options.
4. Table d' hôte menu: This is a French term that means "the host's table", and this type of menu consists of dishes and beverages that the hosts themselves are enjoying as well.
5. Cycle menu: The food items for this type of menu are simply being reused over a definite period of time, and the cycle may either be weekly, monthly or according to the establishment.
6. Dessert menu: To put it simply, a dessert menu is a list of all the desserts and sweet treats that are being offered by the restaurant.
7. Beverage menu: Just like the dessert menu, this type of menu only lists all the beverages that are being offered by the establishment, and this may or may not include magnificent cocktails and other alcoholic beverages.
8. Captain's book menu: This type of menu is something that not all restaurants have. This type of menu consists of only wines, and this is commonly seen in restaurants that have their own wine cellar.
4.25″ x 11″
5.5″ x 15″
8.5″ x 11″
8.5″ x 14″
11″ x 17″
11″ x 25.5″
FAQs about BBQ Menus
What is a food menu?
A food menu is a list of the food and drinks that are being offered to a dining customer.
What is the purpose of using menus?
Not only will it provide customers with options to choose from, but a menu may also give them information regarding the credentials of the chef, the mission statement of the food establishment, and their philosophy.
What is the ideal size for the menu?
Simply make it manageable, which means it shouldn't too large to overwhelm your customers with choices, and it shouldn't be too small that it almost doesn't provide them with choices at all.
How should you do menu pricing?
Always take into consideration various factors such as food costs and portion control to balance the expectations of customers with the supply in the kitchen. The bottom line should be satisfying your customers regardless of how much they'll be paying, and this will entice them to keep coming back.
People love barbecue, and they will also love your menus if you make them using any of our templates. You know why? It's because these templates were designed by professionals for professionals. Not only that, but these menu templates are also fully editable that the quality won't be affected even after editing the design, guaranteed.