Coffee houses or coffee shops have been around since the 9th century. They were first introduced in Africa but started to gain popularity in England in the 18th century. These days, coffee shops can be found in every corner of the globe.
Coffee house menus are extensions of the themes or concepts used by the coffee house. Similar to restaurant menus, a level of uniformity should be seen throughout the designs in both the coffee house's interior and exterior.
Here are some attractive coffee house designs you can use for your own establishment. Watch your customers arrive in droves not only for the freshly roasted coffee, but for the menu designs as well.
Coffee Menu Template
This template can be purchased from Besttemplates.com and it uses some very attractive font styles and designs. The background resembles a chalkboard design which has been very popular the past few years. Complementing the white and black combination in the template is a photo of coffee beans as well as red icons placed beside each item in the menu.
Cafe Menu Table Tent Template
Here is another template available in Besttemplates.com which is used as a table menu. This template is multipurpose, so put it to good use and edit it for your own coffee house. This can be placed at the center of the tables and used to promote your best-sellers as well as new products.
Chalkboard Coffee Menu
This is a beautiful chalkboard menu for your coffee house that you should purchase right away. Chalk designs are used for the text as well as the images such as the cup of coffee, pastry, shake, coffee maker, and coffee beans. This coffee menu print design uses different flavors of espresso as the main visual design. Espresso is one of the most popular coffee blends in the world despite its very strong flavor. A single shot of espresso is more than enough to satisfy the coffee-craving customer.
Vintage Menu Template
This vintage menu template uses a stained paper background that is best for vintage-themed coffee shops. Coffee houses and restaurants that use vintage themes can easily attract customers. Use vintage themes to your advantage and purchase this template today. Edit the template to fit your own menu as well as the prices.
Coffee Shop Menu and Flyer
This cafe shop menu and flyer wonderfully uses an image of a cave entrance as the central design. Two images of a cup of coffee are placed in the background of the template as well as images of coffee beans. Edit the text of your own coffee house details.
Chalkboard Menu and Flyer 1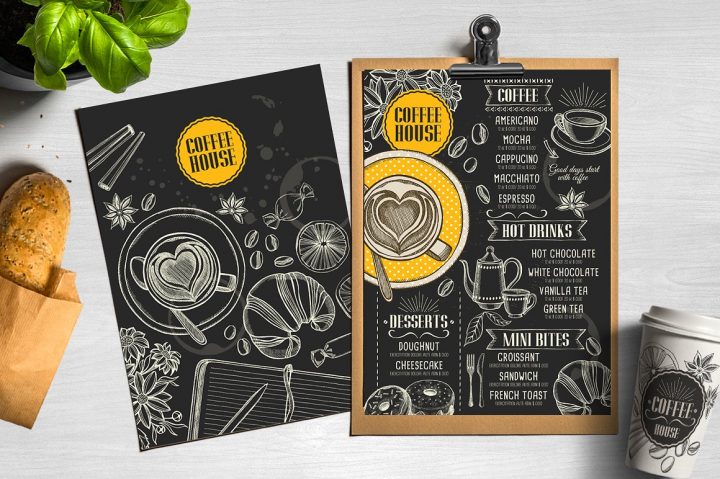 Here is the first of two chalkboard menu and flyer templates. The chalkboard sketch of an espresso with a heart-shaped design surrounded by yellow polka dots provides the main visual attraction of this template. Chalkboard sketches of donuts, a croissant, coffee beans, and a cup set also add to the design.
Coffee Shop Rack Card
Menus for coffee houses don't need to be as large as restaurant menus. They can be as small as these rack card designs. Since they are smaller in size and can fit in any pocket, edit the text to state only the important details. Or better yet, use one rack card for each item in your menu and compile them all together when you present them to customers.
Chalkboard Menu and Flyer 2
This coffee menu and flyer template has the same design as the previous template, but uses a blue color for the polka dots compared to yellow polka dots in the previous template.
Autumn Wedding Menu
This is the perfect template to use for your coffee house, just in time for the autumn season. This template uses an image of a maple leaf which has turned into its autumn color. One suggestion you can use for your coffee house is to change up your menus depending on the season (autumn or fall, spring, summer, and winter). This makes your menu design different each season and provides something new for your customers to look at.
Classic Food Menu
This is another multipurpose menu template you can use for your coffee house. The brown background provides a classic look at the template and the template's overall look resembles a menu which was used during the 1940s or 1950s.
Vintage Western Wedding Menu
Here is another vintage menu template that you can definitely use for your coffee house. The template uses a western-style design that is placed on the left side of the template. Since the sample image of the template above is a wedding celebration, edit the template to fit your own coffee house and change the items accordingly.
Clean and Classic Menu
Here is another multipurpose menu template you can use for your own coffee house. The font styles and the template's cool background also use some vintage designs that are very attractive and can easily catch the attention of customers.
Coffee House Menu Note Card
This coffee house menu note card also has a miniature size compared to other menu templates. Similar to the menu rack card template as seen above, don't over-stuff this card with layers of text and images. Keep it simple and only include information about your best-selling coffee blends or new coffee products.
Coffee Menu and Flyer
This coffee menu and modern flyer template use some beautiful food photography by including an image of a sumptuous cake slice. Edit this template and insert a photo of desserts or pastries you are serving together with the coffee. A slice of cake and a cup of coffee are one of the best food and drink combinations ever created.
Tips when using coffee house menu designs
Before you make any purchase for a coffee house blank menu design or template, follow these simple tips so you get the most out of your purchase as well eventually increase your income for your coffee house. These tips don't only apply to coffee houses, but to restaurants and other food shops as well.
Use colors that resemble coffee
Brown and black for the coffee and white for the cream—your coffee house menu should revolve around these three colors although it is not mandatory. Even if you use other colors, at least two of the three mentioned colors should be found in your menu (either in the text, background, or border). Coffee doesn't use a variety of colors unless you count frappuccino and other blended drinks that use multiple ingredients. You can create and even purchase very attractive templates with a brown, black, and white color scheme.
Minimize the use of text
As seen in other restaurant designs such as invitations, business cards, and flyers, the text should be minimal and used sparingly if necessary. Menus should follow suit, so you should only use text mostly for the dishes being served and their corresponding prices. The problem with some restaurants and even coffee houses are that they add too much text, especially when describing each dish in the menu. The result is a menu that is written like a novel or short story. Even avid book readers will want to avoid menu designs filled with text, so keep things minimal.
Utilize food photography
If the use of text is limited in restaurant or coffee shops, then you might ask yourself what you should do next to make your watercolor menu design more attractive. The simple answer is incorporating food photography. Mesmerize your customers and transport them to your coffee world by adding real photos of coffee and other caffeine drinks.
Customers will surely prefer looking at images of coffee rather than reading about them. Images will also make it easier for customers to place their orders.
Purchase digital menu templates
Digital templates such as menus, invitations, flyers, and business cards should be preferred over physical templates. Hundreds of digital templates can be found in different online graphic design shops like Best Templates, Creative Market, Zazzle, Etsy, Stock Layouts, Graphic River, and Theme Forest. The main problem of physical handmade templates compared to digital menu templates is the delivery time. When you order digital templates, expect your product to be delivered to you within a few days.
If you ordered physical templates from another country, you can never predict when your package will arrive as it may take a few days to a few weeks. If you ordered from another country, expect numerous couriers to handle your package and also expect the product to have a few scratches or dents due to the courier handling. So go for digital storyboard templates since your options would be limitless.
Want to make a splash in the coffee business? Then go ahead and purchase these coffee menu designs. Your coffee house will be filled with the beautiful aroma of coffee and the sound of customers coming in to place their orders.