With dishes such as soupe à l'oignon (onions and beef soup), cassoulet (meat pot stew), and ratatouille (stewed vegetables), you can definitely say that the French are known all over the world for their exquisite delicacies. If you plan on opening up a food establishment that serves French food, you don't have to be a French person, but you will need to make a French food menu.
If you don't know where to start, don't worry, we have an entire collection of French food menu templates below that you can download and use. Feel free to scroll down to see the menu templates yourself.
1. Readability of the menu: The menu's overall readability is perhaps the most important part of any food menu, and it should be as easy to understand as possible. A major turn off that people experience from reading a food menu is when they will need to decipher what's being written to know what the dish is. Oftentimes, they will resort to ordering anything without actually knowing what it is, and if they don't like the dish, they will most likely not like the establishment as well.
2. The level of allure: The content should not be the only element that draws the attention of customers, the photos of the dishes should also be mouthwatering enough to attract people towards your establishment. When adding this element, make sure that the photo is able to capture every delicious detail of the dish to make it look very alluring. Don't use photos that are blurry, taken under poor lighting conditions, or from an angle that fails to show the dish's best qualities.
3. The variety of content: Unlike the previous two elements, this one speaks about the various options that it can offer to the customers. Unless your establishment is small, your food menu should have a variety in terms of its content, this will allow customers to try out something new every time they dine in your restaurant. Having a limited variety in your food menu might be good only at the beginning, but people will learn to grow tired of it in the long run.
4. The organization of content: Organizing the content of the menu is somewhat related to the readability, wherein if the content is disorganized, customers will have a hard time looking for the dishes and beverages that they want. However, if the content is organized well and placed in different categories or sections, then the customers will no longer have any trouble looking for them. The less stress and time spent in going through the menu would mean more time to enjoy the food, and this will lead to a positive impression towards the business.
5. The visibility of the branding: And lastly, the branding image of your food establishment, which primarily serves to let customers know where they are, who they are dealing with, and what the establishment is capable of offering to their customers. In order to make your food menu unique and distinguishable from others, you may also incorporate other branding elements to the design such as the color scheme and a unique font, but make sure that these elements are used throughout the business.
Modern French Menu Template
French Menu Design
French Menu Example
French Bistro Food Menu Example
Minimal French Bakery Menu Layout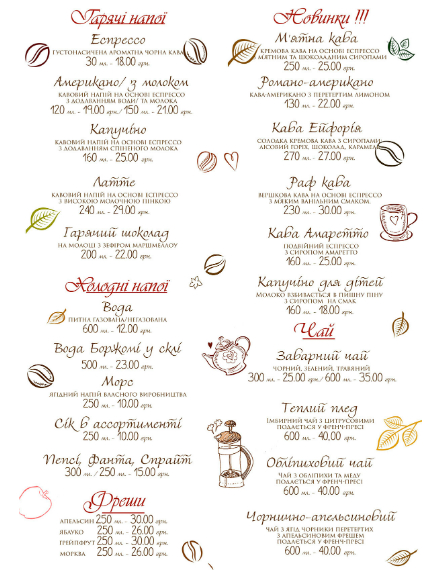 Typographic French Food Menu Format
French Cafe Food Menu Design
1. Pick a style for the menu: Even though the style seems similar to the type, they are actually two different things. When speaking of the menu style, it refers to the overall theme of the menu, the color scheme, the arrangement of the elements, and the font used. With types, although they also involve the appearance of the menu, they lean more towards the manner in which the menu is used. The first step in the process of making a food menu is picking a style that suits you and matches with the branding image of the establishment.
2. Choose a size for the menu: After you have chosen a style for your French food menu, the next thing that you will need to choose is the size of your food menu. According to experts, the size of the menu will depend on various factors including the number of seats that can accommodate customers, the size of the kitchen, and the number of people preparing the dishes.
3. Decide on a menu type: As mentioned earlier, menus come in different types, and each type has a particular purpose or method of use. Later in this article, you will come across a list of the different menu types. Each menu type will be explained to you briefly but thoroughly in order for you to determine whether that particular type fits perfectly with your business and your chosen cuisine. Additionally, the list below will help guide you on how to use each type properly.
4. List your possible menu items: If you haven't prepared your content yet, now's the perfect time to do it. Here, it's basically the same as writing a draft of a message, but it is more on writing down all the possible items that you want to include on your menu. It's always better to come prepared than forgetting to include some items on the menu, and it's also better to write more than what you're actually intending to put on the menu.
5. Download a menu template: Now that you have already prepared everything that you need for you French food menu, you can already start creating it. While you may be allowed to create your menu from scratch, especially if you're not new to it or if you have a lot of time, you can also save yourself the stress by using menu templates that can be downloaded from the internet.
6. Edit the downloaded template: The great thing about templates is that the layout and some elements are already put in place for you, and the ones that you have just seen are all fully editable so you can design your menus according to what suits your business. During this step, you can also start adding the menu items based on your draft but add only those that have been confirmed to be included in your line of dishes.
7. Proofread the content: We emphasized earlier that a good food menu should be readable and understandable, which is why it is very important to proofread the content for any errors. When proofreading, the things that you will need to check are the spelling and the grammar. Any misspelled word can create a negative impact on your business, and a single grammatical error will not only have the same effect but will also lead to confusion among the customers.
8. Print your French menu: After making sure that your food menu is already free from any errors, the only thing left for you to do is to print them out. You can choose to go the easier way by having your menu printed in printing companies, or you can also have it printed yourself. If you're going for the latter, just make sure to use high quality and durable materials to let your French food menus last.
Simple Tips for an Excellent French Menu Layout
Divide the menu into sections and arrange the items sequentially.
Use photos sparingly so as not to crowd the layout.
Try not to emphasize currency signs to prevent customers from worrying about how much they'll be spending.
1. À la carte menu: A French term that literally means "by the menu", this type of menu lists down their items for customers to order individually. This type of menu is best for customers who want more freedom in choosing what foods and drinks to have.
2. Du jour menu: This French term translates to "on the day", which means that their items change on a daily basis. This type of menu is usually written on a chalkboard and is placed outside the establishment, and this type is best for restaurants that are either small or are constantly busy.
3. Prix fixe menu: This type of menu offers various options for their customers, but these options already come with a fixed number of courses. Regardless of what options a customer chooses, they will still be paying a fixed price. Hence, the name.
4. Table d' hôte menu: Here is yet another French term used to name a type of menu, and this one translates to "the host's table". This type of menu encourages the host to share their food items with their guests, and the prices for each food item may or may not be the same.
5. Cycle menu: This is a type of menu that you can commonly see in school cafeterias, hotel resorts, and cruise ships. For this type, the list of food items are being cycled on a regular basis—some weekly, others monthly, it all depends on the food place.
6. Beverage menu: While some restaurants choose to include their list of drinks on the food menu itself, others would prefer to have them on a separate menu. This type of menu is called the beverage menu, and it exclusively contains drinks and beverages only.
7. Dessert menu: Just like the beverage menu, this type can be optional since some restaurants would choose to write their list of desserts on the food menu itself. But unlike the beverage menu, this one exclusively contains a list of all desserts and sweet treats.
8. Captain's book menu: This type of menu is most ideal for restaurants that have their own wine cellar because this menu focuses only on wines and similar beverages. Restaurants that use this type of menu usually encourage their customers to try out their wines and accompany it with their meals.
4.25″ x 11″
5.5″ x 15″
8.5″ x 11″
8.5″ x 14″
11″ x 17″
11″ x 25.5″
FAQs about French Menus
What is a food menu?
A food menu is a list that contains the different foods and drinks that are being offered to the customer.
Is the word menu a French word?
No, but the French word for menu is le menu.
Were you able to find the particular food menu template that you need for your food establishment? Hopefully, you did, because the templates that you have just seen are not only visually stunning, but they are also fully editable. If you choose to use any of our templates, your menu is sure to get the attention it deserves.