Garden parties have been around since the Victorian era. Noble ladies and gentlemen often get together in a garden or park for a tea party. Nowadays, garden parties are gaining more popularity as the decades stretched on. This is primarily because of the fact that garden parties have perfect sceneries for the guests to enjoy the party with a sense of casual comfort while the party maintains its elegant air of subtle formality.
So if you have decided to host a garden party soon, then you must meticulously attend to all steps of the planning and preparation process. One area of the garden party preparation which you must not overlook is the menu and the party invitations. These must be crafted in such a way that it concurs with the rest of your party's theme hence for your guidance we have menu and Garden Party Invitation Templates for you to choose from. Scroll freely and choose the design you fancy.
Garden Party Lunch Menu Template
Download
Garden Party Bridal Shower Menu Design
Download
Garden Cocktail Party Menu Design
Download
Summer Garden Party Menu Template
Download
Garden Tea Party Menu Template

Download
How to Plan an Epic Garden Party
Here we offer you some tips to throw the best party you could ever throw:
Choose a location. A garden party is normally held outdoors. Make sure that the location has a plain and level ground where you can install seats and tables easily. Places where you can host a garden party are

parks,
gardens, or
backyards.

Choose a theme. Most garden parties have lighthearted themes and color scheme. Pastel blends easily with nature colors.
Set up the atmosphere. Put up decorations which matches your color scheme. If your party will last till sunset, put some lighting. It will also be more delightful if you put lights along the path leading to and from the party location. Lastly, don't forget to put up a trusty sound system and a good party playlist.
Prepare measures to prevent bugs. You can put citronella candles on each guests' table in order to ward off bugs and other flying insects.
Plan the food. Grilled food is always a good idea for outdoor parties. You can also make it more exciting by preparing a mixture of various types of food such as grilled food, soups, salads, finger food, hearty stews, and don't forget the dessert!
Create a fantastic menu. After you have finalized the list of food items, your guests will be able to enjoy your party more by allowing them to browse through a menu first before they choose which food they want to eat. Place one menu for each table, then order your waiters to approach your guests once they're done deciding. This way, you can go on with your party activities without hassling your guests to line up for food.
Send invitation cards. Now that the decorations and food are done, it is time to invite your guests by sending an invitation card two to three weeks before the party. If you need any help in making invitation cards, we have Party Invitation Templates for you to choose from. Simply click on the link provided.
Garden Theme Party Menu Design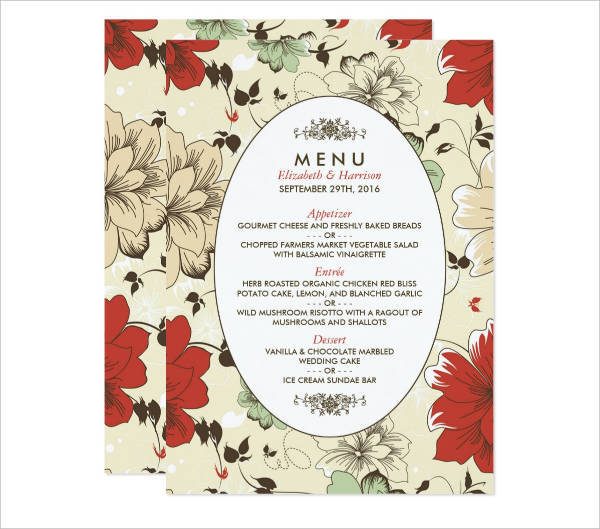 Download
Formal Garden Party Menu Template
Download
Spring Garden Party Menu Design
Download
Free Printable Garden Party Menu Template
Download
First Birthday Garden Party Menu Design
Download
Tips on Crafting a Menu
Choose a menu layout among our garden menu templates.
List the food items you plan on serving.
Divide your menu in a logical order. Divide into subsections by putting the food items you are serving into categories. It is best to make divisions according to the following categories: salads, entreees, soups, main course, desserts, and drinks. If you plan on extending your party till the silent hours of the night, then you must have a wide collection of beverages. If so, it is advisable that you create a separate menu for you alcoholic drinks with the help of our Drink Menu Templates.
Proofread before you print.
Place one menu per guest table.