There are two definition of a menu that we all know, menus that you can see on your device screen and menus that you see inside a restaurant. Here, we are focusing on menus that you look at when dining inside at any restaurant. It is a list of dishes available or to be served in any food establishments or at a meal. It is a means of letting people select which food they would like to eat.
For those restaurant owners or those who are planning to build their own bar or bistro, our rustic menu templates are best for you. We all know the importance of having a great design for your menu, so choosing a minimalist yet artistic layout will captivate all your regulars' interest for sure.
Rustic Menu Template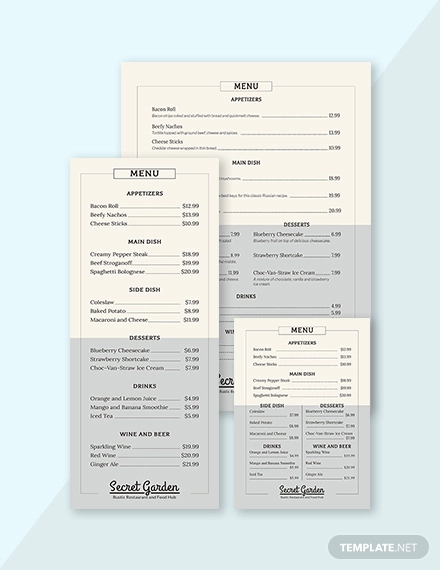 Rustic Restaurant Menu Template
Rustic Bar menu Template
Rustic Restaurant Menu Template
Free Rustic Menu
Rustic Wedding Menu Template
Rustic Restaurant Menu Template
Download
Rustic Food Menu Template
Download
Rustic Chalkboard Menu Template
Download
Importance of a Good Menu Design
Apart from having a great meal presentation, great food taste, and nice location, one of the important ways to convince people to try out a certain restaurant is a great menu. It does not need to be boring and plain. If you really want others to be convinced and attracted, then time to put your menu to a whole new level. Add some twist and a little bit of a creative touch.
Why is a good menu design important?
It can help stimulate their craving.
It will grab any people's attention.
It will showcase your creativity.
Plays a vital role in your restaurant's success.
Creates a positive impression on customers.
Thus, having a menu is necessary, but having a menu with a great design is exemplary. You need to keep in mind that your menu is also an introduction to your restaurant or any food shop business. It is also the best way to achieve a good return on investment. It may not that much, but the impact is bigger than what you will expect.
Cafe owners, are you looking for unique designs for your menu? We guarantee that our cafe menu templates are the best for you. Check them out now!
Printable Rustic Menu Template
Download
Rustic Main Menu Template
Download
Rustic Tapas Menu Template
Download
Simple and Timeless
Rustic designs are made in plain and simple fashion. It is a type of design that is adored by minimalist enthusiasts. It does not have any complicated backgrounds, which is why this design is so relaxing to look at. Our list of rustic menu designs are a good choice. These are ideal for restaurant owners who are looking for a distinct design for their menu and those who are planning to run their own cafe.
Why our selections are the best?
Each contains a state-of-the-art design that is uncommon.
The colors used are warm and soft, reminiscent of rustic scenes in the farm or up in the mountain.
Each contains a different rustic style so that it will suit your preference.
You can edit them depending on what you want since they come in editable PSD, vector AI, or EPS formats.
They come in a high-quality resolution as you can see each has a very precise layout.
You can download them to your device easily.
These are also printable, and you can save it to your files for future references.
So what are you waiting for? Go ahead and select the designs you like. Anyway, all of these are yours to make use of. Share this page with your friends too!
If you enjoy the process of designing your menu yourself, the blank menu templates on our website offer a different option for you.