People love music, just try to imagine a day not being able to listen to the single tune of music, that day would be so dull that the entire twenty-four hours would feel like an eternity. Music has so many benefits that only a person listening to it can describe how great it is. For one thing, working while listening to music can actually help in stimulating your mind to work hard and will also help in keeping you awake. Indeed, music adds color to our lives in a way that other factors are unable to achieve. You can also read free editable ticket templates.
While listening to music is already enough to add that color into our lives, the thing is, we are only listening to the artists singing and playing their instruments, we don't actually get to see them do it. With music events, everything is done life right in front of our eyes and there is an added level of excitement once we see them perform their music. If you wish to bring that excitement to people, then you may also want to consider using our music concert ticket templates in order to gather attendees.
254+ Event Templates in PDF, Word, Excel, PSD, HTML5, WordPress, Google Docs, PowerPoint, InDesign, Apple Pages, Google Sheets, Publisher, Apple Numbers, Illustrator, Apple Keynote, Google Slides - START DOWNLOADING
Music Event Ticket Template
Music Theme Event Ticket Template
Music Concert Event Ticket Template
Event Ticket Template
Music Concert Event Ticket Sample
Disco Music Ticket Template
Here's a colorful and bubbly-looking event ticket template that you may want to use for your pop disco music events. If there's one thing about this type of music event, it is the fact that it will never fail to make its audiences dance along to the music.
Creative Music Event Ticket Template
What Is the Importance of Tickets during Events?
As an event organizer, you should not think of tickets as a mere tool for verifying the whether the people coming in have indeed paid for their admission, there is more to tickets than just that. In fact, tickets are the perfect tools when running events, and here are a few reasons why they are important. You can also read how to create tickets in Word.
1. Tickets Provide a Concrete Measurement in terms of the Number of Attendees
With tickets, event organizers are able to give a definite count on the number of people planning to attend as well as the actual number of people present during the event. You may also like creative ticket designs.
2. Tickets can be Your Tool for Determining Your Resource Plan
If you are able to determine the number of tickets sold, it will help enable you to plan your resources well including the number of staff needed, the number of food stalls to open, or even the number of portable toilets. You can also like ticket invitation templates.
3. Tickets can Help in Your Future Sales
If you've got a lineup of events all planned out, it's never a bad idea to start promoting for your next event while the current event is still ongoing. In fact, experts would even recommend doing so especially if your current event turns out well because the attendees would very much look forward to the next one. When this is the case, you may use the data gathered from your current ticket sales to reach out to your customers to promote the next event. If you are able to pull this off, you may already find very good leads for your next event. You can also read PSD ticket templates.
4. Tickets can be Used for Managing the Crowd
As mentioned earlier, your tickets can help you determine the actual number of people who are present in the event and allow you to keep track of these people if ever they exit the gate and come back in after a few moments. Also, tickets can greatly help in managing the crowd by way of their seat number or standing area. Whichever area seems busiest, you can then focus on those for your crowd management efforts. You may also like excellent show ticket templates.
5. Tickets can Make the Refunding Process Much Easier
No matter how good your event is or will be, there will be times wherein people will ask for a refund for reasons that only they can explain. All customers deserve to get a refund, and with tickets, the processing of refunds are made much easier. You may also like service ticket designs.
6. Tickets Help in Making the Attendee's Experience More Satisfying
If the ticketing and admission systems are managed well, it can help create an impact on the attendee's overall experience and make them look forward to more events. For the first timers, having a satisfying experience will create a good impression towards your organization. You can also like printable tickets.
Modern Music Event Ticket Template
Here is a modern take on live music event tickets and this template can even be used regardless of the theme of the music event. Whether the event is for jazz music, reggae, metal rock, or even gospel music, this ticket template is guaranteed to be a good pick.
Vintage Event Ticket Sample
What is a Music Event?
A music event—also known as a music festival—is a community event that is oriented towards music being played live by the musicians in front of an audience. Since the music here is played live, it will involve the artists playing their respective musical instruments and singing their songs raw and unedited. Most of the time, music events have their own theme, and this theme may either be the music genre, the nationality, the occasion, or event the gender of the performers. You can also chech out free tickets.
Music events are mostly held outdoors to accommodate a large number of attendees, but there are also music events that are being held indoors. Also present during music events are food, drink, and merchandises, and this is simply to make it convenient for the attendees to find what they need without having to leave the venue. For large music festivals, certain ones are commonly held every year with some for non-profit causes and others for charitable purposes. You may also see meal ticket templates.
How to Sell Tickets?
While the question is how to sell tickets to people, the more fitting response to this covers not only the how but also the where and to whom you should be selling your tickets. There are certain factors that need to be considered when selling your tickets, and these factors will greatly help you on how you should sell them. You can also like dinner ticket templates.
The location of your event should be a factor since some venues are considered more convenient than others due to various reasons including the distance between the venue and some establishments, or the physical location itself. You can also read gospel concert event templates.
The rate of tickets being sold vary across different months, there are times wherein the tickets will sell like pancakes and there are also times wherein only a few tickets will be sold. While there is actually no definite solution to this, the best advice we can give is to study your audience's ticket buying pattern.
Aside from the date, the time is also a factor when selling your event tickets. Depending on the type of event or what you are intending to do, the time will determine who is coming since some time slots work perfectly than others.
What do you have to offer to the attendees? Are there free food or drinks served during the event? While this isn't really common among music events since attendees would rather buy their own food and drinks from stalls installed within the premises, but it would be a plus to include a little something to further entice people into buying your tickets. You may also read valentines event ticket templates.
People have their own taste in music, which means that your tickets will have their own set of audiences depending on the guests that will be performing during the event. In this case, be sure to target your marketing to a specific group of people—those who are very likely to be fans of that type of music. You may also read party ticket templates.
What is your main goal for hosting such an event? What are you actually planning to accomplish? Is it simply to make a profit? Is it to promote the music of the performers? Or is it for any other reason? Whatever this goal may be, make it your drive on why you should make an effort when selling your event tickets. You can also see vintage event ticket templates.
Simple Music Event Ticket Template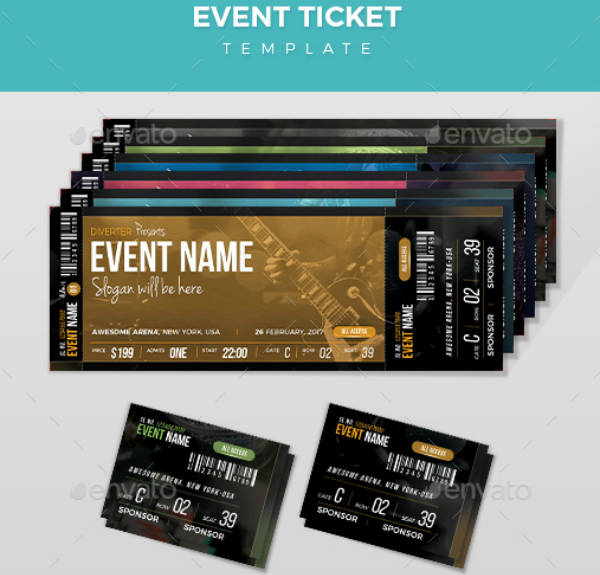 Looking for a template that's simple, presentable, and versatile? Then check out the creative event ticket template above. The great thing about this template is that it offers multiple color alternatives for no extra charge.
How to Price Your Tickets?
When pricing your tickets, factors should also be taken to ensure that the resources spent are able to balance with those gained from ticket sales in order to make a profit. Also, the price of the tickets should be reason enough for the customers, making sure that their experience in the event will indeed make their money's worth. You may also see blank ticket templates.
While this may seem like a lot of factors to consider, here are a few pointers that you should keep in mind when pricing your tickets:
How much should a ticket cost to cover the whole event?
How much profit are you looking forward to gaining from each ticket sold?
How much will you need to spend in order to accommodate for other event costs?
Also, indicate if there are certain inclusions to your ticket (such as free drinks) to give your customers an idea on what they are paying for or why the tickets are priced the way they are. The bottom line is this, the price of your tickets should be enough to cover all your expenses and allow you to make a profit, and at the same time be reasonable enough on the part of the buyers. You can also see VIP event ticket templates.
Hard Rock Music Event Ticket Template
Not everyone is into rock music, some find it noisy and unbearable while others find it simply as a way of expressing intense emotions. If you're organizing a rock music event, you are very welcome to use the ticket layout template above, but just make sure to target your audience to only those that are able to appreciate this type of music genre.