Oil painting is the process of painting using pigments with a medium of drying oil as its binder. Oil paint became the main medium for creating artworks as it brings many advantages compared to its counterparts, such as tempera, acrylic paint, watercolor, or gouache. Making and mixing oil paint was a messy and time-consuming business especially before modern paint tubes were manufactured. So imagine the difficulties famous oil painters in the early days have. It's no wonder their paintings are worth a fortune nowadays.
On this page, we have curated some beautiful oil paintings in which aspiring artists can reference and get inspiration from. Together with the other art paintings available on this site, let us learn how to create pretty paintings and make this world more beautiful. These oil paintings can be downloaded and used by designers and artists alike for art projects or any creative masterpiece.
Realistic Oil Painting
Source
Abstract Oil Painting
Source
High Resolution Oil Painting
Source
Fantasy Oil Painting
Source
Oil Painting in Watercolor Style
Source
Oil Sunset Painting
Source
The Three Oil Painting Rules
If you were brought into this page, it means that you are an aspiring oil painter looking for inspiration or just a regular human being who appreciates art. Either way, these three rules in oil painting will surely serve you well.
Fat over lean. When oil painting, a composition is usually built up using different layers of color. Each successive layer needs to be more flexible than the one underneath and it could be done by adding more medium to each successive layer.
Thick over thin. It is best to apply the thick layers over the thin layers when painting with heavy colors. Thin layers dry quickly and they are likely to crack when placed on top of thick layers.
Slow drying over fast drying. Just like the thick layers over the thin ones, it is best to use slow drying layers on top and the fast drying ones as underlayers, and this is to avoid cracking your painting as well.
These tips are essential for every artists that are sure to trigger best practices in any art that use oil as its primary medium or binder, such as abstract oil paintings.
Christmas Oil Painting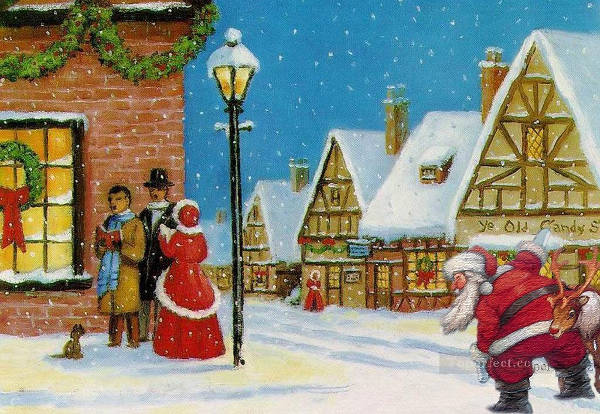 Source
Conceptual Oil Painting
Source
Oil Canvas Painting
Source
Vintage Oil Painting
Source
Oil Sports Painting
Source
Famous Painters and Their Equally Famous Paintings
Rembrandt, The Night Watch. Rembrandt is famous for his penetrating and powerful portraiture as seen in his painting The Night Watch, which was executed at the height of his career in Amsterdam. Easily one of the best artists of all time due to his supreme painting skills, atmospheric handling of light, and mastery of the chiaroscuro.
Leonardo da Vinci, Mona Lisa. Who would miss the most famous and most parodied painting of all time? The Mona Lisa is arguably the finest ever example of portrait art and is valued in excess of $1 billion. It exemplifies Leonardo's contribution to the art through his mastery of sfumato.
Vincent van Gogh, The Starry Night. Van Gogh's 860 oil paintings are characterized by bold colors and dramatic, impulsive, and expressive brushwork, as shown in The Starry Night, which contributed to the foundations of modern art.
Painting is a visual art which means that the greatest paintings tend to be those with the greatest visual impact. Oil painting is one of those tradition painting techniques that can be trivial or superficial to some. If you're looking for some modern and contemporary form of art, check out our digital paintings compilation in another article.