Sometimes, the best way to preserve a memory is to capture it. Photobooks are very important in preserving these memories for us to be able to tell stories in the future. Photobooks can be made personally or done as a family activity altogether. The perfect cover would perfect it, and so this article will teach you how to create a photobook cover in five simple steps.
5 Steps to Create a Photobook Cover
Step 1: Choose a theme for the photobook
Decide on a central theme for your photobook cover before heading on to having your photo shoot. Is it for little kids? Formal? A wedding? Whether it may be a book dedicated for around-the-world shots, or for a graduation ceremony, the theme has to be consistent through the album.
Step 2: Have your photobook cover photo professionally taken
Invest in having a photographer capture your picture-perfect moments! These people specialize in taking the best photos for you. You can ask for a friend's referral or contact a well-known photographer in your city. Schedule your photo shoot at least a week ahead. Meet the photographer and share your idea photo shoot session.
Step 3: Edit your photo
Some photographers can offer editing services for you, but you are also allowed to edit the photo yourself. You can use modern editing applications to edit your photobook cover photos. One example of this would be Adobe Photoshop. From there you can make some lighting adjustments, change presets, or even write texts.
Step 4: Apply it on the cover layout
Apply your final photo on the layout of your photobook cover. If you want to put multiple photos, you can use collages to organize them. You can also do a scrapbook art where you randomly place the photos and add design elements to it. You can use photobook cover templates for a pre-designed one and all that's left to do would be to add the photos you have.
Step 5: Print your photobook cover
After finalizing your layout, do an evaluation on your final output before printing it. Check if your design is not too overcrowded or lacking. You can preferably use a glossy finish paper to produce more vibrant colors. Use a card stock or thick stock paper for a more durable cover.
10+ Photobook Cover Templates
1. Free Kid's Photo Book Cover Template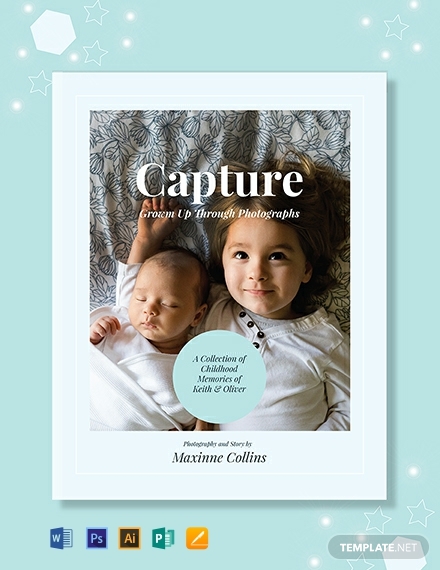 Looking for that perfect photobook cover template for your kids album? Then download this Free Kid's Photo Book Cover Template. This template can offer you high quality graphics, and will guarantee you of an effective way to keep those memories. What else are you waiting for? Download this template today.
2. Free Wedding Photobook Cover Template
Want to make your wedding celebration more special? Preserve sentimental photos with this Free Wedding Photobook Cover Template. The graphics in this template are royalty free and layered in scalable vectors making editing more convenient and easier for the customer. Get this template today!
3. Free Vintage Photobook Cover Template
Get timeless photobooks by using our Free Vintage Photobook Cover Template for a cost-free deal. This classic template will help give a sentimental touch to your photos with its black and white preset. The best thing about this template is that it can be downloaded using any modern device.
4. Free Travel Photobook Cover Template
Years from now, you would want to reminisce that one fine week you spent on the islands of Bahamas. Our Free Travel Photobook Cover Template would be the perfect match for those tropical photos. Easily edit this template through various modern editing applications such as Microsoft Word and Photoshop.
5. Free Photobook Cover Template
If you need a versatile template, then this is the photobook cover template for you. Our Free Photobook Cover Template can be used for any occasion. Display your best photo on the cover and impress people with this high quality template. This layout is printable, editable, and customizable.
6. Free Graduation Photobook Cover Template
Express your congratulatory message to someone along with this Free Graduation Photobook Cover Template! This editable template can be downloaded on any device, even on your mobile phone so you can edit it on the go! Grab this template now and use it for any graduation-themed designs.
7. Free Floral Photo Book Cover Template
We understand how important it is to set high standards for every photobook's cover, and that is why we made this Free Floral Photobook Cover Template just for you. Promote sweetness and gentleness with its floral themed layout. Make your photo stand out and be the center of attraction with this template.
8. Free Fiction Photobook Cover Template
Once upon a time, in a land far away, there was this Free Fiction Photobook Cover Template. Use this template to summarize stories of dragons, magic, and adventures all into one photo. Grab every reader's attention with this minimal design and high quality photo. Don't pass up this opportunity to download it for free!
9. Simple Photobook Cover Template
Download
Let the photo do the talking. This Simple Photobook Cover Template will tell your album's story through that one photo in the cover. This template is printable and can be edited using design software such as Adobe Photoshop. Let simplicity be the key. Grab it while it's hot!
10. Sweet Wedding Photobook Cover Template
Download
What else would make this Sweet Wedding Photobook Cover Template more perfect than it is for itself? Make each photo more memorable with this cover. The subtle background effect makes it more perfect to highlight the picture. Love is truly in the air with this one.
11. Photographer's Photobook Cover Template
Download
Even photographers would need a perfect cover for their portfolio and albums. This Photographer's Photobook Cover Template will allow them to professionally display their best shots. Download this hassle-free template as it can be edited and customized on various design software.