Have you any plans this Easter? Most people do and it all makes sense since this day is special regardless if you're a Christian or not. There are many ways of celebrating Easter and if you're actually planning to host one, you're very much welcome to use any of the Easter poster templates below to spread the information.
6 Steps to Create an Easter Poster
Step 1: Decide on a poster size
The standard poster sizes range between 24 x 36 inches which is the largest, to 11 x 17 inches which is the smallest. Aside from those two, there are also other poster sizes to choose from. When choosing a size, make sure that it's big enough to accommodate your content, but not too big that it'll overwhelm the audience.
Step 2: Plan the poster's layout
Planning your Easter event poster's layout can be done either by creating a rough sketch of it or by simply writing down notes to describe it. While this may take a few minutes of your time, it can actually help you in the long run since you'll already have a concept for your Easter poster.
Step 3: List the details to be written
After preparing the poster's layout, you will now need to prepare the poster's content by writing them down on a sheet of paper. The usual content would include a short invitation statement, the name of the organizer, the date and time of the event, the venue of the event, and the organizer's contact information.
Step 4: Design your Easter poster using a template
Designing a poster from scratch may be fine but why would you go through that stress when you can use pre-designed templates instead? Choose from the ones below and download it. Afterward, you can start editing the design using a compatible editing tool. Before you know it, you're already done designing your Easter poster.
Step 5: Add text to the edited template
Since posters are not just about designs, you will then need to add the text that provides audiences with information regarding the Easter event. Again, you can only do this using a compatible editing tool, which means that if you've downloaded a poster template in Word, you can edit it using Microsoft Word or OpenOffice.
Step 6: Finalize and print your posters
Evaluate the design of the edited poster template and make the final touches. If possible, you can also ask another person to evaluate the design and also proofread the content with you. Once everything's set, you can start printing copies of your poster and you can either do it yourself or by professionals, it's up to you.
10+ Easter Poster Templates
1. Easter Egg Hunt Poster Layout
While most people would look at Easter egg hunting as having no connection to the Christian way of celebrating the day, it actually does since the egg symbolizes Jesus' tomb. People look forward to this game and if you're hosting one, spread the word by using the advertisement poster template above.
2. Faith Easter Sunday Poster Design
Here's an Easter poster template in PSD that you might want to use for announcing your Easter Sunday plans. To make your poster even more meaningful, you can also add in an inspirational quote to the content. Since this is exclusively in PSD, you may need to edit it using Photoshop or any compatible tool such as GIMP.
3. Rabbit Ears Easter Poster Layout
Download
According to western culture, the Easter bunny works almost the same way as Santa Claus wherein both of them determine who's been good or bad and give gifts only to those who've been good. The DJ poster template above simply shows the bunny's ears, but you can easily associate it with Easter Sunday just by that.
4. Cross Easter Sunday Poster Format
Download
For Christians, the whole Lenten season is all about prayer and sacrifice to honor the passion, death, and resurrection of Jesus Christ. This church event poster template simply serves to remind people what to do during Lent—to follow Jesus and experience the way of the Holy cross.
5. Modern Easter Sunday Poster Example
Download
We can never blame people for partying hard during Easter Sundays, it may even be considered as appropriate since Easter really deserves to be celebrated. To uplift people after the Lenten season, you might want to host a music event for them, and you can use the DJ concert poster template above as an announcement tool.
6. Risen Easter Sunday Poster Sample
Download
Three days after dying on the cross, Jesus rose from the dead and proved that He is indeed the Son of God. Check out the poster template above, use it to remind people of why we celebrate Easter. However, if you prefer to do it digitally, we've also got an Easter Twitter post template for your social media needs.
7. Rustic Easter Weekend Poster Template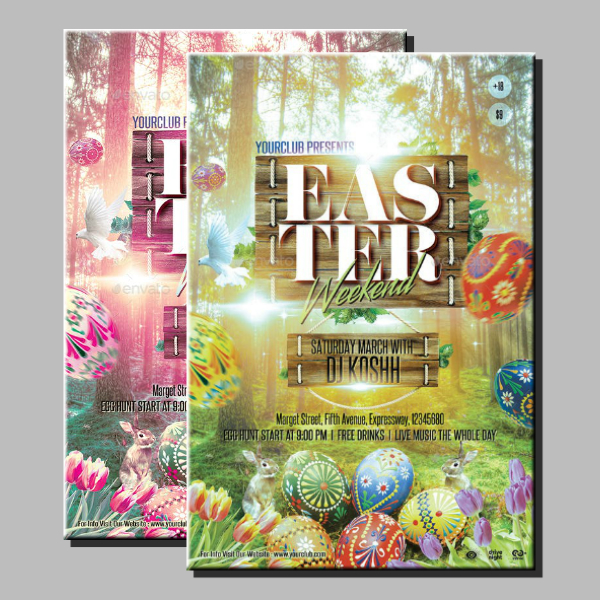 Download
Easter eggs are known to be colorful and lively, and during Easter Sundays, these eggs are hidden and are sought by the participants. You can download this template in PSD, and it comes with various color options, fully editable text, and highly organized layers. With all those features, what else would you want to ask for?
8. Rustic Easter Celebration Poster Template
Download
Here's a template that'll work for those who prefer to make either flyers or posters to announce an Easter Sunday celebration. If you choose to use this template, you can either print it on a big poster paper or on a US letter-sized paper stock, the latter is meant for making Easter flyers instead of posters.
9. Creative Easter Party Poster Sample
Download
This poster template is all about being unconventional but still appropriate for the event that it represents. This PSD poster template consists of organized layers that you can fully and easily edit using Adobe Photoshop. Aside from using posters, you might want to go the extra mile and send out Easter invitations directly to your audience.
10. Colorful Easter Picnic Poster Example
Download
Here's a fun and exciting Easter poster template that really screams attention. There's a lot going on in this template but it still manages to deliver its message successfully. This template already comes with pre-rendered graphics and free fonts, and aside from the PSD format, you can also get this in PDF.
11. Minimal Easter Sunday Poster Design
Download
Make your message clear on your posters, tell people what Easter Sunday is really about. While posters are considered to be the more traditional approach, we suggest you also check out our Easter digital signage template, you'll no longer need to print your design. But if you prefer to stick with tradition, you can always use this template.