Make every father's day fulfilling by giving them the Father's Day greeting that they deserve, and that's not by just saying it to them. With our collection of Father's Day poster templates, you'll be able to create greeting posters that'll honor their existence. This article has more than just templates, it's also has instructions to help you out.
5 Steps to Create a Father's Day Poster
Step 1: Decide on a type and size of poster
There are various types of posters in existence but you can already start to narrow them down because of the occasion. All you need to do now is to decide on a specific type of poster to use and the size that you will be going with. Make sure that the size is able to accommodate all your content.
Step 2: Prepare the content and layout of your poster
Speaking of content, now's the time to start making a list or a draft of the information that you wish to communicate to the readers. In terms of the poster's layout, you may still want to write down descriptions or you may actually create a drawing of it to really have an idea about your poster's possible look.
Step 3: Download a Father's Day poster template
Even though you've already created an initial design for your poster, you may refer to our collection of templates below to help you out. We've got over ten downloadable Father's Day poster templates below, choose one that works perfectly with the design and content that you've prepared. Afterward, simply download it by clicking on the corresponding Download button.
Step 4: Customize the downloaded poster template
After getting the poster template you need, you can now start customizing it using the appropriate editing tool. By appropriate, we mean the file format of the template is compatible with the editing tool. This way, you can freely and fully customize the layout of the poster, and also add text according to your prepared content.
Step 5: Print copies of your poster
Finally, you can now print copies of your poster so you can start posting them accordingly. Since posters are quite bigger than the average printing equipment, it might be best to let professionals handle this instead, at least they'll also take care of any misprints or formatting issues. After that's done, you can now put up your Father's Day posters.
10+ Father's Day Poster Templates
1. Father's Day Celebration Poster Layout
Make your posters clean but meaningful by using this Father's Day poster template. With this, people can easily read the content since there aren't any elements to distract their attention from it. Since this is a poster template in PSD, you will need to use Adobe Photoshop for this to be able to edit it fully and easily.
2. Artistic Father's Day Poster Format
Download
Aside from simply providing for their family, the father is also responsible for getting the family together. For this Father's Day poster template, the image features an illustration of a father with his entire family, and this is something that every father should look forward to. Choose between the JPG or EPS file format when downloading this.
3. Mustache Father's Day Celebration Poster
Download
Because of the father's masculinity, they are stereotyped for their facial hair in images and illustrations. Check out this template, the stereotyping can actually help to make your posters easily recognizable even at a distance. Use this for greeting fathers or for announcing Father's Day parties, and choose to get this template in AI or EPS.
4. Hipster Father's Day Poster Example
Download
By definition, hipsters are said to be the style of trying to stray away from anything that's popular in order to be unique. Well, this poster template is indeed different from the others because of how the elements are being presented. Nevertheless, this would still make for an awesome and catchy Father's Day event poster.
5. Dramatic Father's Day Poster Sample
Download
Dramatic effects can make people reminisce on the great times they've had with their dads, and this template can actually make them realize how much their dads mean to them. Remind people to honor and love their dads with this poster, they are indeed the kind of people who are worth following.
6. Father's Day Gala Poster Template
Download
If you're planning to hold a gala during Father's Day, this would be the best template to choose because of a number of reasons. For one, this template comes with a total of six color variations to suit every person's preference. Also, this template will not only allow you to make posters but also Father's Day flyers.
7. Father's Day Special Poster Template
Download
Every child's first best friend and role model are their parents, and this here is a poster template that'll allow you to throw a special celebration in their honor. Although this template only comes with one PSD file, it also has an instruction file with links to free images and fonts that you can incorporate to the design.
8. Creative Father's Day Poster Design
Download
Here is an example of the great use of the allotted space by using the text's negative space for the photos. This template can also be used for creating Father's Day event flyers, and you can choose from among four color options. To easily edit this template, be sure to use Photoshop CS4 or newer.
9. Vintage Father's Day Heart Poster
Download
Don't hold back when creating your Father's Day posters, let your dad know how you truly feel with this PSD-based poster template. This ready to print template comes with an instruction document that contains links to where you can find fonts and images for the design. At 300 DPI, the details on this template are exceptional.
10. Father's Day Barbecue Party Poster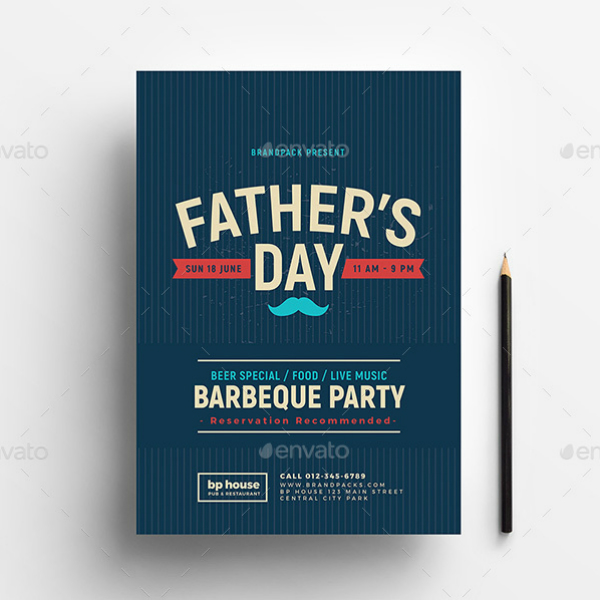 Download
Planning to throw a barbecue party on Father's Day? The best about this kind of party is that it requires very minimal effort to prepare it. The same can be said with this event poster template, you no longer need to stress yourself out just to get this template to work, and that is a guarantee.
11. Retro Father's Day Party Poster
Download
If you prefer to go retro, then this poster template may be what you need for announcing a Father's Day celebration. The elements used in this template are flat and minimal, making it very easy to customize and render. Aside from being able to download this template in PSD, you can also get this in JPG and ZIP format.