The previous year is almost coming to an end, which means it's time to say hello to the next one. During these times, some of the most notable features you can find all around are fireworks, a lot of noise, and different practices from different cultures.
Though this is also one of those times wherein people would rather spend together with their families, there are some who couldn't, which is why they will have to spend it someplace else. When this is the case, you might as well throw a new year's celebration and put up event posters to promote it.
Elements of a Good New Year Poster
1. Poster Header: Although event posters are designed to be visible by a large number and from far distances, you will still need to emphasize some elements in order for your poster to attract passersby. One of these elements is the poster's header, and this element should be as prominent as it can without making the entire poster design look cluttered.
2. Name and logo: The next element that needs to be emphasized but not as much as the header is the advertiser's name and logo. These elements need to be very visible in order for readers and passersby to identify who or what entity is making the advertisement.
3. Poster Title: Some, if not all, posters require a title, and we're not even referring to the same ones used by movie posters. These titles should also be able to attract the attention of people and should be able to provide them with an initial idea on what is being advertised.
4. Main Content: Even though posters are designed to have large dimensions, you will still need to ensure that your elements won't result in making the design of the poster look cramped or cluttered. Nevertheless, the inclusion of the main content is important for posters, and this element can range from the date and time, a location, and other details that will explain further what the poster is about.
5. Graphical Elements: Most event posters have graphical elements, and in terms of graphical elements, this can either be an image, illustration, shapes, color patterns and even simple lines. These graphical elements serve two different purposes depending on what type of graphics is being used, they can either serve to provide supplemental information regarding the poster's content, to enhance the poster's design, or both.
6. Textual Elements: And of course, when there are graphical elements, there will also be textual elements. Certain types of posters lean more towards these than the graphical ones, and this is because those types of posters are more into communicating knowledge, awareness, or general information than for decorative purposes only.
7. Background imagery: Though this may also count as a graphical element, some elements lean more towards a minimal or clean design that uses a solid-colored background. These backgrounds are notable for having only one color and it can even be white, which is a good strategy to pull off a minimalist poster.
8. Footnote or Fine Prints: There are certain types of posters that require fine prints or footnotes, and as the name suggests, these elements are found on the bottom-most portion of the design. These elements simply serve to provide readers with information that aren't really important but are still nice to know.
10+ New Year Poster Templates
Merry Christmas Happy New Year Poster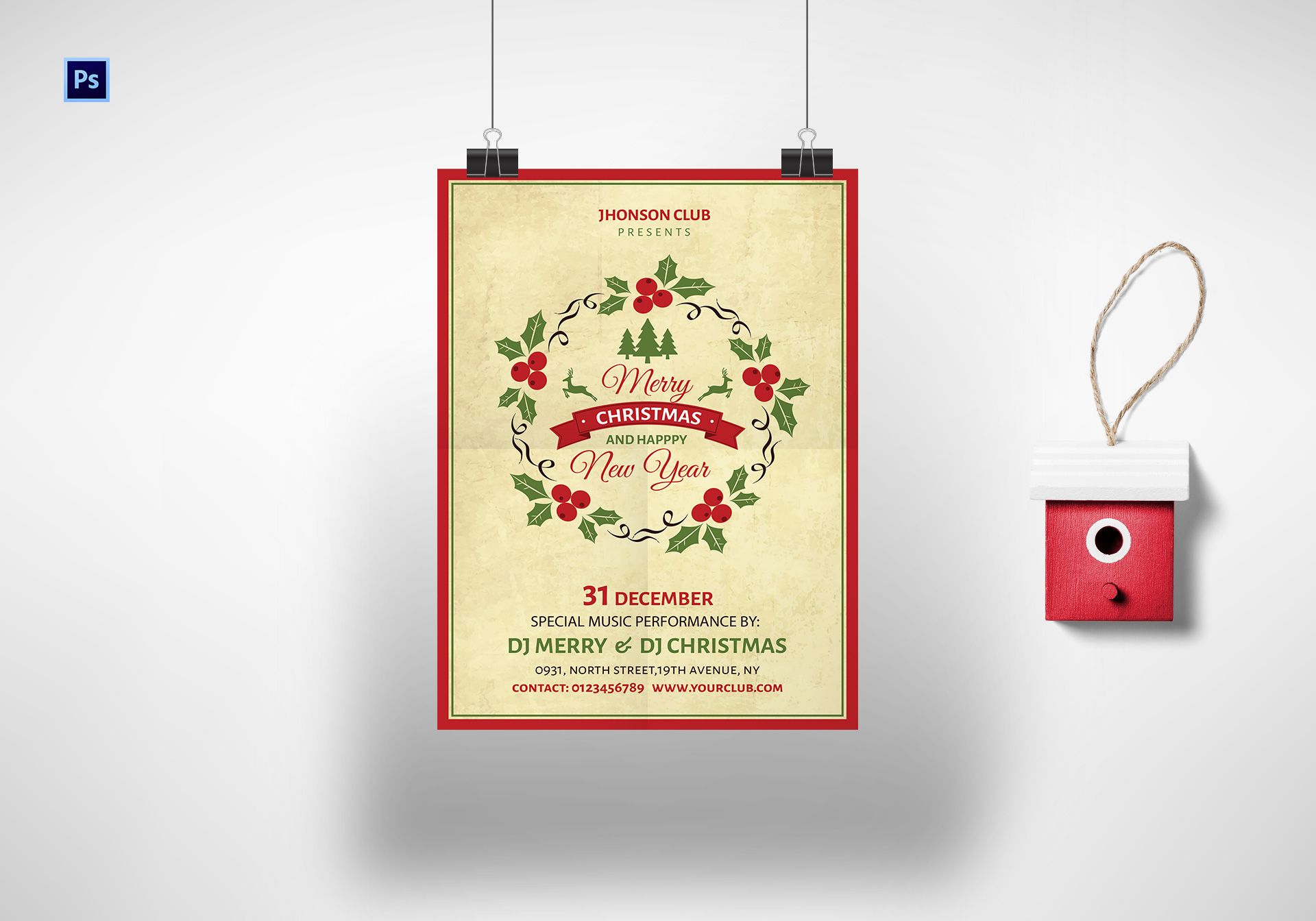 Download Now
Live Music New Year Party Poster
Rustic Style New Year Poster Template
Modern New Year Poster Sample
Details
Size: (A3) 11×17 inches
Simple Holiday Party Poster Example
Details
Size: 24×36 inches
Shapes New Year Party Poster
Typographic New Year Poster Design
Minimal New Year Poster Format
Snow Globe New Year Poster
Clock New Year Poster Layout
How to Create a Great New Year Poster
1. Plan out your poster's design: Before starting to create your poster, you will need to plan out the design, and you can do this by deciding on a theme, taking down notes, and even sketching out the layout.
2. Download a poster template: Instead of having to start all the way from scratch, why not download a poster template and use it to save yourself the time and effort?
3. Edit the downloaded template: Lucky for you, these templates are all fully and easily editable as long as you're using the appropriate editing tool.
4. Proofread your work: In all advertisement materials, it is very important to proofread your content before printing them out, and this helps ensure that the material is indeed credible.
5. Print out copies of your poster: The last step in the process is having your poster design printed out.
Simple Tips for an Excellent New Year Poster Layout
Make sure the elements are visible from a distance.
Don't think twice when it comes to white space, this is your friend since it helps to de-clutter the layout.
Focus not on the creativity of the layout, but on the message to be conveyed.
Types of Posters
1. Advertising Posters: When something needs to be advertised, the most ideal choice of posters would be the advertising posters. This type of poster is best for advertising all sorts of subjects or topics ranging from products, events, and even business. If you're planning to convey a message through posters, then this would be not only the best, but also the safest choice.
2. Affirmation or Motivation Posters: This type of poster is almost always consisting of textual elements, but there are also some affirmation posters that contain graphical elements, although their main emphasis would still be the text. The reason why the text is being emphasized more for this type is because it serves mainly to convey a motivational or inspirational message.
3. Propaganda or Political Posters: During the World War, posters were the main tools for expressing political concerns and getting the message across to the government. This practice is still widely done nowadays, and this type of poster is referred to as propaganda or political posters.
4. Travel Posters: While this type of poster are commonly found in travel agencies and offices, travel posters can also be bought anywhere and can be framed and posted on walls inside the home. This type of poster would make for a good collectible because it exhibits some of the world's best places.
5. Subject Posters: In terms of subject posters, this type of poster are intended to advertise or promote a certain subject, and this subject can either be a single person or a group of persons. While this type of poster is common during political campaigns, these posters may also bear an image of celebrities and other famous people.
6. Event Posters: It's quite broad when we say event posters since the term event covers a lot of aspects including sports and music. Nevertheless, these posters are used to advertise those types of events, which means that these posters should have the date and time of the event, as well as the location where the event is going to be held.
Sports Posters: As mentioned earlier, an event poster would cover sports events, and for this sub-type, the poster would mention not only the date, time, and location of the sports event, but it should also mention the players or teams that will be playing.
Music Posters: In terms of music posters, this sub-type of the event poster is used for advertising music-related events such as concerts and dance events. These posters would indicate the artists or bands that will be playing, and this includes not only the main act, but also the various front act performers.
7. Informative Posters: To easily distinguish this type of poster with the next one on this list, informative posters are more on communicating a message or spreading awareness to people. These posters are common among non-profit and charitable organizations since their existence is geared towards serving people and spreading awareness.
8. Educational Posters: While informative posters are more into spreading awareness, educational posters are more into matters that can be learned in school. This type of poster is indeed common in schools and universities, and these are intended to provide students with a visual aid on the subject matter.
9. Pin-Up Posters: Back then, the collection of pin-up posters was very common among teenagers. For the women, their pin-up posters would bear a photo of a heartthrob male celebrity whom they admire so much. For the men, on the other hand, their pin-up posters would contain an image of a woman in a skimpy attire.
10. Movie Posters: Movie posters are those that film industries use to advertise their upcoming projects, and these would usually contain the names of the main cast, the title of the movie, and the rest of the cast and crew on the bottom-most area. Though its purpose is mainly to advertise a movie, these posters have also been used as a collectible among movie fanatics.
11. Blacklight Posters: And lastly, blacklight posters which are actually common during the 60's to 70's. From the name itself, these posters have something to do with UV light. If you look at these posters under normal light, you'll still be able to appreciate them for its raw, creative design. However, when exposed to blacklight, you'll be able to see hidden elements and be able to appreciate a lot more from its design.
Sizes of Posters
8.5 x 11 inches
8.5 x 24 inches
11 x 17 inches
11 x 36 inches
18 x 24 inches
19 x 27 inches
22 x 28 inches
23 x 33 inches
24 x 36 inches
27 x 40 inches
40 x 60 inches
FAQs about Posters
What is a poster?
A poster is any piece of paper material that is printed with a design and is affixed to a wall or any flat surface.
What is the best size for posters?
Ideally, the best size for posters is 24 inches by 36 inches. But there are also other sizes that you can choose from.
If ever you have found the specific poster template that you need for your new year's eve or day celebration, go ahead and start downloading it. You have absolutely nothing to worry about these templates, they are all high quality and beautifully designed, which means they are guaranteed to capture every passersby's attention.