Does your real estate company need an advertising poster that can showcase its managed properties, real estate services, and other business offers? Develop a real estate poster that can help you connect with your desired market.
184+ Real Estate Templates in PDF, Word, Excel, PSD, HTML5, WordPress, Google Docs, PowerPoint, InDesign, Apple Pages, Google Sheets, Publisher, Apple Numbers, Illustrator, Apple Keynote, Google Slides - START DOWNLOADING
5 Steps for Making an Appealing Real Estate Poster
Posters have been used as a sales and marketing tool in the real estate industry for a long period of time already. Below, we have listed a set of steps that can serve as your real estate poster development guide.
Step 1: Plan the Design Aesthetic That will be Incorporated in the Poster
Your real estate poster should persuade people to look into it further so they will know the message that you would like them to be knowledgeable of. With this, you have to properly plan the design of the poster so you can come up with an attractive output.
Step 2: Have an Outline of All Real Estate Poster Content
Aside from being interesting and appealing to look at, your real estate poster should also be usable in terms of content dissemination. List down the items that you will include in the real estate poster. A few of the basic details that are seen in this particular type of poster include the name of your real estate business, your logo, the sample properties that you offer, the contact details of your office or brokers, and any program specifications whenever there are an open house and other event program announcements.
Step 3: Download and Modify a Suitable Real Estate Poster Template
With the real estate poster content and design in mind and at hand, look for a potential template that you can use as a reference when formatting the actual layout of the poster tool. Be critical when assessing templates as you have to make sure that you will choose one that can be edited or modified to your desired poster aesthetic.
Step 4: Place Poster Details in a Well-Structured Real Estate Poster Layout
Once you already have a template, you can already brainstorm on how you can put together the details that you have prepared for your free posters. It depends on you on whether the design or the content should go first in the layout. As long as you are comfortable and strategic with the process of filling the layout in, then you are on the right track when it comes to developing and finalizing your real estate poster.
Step 5: Polish the Final Version of the Real Estate Poster
Make sure to check all the features of your real estate poster for a couple of times. As much as possible, the poster should be excellent to you and your team's eyes. Coming up with an impressive and error-free real estate poster can say a lot about your real estate business' considerations towards quality.
14+ Real Estate Poster Templates
1. Free Real Estate Advertising Poster
If you believe that your real estate marketing efforts are still not strong enough, you can create an outstanding and free real estate advertising poster. Try to make a real estate poster that is not only trendy but is also directly related to the core of your business and its operations.
2. Real Estate Poster Template
Download
For you to benefit from the efficient development of a real estate poster, you can use well-formatted poster templates in Apple Pages; PDF; PSD; Word; or Excel to ensure that the layout of your own poster is organized and will appeal to your market. Ensure that the details of your real estate poster are properly placed in your poster document layout.
3. Real Estate Company Poster
Download
Create real estate posters that can surely deliver your marketing message to your target audience clearly. Be specific with the presentation of your content so your clients and sales leads can easily relate with the offers and other relevant details that you have included in your real estate business' graphic design posters.
4. Real Estate Poster Example
Download
Developing a real estate poster should undergo a number of considerations especially if you want to use it for a particular endeavor. Be aware of the real estate poster example's actual usage specifications and look for appropriate PSD poster templates that can hold all the information that you need to present so that your real estate business can become more present in the marketplace.
5. Real Estate Poster Design Template
Download
Your real estate poster is a reflection of your real estate business as well as the real estate properties that you handle and manage. With this, your real estate poster design template should be considered as a branding tool. Just like a real estate postcard, let your real estate poster contain an identifiable business branding feature so it can be more associated to your business.
6. Real Estate Poster Design
Download
When in the midst of planning the overall look of your real estate flyers, think of a real estate poster design that can most likely get the interest of your audience. Hence, you have to be knowledgeable of your client's likes; dislikes; interests; expectations; and needs when it comes to purchasing real estate properties or paying for real estate services.
7. Real Estate Promotional Poster
Download
As a promotional tool, your poster templates should contain poster details that are convincing; believable; marketable; and realistic. If you plan to have a high-performing real estate promotional poster, you first need to be aware of the importance and relevance of all the design details and other content that you will put together in your poster layout.
8. Real Estate Poster in PSD
Download
Thoroughly brainstorm with your real estate management, design team, marketing department, and other entities who are involved in advertising and promoting your business when it is already time to create a real estate poster in PSD. Allowing the development of a real estate poster to be a collaborative undertaking can help you gather more ideas that can be helpful in effectively presenting your business and its real estate offers.
9. Modern Real Estate Poster
Download
The design theme and aesthetic of your real estate poster should be modern unless stated otherwise. A modern real estate poster is created so you can have an updated appeal. If clients can see to it that you know the trends in the real estate industry, it will be easier for them to trust your business with their property needs.
10. Simple Real Estate Poster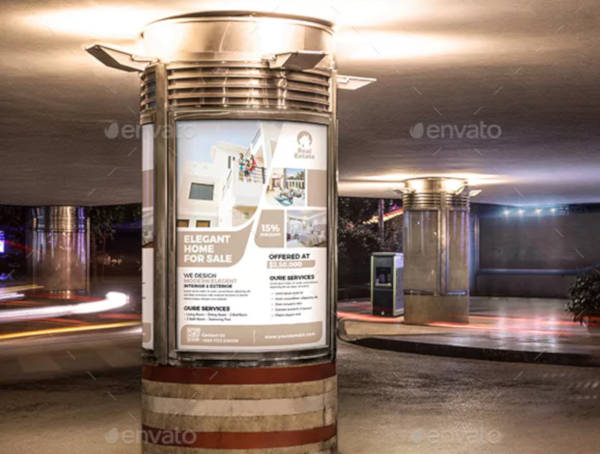 Download
Bank on the simplicity of your real estate poster. You do not need to go overboard when designing your real estate poster tool. A simple real estate poster that is direct to the point, specific, and thoughtfully designed can still give a positive impact when looked at by your desired clients or customers.
11. Sample Real Estate Poster in PSD
Download
Be particular and observant with the samples that you will use as design references. When selecting a template for your sample real estate poster in PSD, you have to consider the poster design theme that you have in mind. Envision the final layout that you aspire to have so you can appropriately choose templates as well as other formatting and design guides.
12. Real Estate Poster Design in PSD
Download
Know where you will place your real estate poster. The location of the poster placement can affect the successful usage of the specified marketing tool. An impressive real estate poster design in PSD can be more appreciated by your market if the advertising tool will be seen in a place where there is heavy foot traffic.
13. Real Estate Flyer Poster
Download
Just like when making a travel poster, it is essential for you to always remember that you should not create a real estate poster just because your competitors already have one. Think of a real estate flyer poster as an investment. Only make the particular marketing and advertising tool if you believe that it can provide the benefits that you need as of the moment or for your future real estate business operations.
14. A4 Real Estate Poster Template
Download
Your real estate poster is not only a marketing tool. You can also use this type of poster to present the brand of your real estate business. Use your A4 real estate poster template as a platform where you can showcase the strengths of your real estate business. With the multipurpose usage of your poster, clients can have more details about you and your managed properties.
15. Real Estate Business Poster
Download
You have to know the external and internal variables that can affect the efficiency of your real estate poster. Be tactical when making your real estate business poster so you can get high returns of investment. Ensuring that you are well aware of these matters can give you confidence with the results that the real estate posters can provide you within the long run.
Are you already planning to make a timely real estate poster? If you want to draft an effective poster tool that can help your real estate business become more appealing to your target clients, download our well-structured real estate poster templates now for references.