It's almost that time of the year when people feast, drink and wear green clothes. Although historians see today's St. Patrick's Day as something that has become too modernized or liberated, the fact that it brings together people is what matters. Check out our collection of poster templates below to get started.
5 Steps to Make a St. Patrick's Day Poster
Step 1: Research how others have done their St. Patrick's Day posters
When we say research, this means you only need to gather data on how others have done it and what information they included on their posters. Again, just gather data from their posters but never copy it. It's always a good idea to have something serve as inspiration for your poster design.
Step 2: Download and edit a St. Patrick's Day poster template
After gathering the needed data, you can then proceed to the gallery below and download a St. Patrick's day poster template. These templates are actually from various sources and they also come in multiple file formats, one of which are poster templates in PSD.
Step 3: Add the needed content and elements
During the editing phase, you will need to make modifications to the design in order to make it original. This involves adding more elements or removing irrelevant ones, you may even be allowed to simply rearrange the ones that come with the template or change the color scheme.
Step 4: Print copies of your St. Patrick's Day poster
Unless you have a printing machine that's capable of producing large posters, you may need to bring your poster design to a printing company. While they usually don't charge much to get your posters printed, it's definitely better to order by bulk in order to get discounts.
Step 5: Conduct a test run and evaluate the results
After getting your poster design printed, you may have it evaluated or you can also conduct a test run in places with high foot traffic. During this test, observe how people would react to your poster and make evaluations from your observations. These evaluations may or may not tell you to have your poster redesigned.
10+ St. Patrick's Day Poster Templates
1. St Patrick's Music Night Poster Sample
Download
You have definitely found the right place when looking for downloadable templates to make your event posters. Judging by the one above, you can assure yourself that all the other templates below are just as impressive and editable.
2. Rustic St Patrick's Day Poster Format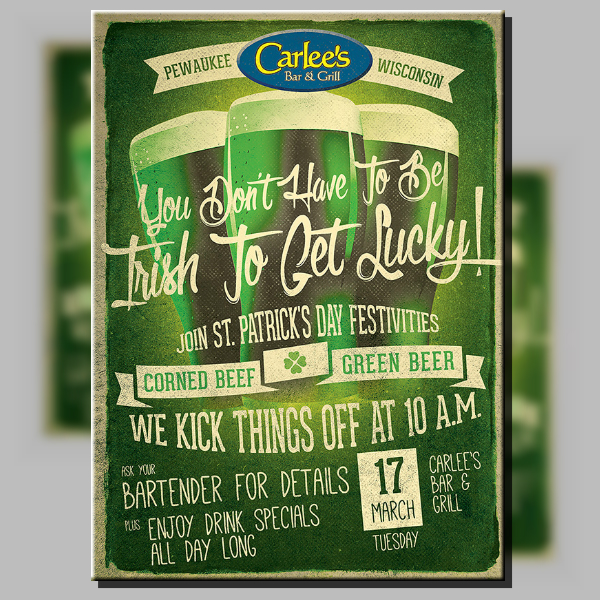 Download
Seeing green beer during St. Patrick's Day is actually very common and this can be done by simply adding a drop of green food coloring to the beer, that's it. As stated on the poster template above, you don't necessarily have to be an Irishman to be able to enjoy the occasion, you just need to have the spirit of being lucky.
3. Feeling Lucky St Patricks Poster Example
Download
One of Clint Eastwood's most iconic dialogues includes the "Do I feel lucky?" line from the movie Dirty Harry. From simply looking at the four-leaf clover image on the poster template above, are you feeling lucky? If you are, which we already know, go ahead and start downloading this awesome poster template now.
4. Emblem Style St Patrick's Day Poster
Download
If you're planning to bring in DJs to perform in your St. Patty's day event, don't be shy about mentioning them on your poster because they can greatly help in drawing in a crowd. If you're looking for a similar type of poster but more generic, you may check out our DJ concert poster template instead.
5. Irish Party St Patrick's Poster Template
Download
The Irish have been known for their folklores which include the pot of gold and their leprechauns. If you're planning to put together a party on St. Patrick's Day, then the template above would make a good advertisement poster for getting the word across. Also, this poster would help to remind people of those folklores.
6. Portrait Saint Patrick's Day Poster Template
Download
In the Irish folklore, a leprechaun is defined as a type of fairy who enjoys making shoes and doing mischievous acts. Also, leprechauns are said to have a pot of gold hidden at the end of a rainbow. If that information fascinated you, then be more mesmerized by the simple yet stunning poster template above.
7. Irish Bar St Patrick's Day Poster
Download
According to folklore, you may be able to get the pot of gold from the leprechaun by (1) sneaking up on him while he's busy making shoes, (2) capture him, and (3) wish for him to take you to his pot of gold. Sounds impossible? Save yourself the trouble and just download this poster template instead.
8. Saint Patrick's Green Party Poster Design
Download
The poster template above contains almost everything that can be associated with the St. Patrick's Day celebration, and it probably won't get any more Irish than that. This template comes in various sizes, you can choose to have this printed out as big as 20×16 inches or as small as 4×6 inches.
9. Lucky St Patrick's Day Poster Sample
Download
If you want something that's rustic but still appropriate for St. Patrick's Day, check out the artistic poster template above. To describe the design, it basically shows a silhouette of the leprechaun's side portrait. The negative space of the silhouette is then used for writing some of the details surrounding the event.
10. St Patrick's Luckiest Event Poster Layout
Download
The act of persuasion is important when gathering an audience, you will need to give them an idea on what to expect without giving away too much. While the template above shows a very modern design, you might actually be looking for a vintage poster template instead.
11. Clover Leaf St Patrick's Celebration Poster
Download
The last St. Patrick's Day poster template on this list is something that's minimal yet still very effective in conveying a message. Aside from the text, this template only contains a single image of a three-leaf clover—also known as a shamrock—which symbolizes love, faith, and hope.