Bachelorette parties are held as a celebration for the bride to be and the end for her single life. This is the similar to a man's bachelor party. Most of the time, this occasion is only attended by girls. Make the most of a girl's last night being single by going all out with her bridal shower.
Decorate the place with festive accessories and a banner that heightens the vibe of the party. Look for Party Banners that you can hang on the venue. The livelier it is, the better it would be to look at. There are samples you can find online for ideas.
DIY Bachelorette Party Banner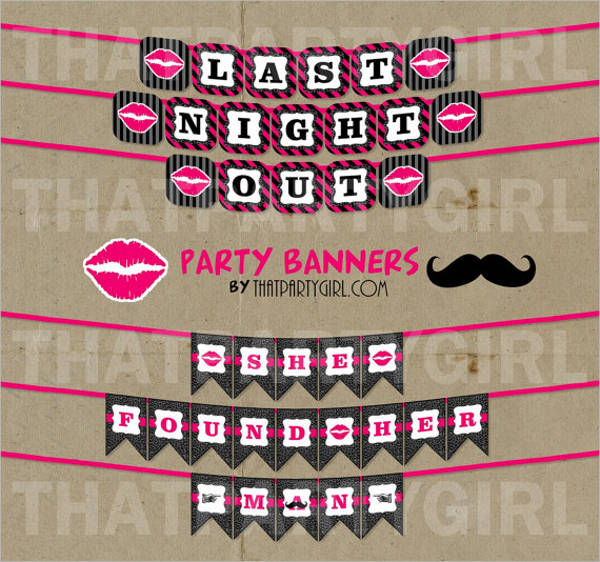 Download
Free Printable Bachelorette Party Banner
Download
Bachelorette Party Wording Banner
Download
Custom Bachelorette Party Banner
Download
Bachelorette Party Penant Banner
Download
How to Style Your Banners?
There are different styles that you can apply on your decoration. Picking the right one is important since banners can easily catch the eye anyone who sees it. Look for Free Banner Templates to get inspired or explore your own creative mind to generate good ideas. Here are a few styles you might come to like:
Themed Banners. If you have a planned theme for the party in general, try matching the banner to it. This way the banner would compliment with the other decorations around the venue. Also, you wouldn't have to worry of what colors you want to use.
Naughty Banners. A little naughty thought on the banner wouldn't hurt. It has been a common thing for bridal showers to involve something naughty on the party. It can be a short quote, a suggestive drawing, or a phallic design incorporated on the banner.
Minimalist Banners. This type can never go wrong. This is usually just cutouts of the letters hanged in one string. Most of the time, minimalist designs only use one color and block font style. If you want something lowkey, then this type of banner is what you should be doing.
Rustic Banners. Rustic banners are less expensive. This design is mostly done for hipster-like brides or anyone who likes a rural vibe design.
Vintage Bachelorette Party Banner
Download
Rustic Bachelorette Party Banner
Download
Decorative Bachelorette Party Banner
Download
Burlap Bachelorette Party Banner
Download
What to Remember During the Bridal Shower?
There are certain key points that you should keep in mind when planning a bridal shower. To pull off a successful event, you need to make sure that every detail is taken care of way before the day of the occasion. Here are a few of the things that you should check:
Invitations. Send out the invitations for the party weeks ahead. You can even send it a month ahead for guests who are coming from farther places. They can be a simple card or a casual e-mail telling them the details. Don't forget to write the date, time, and location of the bachelorette party to avoid confusion.
Food. Plan your menu and send them to the caterer days prior. You can also prepare your own potluck with the help of a few people during the preparation. Choose the right food to serve that everyone will enjoy munching on. You can also add in some drinks to the menu to spike up the party feveer.
Decoration. Add a little more life to the venue by adding decorations. Add some Welcome Banner Templates on the empty walls or hang banners to save up space. You can also utilize these decorations as props and game equipment later on.
Games. Bring entertainment to the whole festivity with fun activities to do. Prepare games that all guests can participate in. They can be a simple trivia game where two teams can compete with each or an all-out physical activity that will pump up everyone.