A lady's wedding is an important part of her life, and it is just right that a celebration is done on the last night of her single life. Throw a bridal shower for a friend or a family member to commemorate their last day before tying the knot.
It can be a small gathering with your closest circle or you can call out the whole squad to join the celebration. Traditionally, only girls are invited to join the party, and fun activities are done during the whole event. Don't forget to send out invitations and look out for Printable Banner Templates to get started.
Bridal Shower Invitation Wording Banner
Download
DIY Bridal Shower Invitation Banner
Download
Bridal Shower Chalkboard Invitation Banner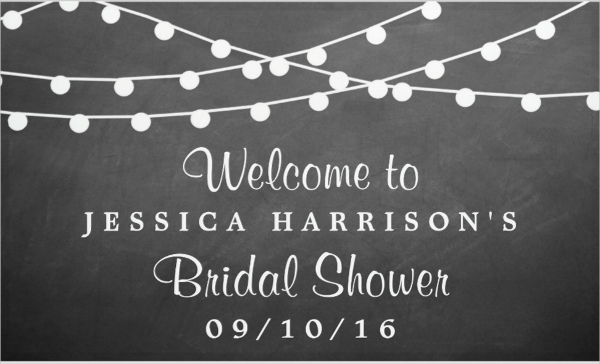 Download
Rustic Bridal Shower Invitation Banner
Download
Different Styles to Apply for Bridal Shower Invitations
Make the invitations unique using different styles that you can find inspiration from online. Search for Bridal Shower Banners and find various themes that will prompt you with creative thoughts for your own.
Glittery. As you can infer from its name, the text in this style is mostly cursive with sparkles of gold and silver glitters. When you chose this style, you put more highlight on the text and less attention on the background. The colors used on the background are usually limited to black and white to contrast the glitters of the text.
Floral. True to its name, floral invitations are full of flower accents. The texts on the invitation match the color of the flowers but toned down a bit so it can be differentiated from the flowers themselves. This is perfect for a very feminine bride.
Vintage. Classics will always find its way back in the trends of design. This uses calligraphic texts with minimal decorations. It adds more emotions to the general appearance of the design since vintage designs are pretty much nostalgic.
Rustic. Another minimal design is the rustic style. It utilizes little old-school materials with simplistic text fonts. Aside from that, rustic style also includes the chalkboard writings and block stencils which looks neat but creative.
Gold Glittering Bridal Shower Invitation Banner
Download
Unique Bridal Shower Invitation Banner
Download
Vintage Bridal Shower Invitation Banner
Download
Bridal Shower Burlap Invitation Banner
Download
What to Put in an Invitation?
Though making an invitation seems a simple task, there are still important things to remember. Below are a few of those details that you should not miss adding on your bridal shower invitation:
Date. Don't let your guest guess when you are planning to hold your bridal shower. In some cases, bridal showers are done a few days before the wedding and not really the night before. Put the exact date to keep your guests posted.
Time. Another thing not to miss is the time. Inform them of when it starts and when it ends so they can make arrangements prior to the event. They can be available on the day but not on the time that you have set.
Location. Add where you plan on hosting you bridal shower. It can be at your home, a restaurant, or some club nearby. This is so they can arrange their transportation and how they can get there.
Directions. Speaking of how to get there, give them proper directions on what street the venue is in and the specific area it can be found. You can add a map on your invitation to make it easier. Download Banner Templates to get this done easily.